Password protection is an essential part of data security. Whether you're part of a company or an individual, it's critical to add password to Word file to block illegal access. The only problem is, passwords are very easy to forget. If you don't use something for a long time you tend to forget it, and passwords are no different. So how do you recover Word password if you've forgotten it?
There are several ways in which you can recover or crack the password from protected Word document.. But some of them - especially freeware tools - are risky. There's always the possibility that a free password cracking tool won't work; or the tool might corrupt your file and make the problem worse. What are your options at this point?
Method 1: Free Word and Excel Password Recovery Wizard
This free utility is great for Word documents and Excel spreadsheets in case you've forgotten the password to open them. It works really well with older MS Office formats like MS Word 97-2003. It uses the Brute Force method, but if you have a dictionary file it can also use the Dictionary method of attack.
The downside to this software is that it only supports unlocking .doc files, not the newer .docx format. Also, it doesn't unlock the Edit/Modify password, only the "Open" password to access the file. The maximum length of the password is just 8 characters; anything longer and it won't work.
However, if you've got a personal .doc file with a simple and short password, this is the ideal tool. But if you're looking for something with much greater capability, a premium software might be what you're looking for.
Method 2: How to Recover Password from Microsoft Word 2016/2013/2010/2007
If you want something that can open any protected Word document no matter how complex the password is, then this is the tool you need. PassMoz Word Password Recovery has several useful features for recovering passwords from several file types as well as operating system. The one we're referring to here is specifically meant for Word documents. Here's how easy it is to use this program to open your password-protected Excel file:

Step 1

Download Word Password Recovery Tool

To use the software, simply download and install it on your PC and launch it. You will see three options list on the main screen, which works under different situations. For Word password recovery, please click on "Recover Open Password from Word ".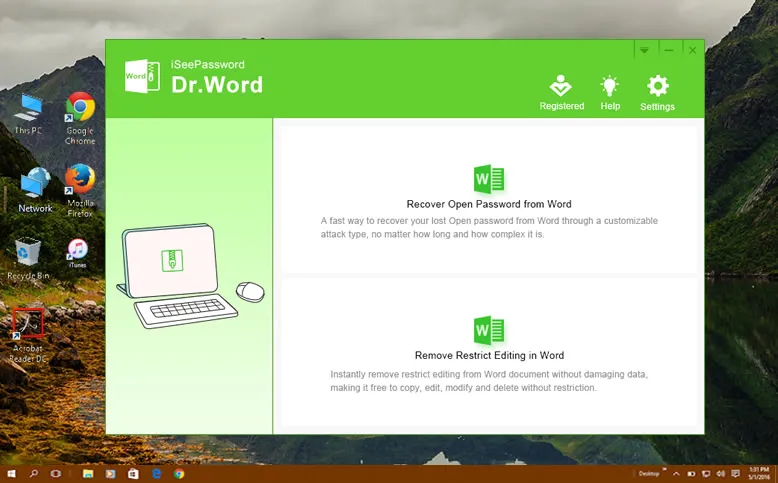 Step 2

Add Password-Protected Word File

On the software interface, click on "Add File " and select the file that you're locked out of. You can also go to the File menu and choose "Open File" from there.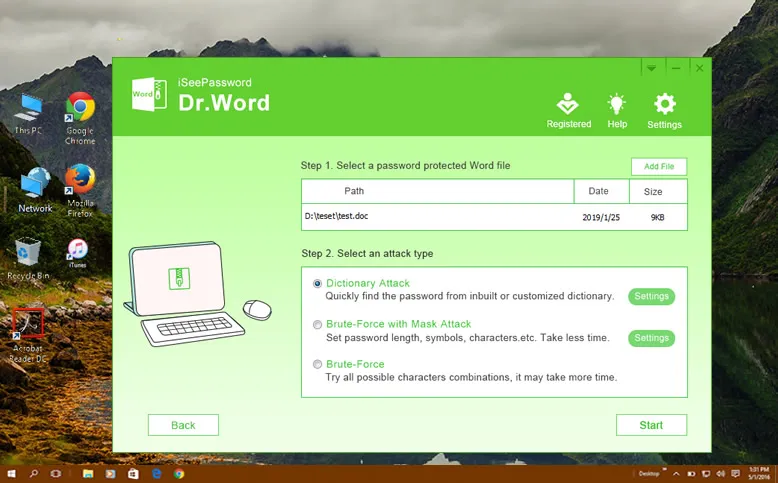 Step 3

Password Recovery Settings

Once you've chosen the file, you will need to pick an appropriate attack method.

There are three options available for this: Brute Force, Mask, and Dictionary. If you remember any attributes of your password or any special characters, then you can pick Mask, which will reduce the time to recover the password. If a dictionary file is available you can use Dictionary method. The Brute Force method can be used if you have no clue what the password might be or anything about it. For the Mask and , you can input the various attributes on the software interface.

There are also several customizations that you can do, such as choosing Smart Mutation or trying all uppercase lowercase combinations. The more information you can provide about your password the easier it is for the utility to reset it.
Step 4

Start Recovering Password from Word Document

After the settings, click "Start" button to crack word password. You can now leave the computer for a while. Once the password is successfully recovered, the dialogue box will show you the password. You then have the option of directly opening the file or copying the password and opening it as usual.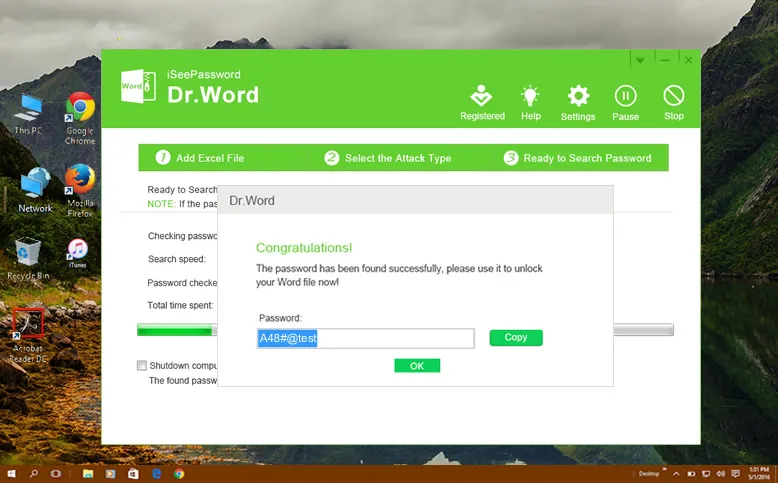 You will see that the software is very intuitive to use and extremely user friendly. It is also a powerful tool that can recover even the toughest password. The best part is that you have a free trial version where you can see for yourself what the software is capable of.

Method 3: Recovering Word Password Online (Not Recommended)
With the rapid adoption of cloud computing technology, a bunch of websites offer online password recovering service to take advantage of cloud servers. However, there are two major issues. One biggest one is the security reason. If the website finally had the correct password to open the file, then it also has the access to it. So your private or sensitive data would be fallen into the wrong hands.
Another issue is that many of the websites are just scammers. You won't get the password after waiting for weeks or even months becasue they are not capable in doing that. You don't know what is going on behind. The main purpose of such kind of websites is to draw free traffic and sell ads for money. So be aware of that.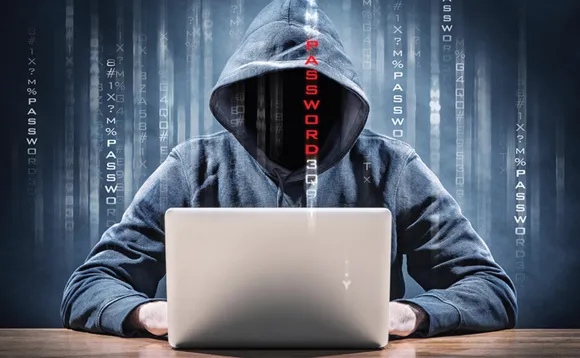 Summary
As far as I know, Word password recovery software is still the mainstream of retrieving forgotten password from word document. It is fast and more secure. That is why we recommend two options at the first part. However, if the document didn't contain valuable data, then it is not a bad ideal to try out the online password recovery service.