You know those pesky password-enabled .zip files that always leave you scratching your head because you just can't remember how to get in? There's no need to worry about that when you have a strong Zip password recovery tool. There are several ways to get pass your zip file's password, and this article describes the thress quickest ways you can do to recover password from a zip archive.
Password protection is an essential part of digital life. Every year there are hundreds of millions of users affected by identity theft, malware injection and other cyber threats. To compound the problem, social media and other platforms are rife with privacy issues and data leaks. So, it's only natural that users turn to password protection as one of the layers of security required to stay safe in dangerous online waters.
The problem is, passwords are not very convenient. To be effective, they must be unique and complex, but that also means they're easily forgotten. One solution is to write them down somewhere or put them in a digital file, but that exposes you to further danger - what if someone hacks your password file, for example?
Part 1: Check Notebook or Password Manager App
If the ZIP file was downloaded online, then skip this part and move to next part directly. However, if you owned the zip file and set a password on it, please check the nootbook to see if you have recorded it on it or not. Or simply try the password combinations you use frequently. This sometimes works like a charm.
In addition, you can also ask the family memember if they knew it or not. The last easy try is to check if you are using any password managing app like 1Password, LastPass. If you did that, it is highly possible to find the correct password in there.
Part 2: Free Zip Password Recovery Software
Freeware is essentially free software, and is typically distributed over the Internet. Tools like PicoZip password recovery can help you recover your zip file password easily and painlessly. It's a great utility, but it is best used alongside the premium compression tool of the same name.
There are two versions you can download: one with dictionary and one without, depending on what you need it for. For quick password recovery you can download and install the lighter version. However, this program has not been updated for years so it takes much time to crack a zip with the latest zip algorithm implementation. So if the program wouldn't find the password within 24 hours, you should give it up and move to the next section for faster password recovery.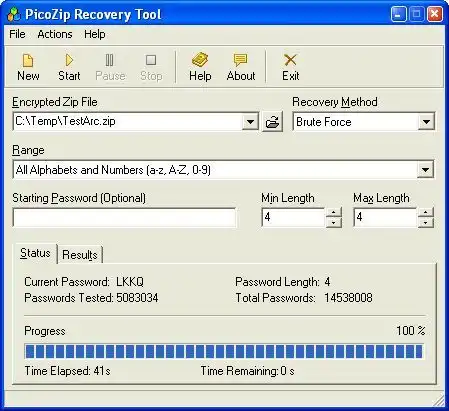 Part 3: How to Recover ZIP Password with Password Recovery Software (Recommended)
ZIP Password Recovery is a well-known password recovery tool that can be used to retrieve forgotten password from zip archive. The best part with this program is that it has several built-in modules to quickly identify the password and we update the program frequently once there is new changes to ZIP standard.
Step 1

Download and Install Password Recovery Bundle

First, download and install Password Recovery Bundle on your PC. You can download any of their software and try it free of charge, so pick the one that suits your need best.
Step 2

Import Password Protected ZIP File

Run the software, and in the interface click on the zip file icon to import .zip file that you want to recover the password.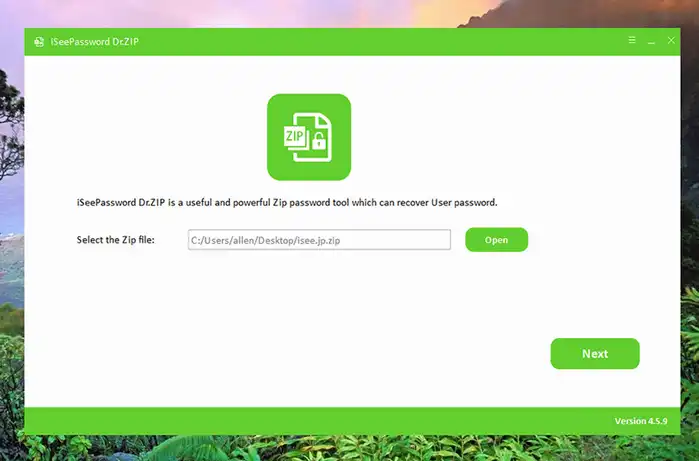 Step 3

Password Recovery Configurations

Next, select the type of recovery method to be used. For "Brute Force Attack " you'll need to provide the range for the number of characters in the password, and any other parameters you might remember - such as whether it's all caps, all symbols, all digits and so on. If you select "Mask Attack ", you'll need to input any symbol from the password that you can remember. Dictionary type is not often used, but if you need it you should provide a file path to the dictionary . You can also select "Combination Attack " option here if you want the software to try various combinations of upper and lower case letters. The following example is using Mask Attack as demo.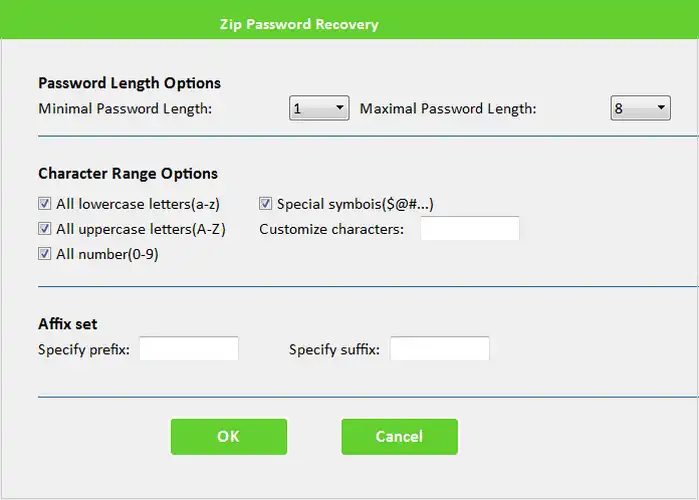 Remember: The more data you're able to provide about your password, the faster the process of recovering it.
Step 4

Start Recovering Zip Password

The final step is to simply click "Recover" and let the software do its magic. When it's done, your password will be displayed and you'll have the option to copy it. You can paste that into the password field for the zip file, and you're good to go.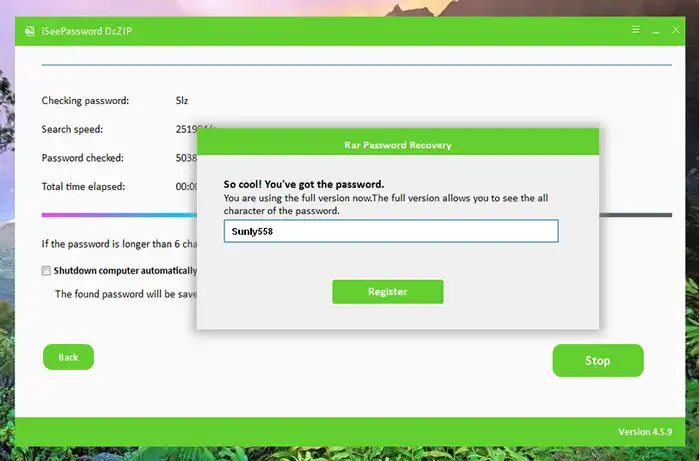 Believe me, it takes a lot longer to describe the process than it does to actually use the software!
Part 4: Recovering ZIP Password Online without Any Software
Cloud computing has been a major trend in nowadays and many local computing tasks are migrated to cloud, like password cracking, document converting, etc. Of course, there are several online services you can find via Google for recovering password from ZIP file. As far as I know, most of them are using brute-force to crack the password, which is not efficient enough in modern world.
The steps are pretty simple. First, visit the online page and upload the local zip file to their server. This might take sometime if the file size is too big. Next, you should be register an account or leave your email address to receive the password once the task is done.
Recovering ZIP password from online service is a pretty good option for simple password less than 4 digits. I have tested a few files with strong password but none of them was able to recover the password. At the same time, Password Recovery Bundle managed to find the correct password. Another issue with this method is the privacy. If the service finally got the right password, they have also access to the file and a local copy is stored on thier server. So you should be very careful about this if the file contacts confidential information.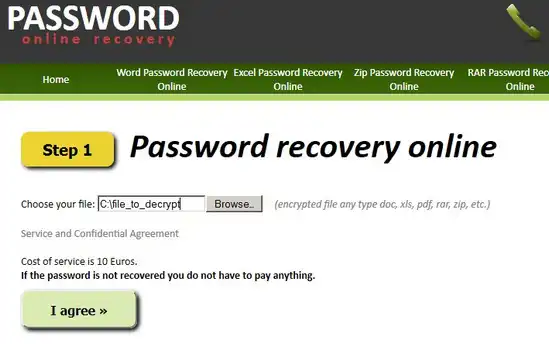 Summary
For simple password, you can try any of the methods mentioned above to recover the password from .zip file. However, it has been proved Password Recovery Bundle is the best choice for strong password in regards of efficiency and privacy. If the file was not important and you have the enough time waiting for the final result, then cloud service is still a valid option. So the final decision is up to you!