Microsoft has developed a new policy on Windows that the computer will be locked for several hours if you kept entering the wrong password over and over again. If you have forgotten the password completely then there's no point to keep guessing because things will get more complicated than it already is.
So it is recommedned using the methods shared in this tutorial and unlock your computer effortlessly. That's right, you can reset the password on any Windows computer by using some tweaks. Please remember that you may format your computer and re-install Windows again to remove the password, which will do a lot of data damage and will permanently erase everything from your primary disk. The solutions provided in this guide will have no impact on your computer data whatsoever and yet they will help to reset the password as well.
Method 1: How to Unlock Windows Administrator Account with Command Prompt
Command Prompt is one of the oldest apps provided by Microsoft to perform critical tasks, including system repair and account password reset. The steps look like a bit complicated in below so please read them carefully before making any action. Any mistyping of the commands might cause severe damage to the computer.
Step 1: Insert a Windows bootable disk on locked computer and reboot it.

Step 2 : Wait for the login screen to appear and press the Shift key 5 times on your keyboard.

Step 3 : Command Prompt app will be launch on the monitor and now you will have to write the following command to reset your computer password: net user name pwd

Replace "name" with account name you used for login and replace "pwd" with a new password.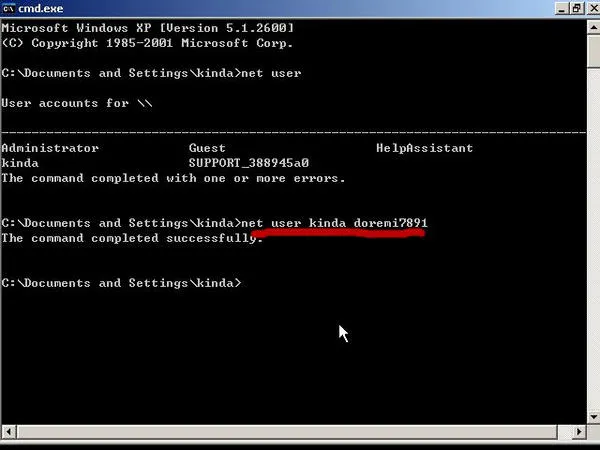 Step 4 : Hit the enter button to execute the command successfully and reboot your PC. Now enter the newly created password and access your PC normally again.
This method seems a bit complicated for newbies and it would mess up the whole computer if you just typed the wrong command. So this is only a good way for tech savy. If you were looking for a simple way, then check the Method 2 instead.
Method 2: How to Unlock Windows Admin Password with PC Unlocker Software
If the above method failed then don't get anxious because in this part, we will use PassMoz LabWin to unlock your Windows 7/8/10 computer. It is a sufficient and effective password recovery program that can instantly reset the login password from Windows computer. Plus, it offers two ways to create a password reset disk: flash drive or CD/DVD. After that, you can use this password reset disk to unlock your Windows computer. It is very easy to use and takes a very short amount of time to remove the password from your computer.
More importantly, there is no data loss by using this software and no risky at all. All the content and files on system disk are still there. It also supports 100+ computer brands, like Dell, HP, Samsung, Asus, Acer, etc...
Step 1

Find Another Computer and Install PassMoz PC Unlocker

First find an accessible Windows computer so that you can download and install the program to create the password reset disk.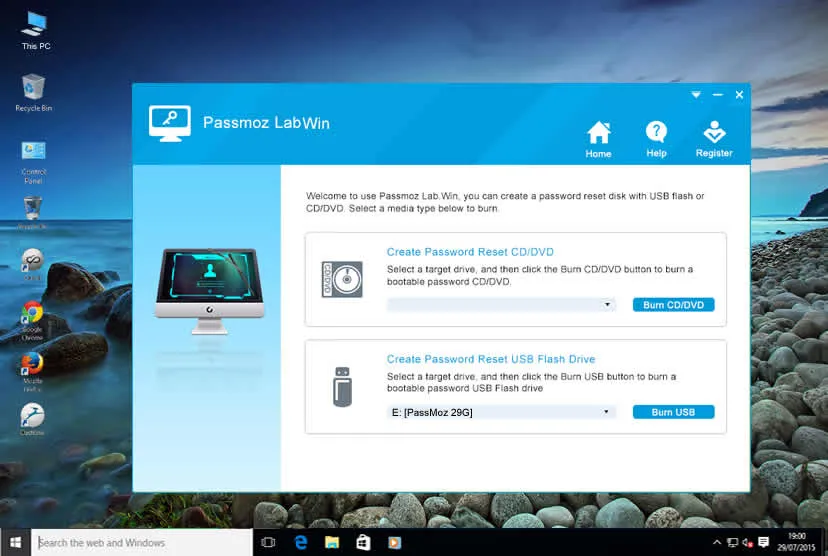 Step 2

Create Password Reset Disk

Insert a USB stick or CD/DVD on the normal computer and open the program. Choose the name of your removable disk by clicking on the drop down icon and hit the "Burn USB" or "Burn CD/DVD" button depending on which device you are using. It will hardly take a few moments to burn the ISO image into your removable disk. Eject the USB stick or CD/DVD after the bootable disk is successfully created.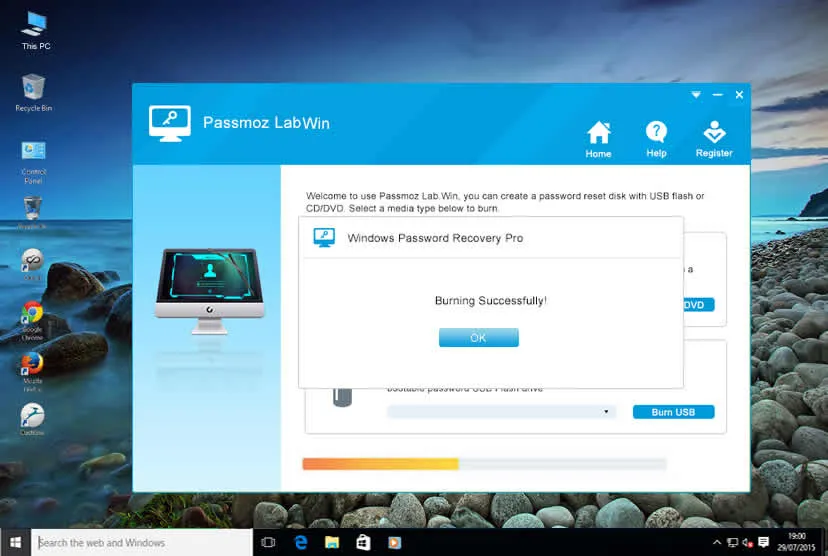 Step 3

Make USB or DVD as First Boot Device

The first bootable devcie is set to hard drive on Windows computer in default. So you need to change the bootable media to USB or DVD according to the disk you made previously. You can easily do this via BIOS settings or boot menu if available.
Step 4

Reset Windows 7 Admin or User Password in One Click

Plug in the flash stick or CD/DVD back to your locked computer and reboot the PC. UUkeys program will be loaded automatically on the display screen. Now, choose the Windows version that you are currently using and the username registered on your computer.

Finally, click on the "Reset Password" button and restart the PC to access it normally again. Your computer will not ask any password unless you setup a new one again.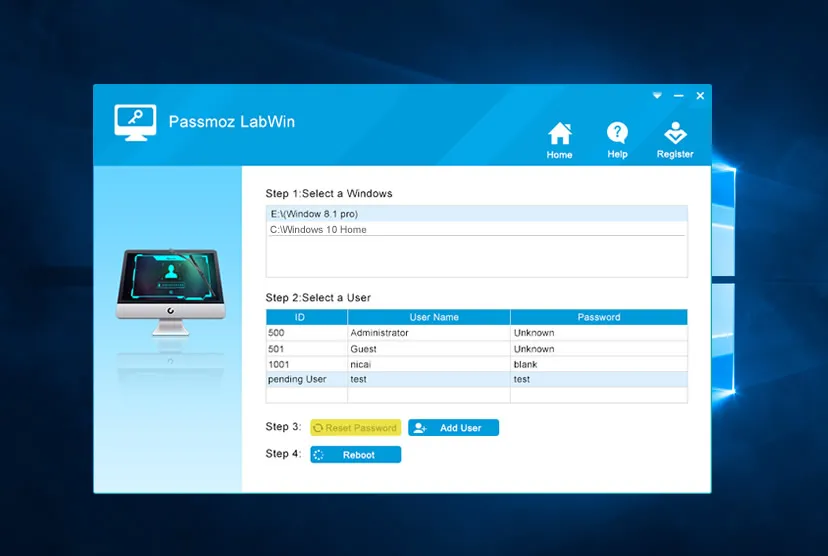 Conclusion:
In this brief guide, we have just learned how to unlock Windows 7/8/10 computer if you forgot the password. Honestly, PassMoz LabWin does a better than command prompt in regards of password recovery. However, do not use the password recovery tool for any illegal activities as it will be considered as a cyber crime. Also, it is suggested that you set up a new password again on your PC when it is unlocked to keep your computer safe and secure from strangers and other uninvited people from accessing it.