Microsoft has been critizied for years because of the weakness of Windows security. However, it has done a decent job to upgrade its security measures on latest Windows 10. Many new features are added to Windows OS, including protecting your computer with text password, PIN, picture password and fingerprints. Password-protecting a computer is the best way to block strangers and unknown visitors from accessing your PC but if you changed the password regularly with strong password then there is a high probability that one day you might end up forgetting that password. This could be a big trouble for you.
This can be a really awkward situation especially, if you need to use your computer urgently. Without entering the correct password, no one can get into the computer. Hence, if there was any important stuff stored in that computer, all of them will be inaccessible then. So today, we are going to demonstrate 3 hilarious ways to bypass Windows 7/8/10 login password and help you access the computer again.
Method 1: How to Bypass Windows 10/8/7 Password Online (Without Software)
On Windows 8 and 10, you can protect the computer with Microsoft account and use it for login. So if you have chosen Microsoft as your default account type then surely, you can reset user password of your account from the official website. Apply the following steps to reset Microsoft account password and use the new password for login.
Step 1: From your smartphone or a normal computer, go to https://account.live.com/password/reset by using a web browser.

Step 2 : Select "I Forgot My Password" and go to the next page.

Step 3 : Enter the email address and choose how to receive the verification code.

Step 4 : Type the code you have just received on your phone or recovery email and go to the last page.

Step 5 : Set a new password for Microsoft account and save it. Reboot your computer and use this new password to get into your PC.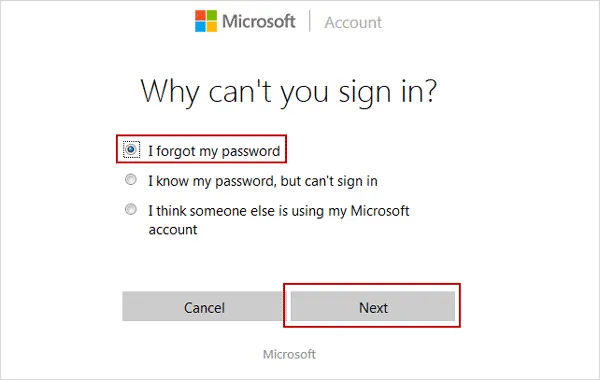 Warning: For old computer like Windows 7 or Windows Vista/XP, this method doesn't work as the feature is not available on them. Even with Windows 10 or Windows 8, it is not applicable all the times unless you signed in with Microsoft account on that computer. So if it was not the case, then you should take a look at the other suggestions in this tutorial.
Method 2: How to Bypass Windows 10/8/7/XP/Vista Admin Password with PazzMoz LabWin
If you want to reset Windows login password effortless without losing any data then it is recommended to go with professional Windows password recovery software. That's where PassMoz LabWin comes into help.
PassMoz Windows Password Recovery is an smart and powerful Windows password recovery tool that can completely remove login password from any Windows computer. Most importantly, every single data inside your computer will remain as it is only the password that will magically vanish from your PC. The best part of this tool is that it works with all versions of Windows including Windows 7/8/10/XP/Vista, even for old Windows servers. It works flawlessly with both 32 Bit and 64 Bit computer and can remove passwords from all kind of account types including administrator and local users.
Step 1

Download and Install PazzMoz LabWin on PC or Mac

First, you will have to get a separate Windows or Mac computer to install the password recovery tool and make a bootable password reset disk. of course, you can borrow a computer or laptop from your friends or family members for hardly 10-15 minutes and return it as soon the password reset disk is made.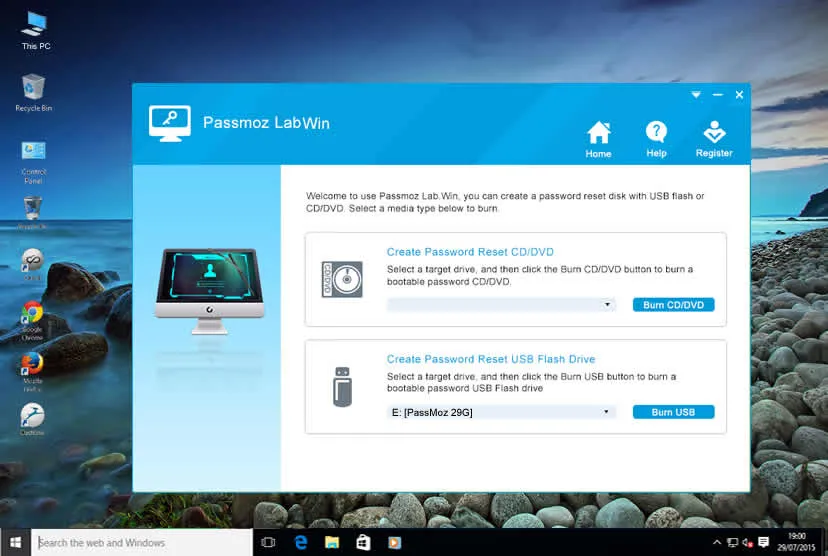 Step 2

Create Windows Password Reset with USB Disk or CD/DVD

Launch the program and plug in a USB stick or CD/DVD to computer. Next, choose your removal disk name and click on "Burn USB" or "Burn CD/DVD" to create a password reset disk. Once the bootable password reset disk is finished, you will be able to see the following pop up message and you can remove the USB stick from the borrowed computer and return it to the original owner.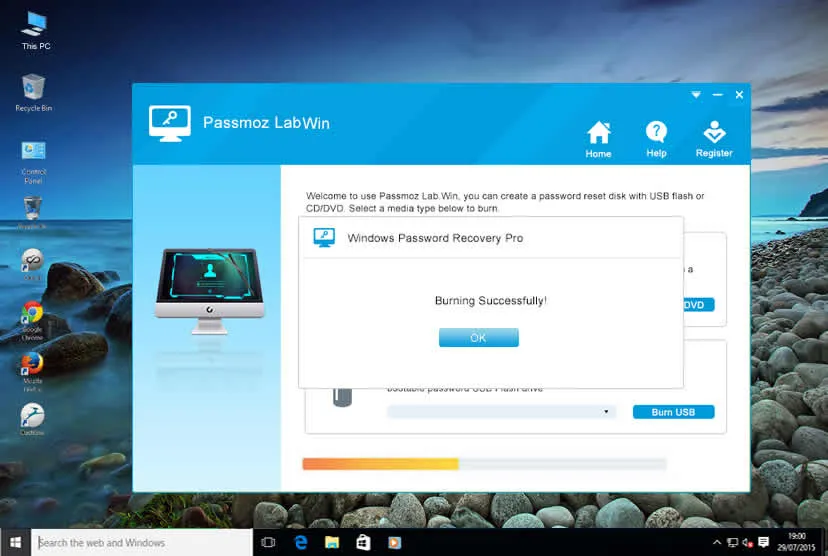 Step 3

Set USB or DVD as the First Boot Device on Locked PC

The default boot media is set to hard drive on all computers. If you don't change it, then the password reset program won't be loaded into the computer so making it impossible to reset the password. Changing boot order is pretty easy. You can do it via boot menu (on new computers) or BIOS settings. Please make the change accordingly.
Step 4

Bypass Windows Administrator Password with Reset Disk

Insert the bootable disk to your main locked computer and boot it with your USB flash drive. Once the password reset tool is loaded on your display monitor, first choose the Windows version that you are currently using like Windows 8 and select the username that is currently locked. Now, click on "Reset Password" and reboot your PC.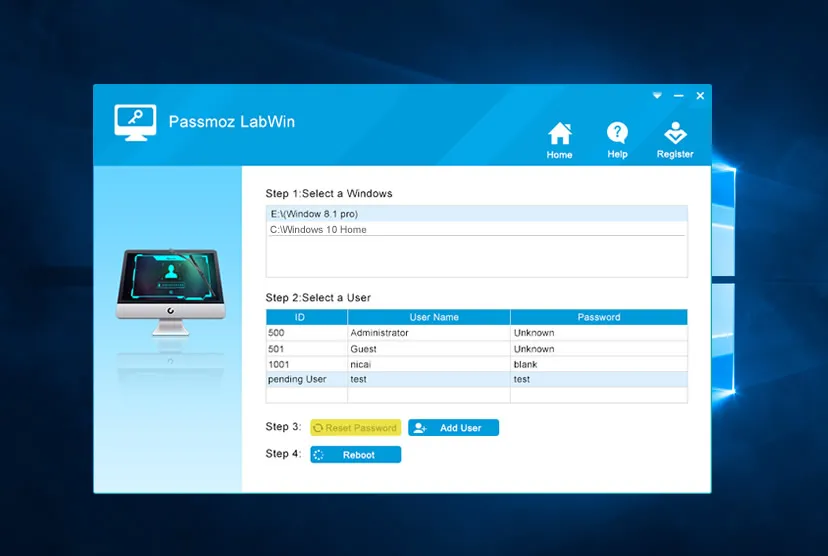 Voila! Your computer password is officially removed and you may now enter into your PC without any password at all.
Method 3: How to Bypass Local Account Password via Reinstallation (Windows 7/8/10)
This part is only eligible for those who will have no regrets losing their computer data at all. In other words, if you applied this method then every single data from your primary disk will be removed as well as the password from your PC will also be removed. Here's how to re-install Windows operating system:
Step 1: Insert the Windows operating system disc on your computer and reboot it. If you don't have the origin installation disk, you can download the Windows ISO from Microsoft website and burn it to USB or DVD.

Step 2 : Wait for the Windows installation window to appear and click on "Install Now" to continue.

Step 3 : Follow the instruction on the setup wizard and install Windows 7/8/10 on your C drive.

Step 4 : Once the Parted Magic is loaded, go to System Tools followed by "Change Windows Password".

Step 5 : Wait until the operating system is installed successfully again. Please note that your PC will be restarted several times during the process.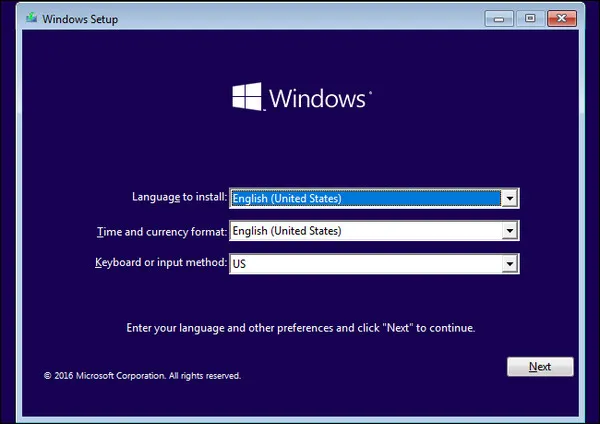 After the Windows is installed successfully, you will notice the password is gone and you can access your PC again.
Conclusion:
In this comprehensive chapter, we have showed 3 innovative ways to bypass Windows 7/8/10 login password effortlessly. If you don't have any Microsoft account or if you don't want to lost data on your PC, then kindly use PassMoz LabWin to crack the password from your computer and it is assured that all sort of passwords can be erased with the password reset tool. If you found this article valuable and useful then kindly share it with your friends in social network websites.