These are some common questions asked in our website all the time by people who forgot their Windows 10 computer password. And unfortunately got locked out. Even with the latest Windows 10 anniversary update, users still have issue with the login password. It is a big threat because forgetting local password will prevent you from using the device as normal and thus, all the important documents, files, pictures, software and data inside your system will be inaccessible.
Microsoft has suggested in its official website that you should re-install Windows 10 but frankly speaking, that's actually a very bad idea. If you decide to format your system then please know that all of your valuable items inside your computer will be deleted forever. Your computer will go back to the state when you first bought it.
Luckily, after doing a lot of researches, we have come up with some pretty solid solutions that could help you to reset Windows 10 password without even losing any data at all. In short, you should be able to access your computer normally just like you used to do before getting locked out.
Method 1: How to Reset Windows 10 Password without Password Reset Disk
There are 3 types of account in Windows 10 computer namely, local, administrator and Microsoft accounts. If you have used MS account for login, then you can reset MS account password and use the new password for login. This is very simple. Here's what you need to do:
Step 1: Quick grab a computer from your friend and from any browser, visit https://account.live.com/password/reset. You can also use a smartphone to do this.

Step 2 : This is the official website from where you can reset your Microsoft account password. Choose "I Forgot My Password" and go to the next page.

Step 3 : Enter your Microsoft accounts details and follow the instruction.

Step 4 : On the last page, you should be able to setup a new password for your account. Now, use this password to login into your PC.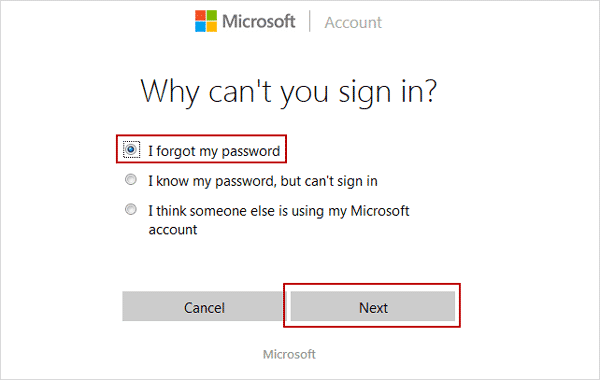 Note: This method will only work if you already signed in with Microsoft account. And it doesn't work on local accounts. So please move to the other parts of this article if this was not applicable.
Method 2: How to Reset Windows 10 Password of Local Account with PassMoz Tool
Most methods mentioned above in this guide are very tough to implement and is only recommended for computer experts. If you fail to reset your computer password with the above methods then don't get worried because we have saved the ultimate and easiest way to reset your computer password in this part.
Nothing is easier when it comes to reset your computer password except if you are using PassMoz LabWin. It is the most effective and safest way to reset your computer password without having any fear of losing data. Your computer security is the #1 concern of this program and it assures that no data leakage or data deletion will occur if you use this Windows password recovery tool.
However, it is guaranteed that your password will be totally removed from your computer and it doesn't matter what kind of account type you are using with your system. It works with local, administrator, root and domain user types and you can reset any Windows laptop or desktop computer password with this tool. You can even create a password reset disk with your USB drive and CD/DVD and can use it as many times as you want in the future if you get locked out again.

Step 1

Install PassMoz Windows Password Recovery Software

Download PassMoz Windows Password Recovery tool on another computer that you can access with admin permisson. Then follow the on-screen instructions to install the program on that computer. Double click the desktop shortcut to open the program. You can see the main interface like this: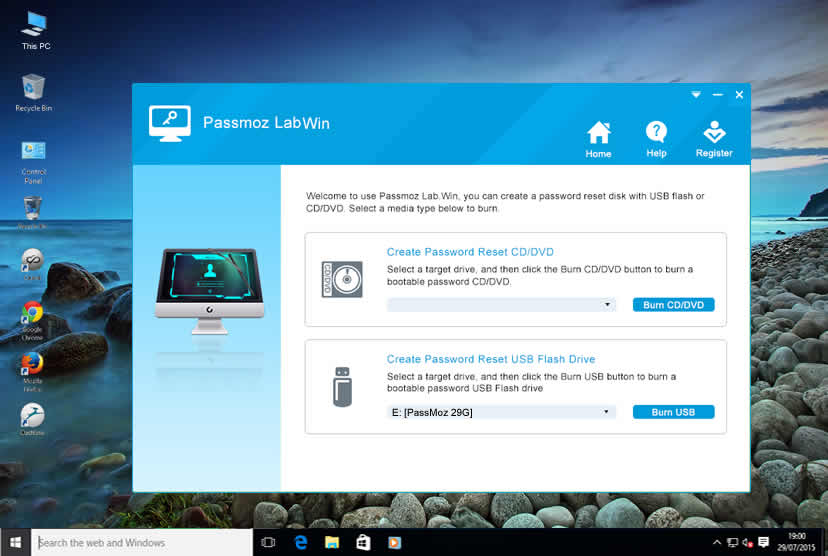 Step 2

Make Password Reset disk from Scratch with USB Drive or CD/DVD

In this step, we are going to create a password reset diks that will help us remove the password from local account. You can do it with USB flash drive (preferred) or CD/DVD disk as you like. Click on the drop down menu and select the name of your USB driver then click "Burn USB" and wait for the program to burn the ISO file to the disk.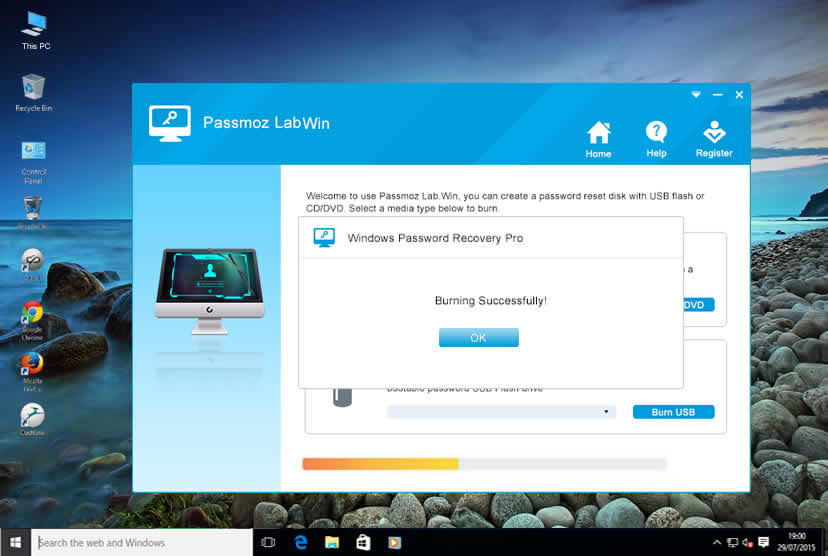 Step 3

Power on Locked Windows 10 PC and Change Boot Order

To boot from an external device on Windows 10 computer, you have to change the boot order first becuase the default one is set to hard drive. Now, power on the computer and press the special key (Esc, Enter, Delete, F2 or something) to open BIOS settings or Boot menu. You should see the key in the startup screen. If not, just find the right answer in search engines. In this step, you should set the firts boot device or USB or CD/DVD, which depends what kind of media you used in Step 2.
Step 4

Reset Windows 10 Local Account Password

Start your locked computer and use the password reset disk to boot from. The windows password recovery tool will be opened on the startup display monitor and now, you only have to select the locked username and the OS version that you are using. After that, click on "Reset Password" once and wait for the program to completely destroy the password from your PC and simply reboot it again to use it normally.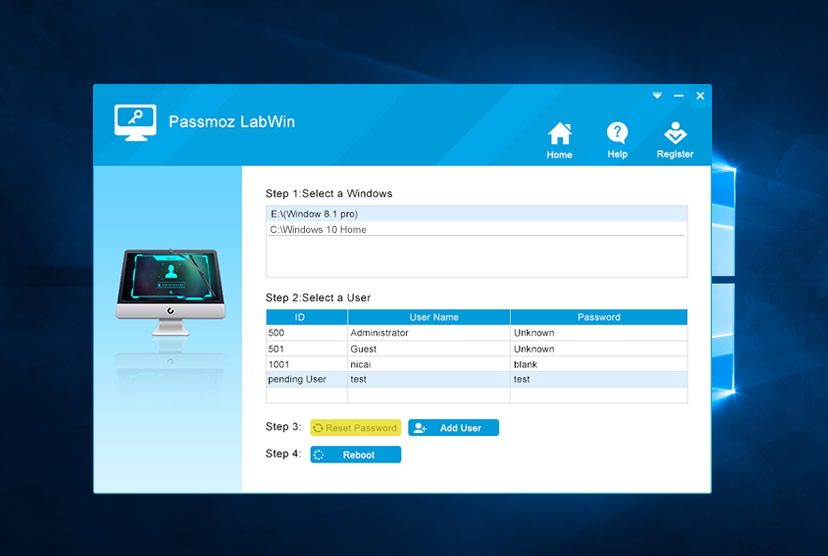 Method 3: How to Recover Windows 10 Password via Command Prompt
Command Prompt (Command Line) is an amazing tool to perform several tasks related to Windows 10 sub-systems. You can even change the password of your account considering you have the Windows 10 bootable disc.
Step 1: Insert the Windows disc on your computer and reboot your system.

Step 2 : On the login screen, press the Shift key five times to activate the command prompt screen.

Step 3 : Type the following command line on the command prompt window: net user user_name new_password. Replace "user_name" with a local account and "new-password" with any password of your choice.

Step 4 : Press enter and the command should be processed successfully. Now restart your PC and use this password to login.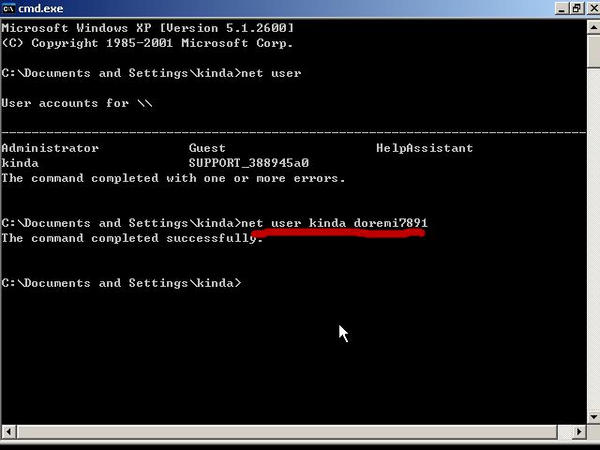 Note: This method is a bit of tricky. And it is absolutely not a good choice for users who don't know much about text command. If unfortunately, you did it in wrong way, then the whole computer would be messed up. So be careful with this option if you decided to give it a try.
Method 4: How to Change Windows 10 Password with NT Password Tool
Offline NT Password & Registry Editor (Short for NT Password) is a third-party Windows password recovery program that technically doesn't reset the password but it completely erases the password from your computer. So, basically you will be logging in without using any password at all. It is a complex and technical tool that requires certain level of computer expertise in order to use.
Step 1: Download Offline NT Password & Registry Editor on a different computer..

Step 2 : Extract the ISO image from the zipped file. Burn the ISO image file on to a CD/DVD or a USB flash drive and create a password reset bootable disk.

Step 3 : Insert the USB drive to your locked PC and restart to load the Offline NT Password & Registry Editor program.

Step 4 : It is a text based software, so keep following the instruction written on the screen. Finally, remove the password from your computer and restart it.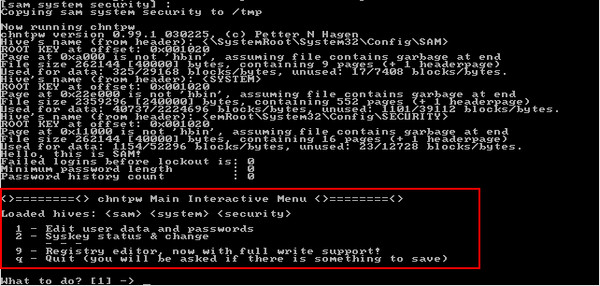 Note: NT password is proven to work well on old Windows distribution like Windows XP and Windows 7. There are many failed cases on Windows 10 according to online forum discussions. That is why we don't recommend in the first spot.
Conclusion:
Even if you forgot the password your Windows computer, there are many ways to reset it and we have mentioned the top 4 ways to reset your system password without damaging any files on your computer. If you find the other methods tough then we will recommended you to use the LabWin tool to achieve this task with simplicity. You can even use the same tool to reset other Windows computers such as Windows 7/8/Vista/XP and so on.