iTunes backup encryption is a useful functionality that keeps your data secure in case your computer is compromised. However, in many cases, you might want to turn off that encryption becasue it takes too much extra time. If you're not very good at remembering passwords, for example, you may want to do this. Whatever the reason, it's quite easy to disable the feature that allows iTunes to automatically encrypt your backup files.
That being said, it is not always wise to turn it off completely. That's because unencrypted backup files from iTunes won't save personal information such as your browsing history, your WiFi settings, your health data and your saved passwords from Keychain. That's a big disadvantage, so in this article, we've shown you how to turn off iTunes backup encryption, but also outlined one method to unlock your iTunes backup files in a few steps.
Part 1: Turning off iTunes Backup Encryption If You Knew the Password
It's a fairly easy process to turn off iTunes backup encryption if you knew the password. The good thing is, iTunes doesn't do this by default. You must have turned on the setting for it to keep encrypting every backup file from that point onwards. If you don't remember doing it, that's fine, as long as you remember your password now to turn the function off so you can access the backup file more freely.
Step 1: Get the latest iTunes version installed on your computer.

Step 2 : Connect your iPhone or iPad, then click on your device and go to the Summary tab.

Step 3 : Under backups, you'll see that the checkbox for "Encrypt iPhone Backups" is checked. Uncheck it.

Step 4 : You will now be asked to enter your current password. If you can't remember it, don't worry, the next method shows you how to unlock your iTunes backup files. If all goes well, you should now be able to take iTunes backup without them being automatically encrypted.

Part 2: Turning off iTunes Backup Encryption without Knowing the Password
If you forgot backup password unfortunately, then you have to use third-part programs to recover the password. such as PassMoz LabTunes. This powerful software utility is essentially a password cracker that can unlock your encrypted iTunes backup files quickly and safely. The safety part is probably more important because it does not meddle with any of your data, which is the problem with most password cracking software applications.
One important feature of this particular software utility is that it uses multiple attack methods to crack your iTunes backup password. Three different recovery modes work independently of each other depending on whether or not you remember anything about your password, such as its length, special characters used, letter casing and so on. The more you remember, the faster the process of password recovery.
The other important feature is the fact that this software can leverage your computer's CPU and GPU. Using hardware acceleration on multi-core CPUs and GPUs, it can quickly and easily unlock even the most complex password whether you remember bits of it or don't have a clue.
Step 1

Download

Download and install PassMoz LabTunes to your PC, and make sure your iTunes is up-to-date. You will also need to make sure that you have admin rights on the PC in question. This is important.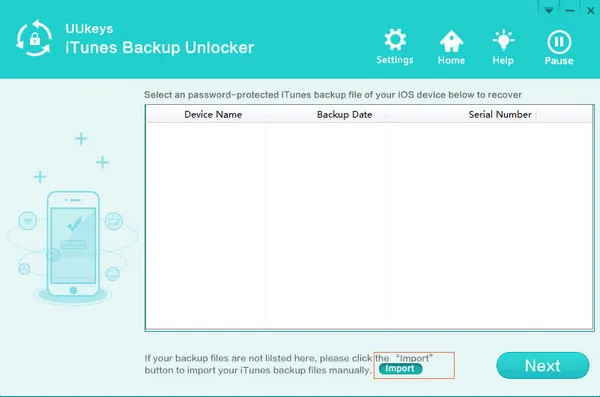 Step 2

Import iTunes Backup File

Launch the software and, on the interface, select the iTunes backup file to crack. An auto scan reveals the available files, and you can just choose the relevant one.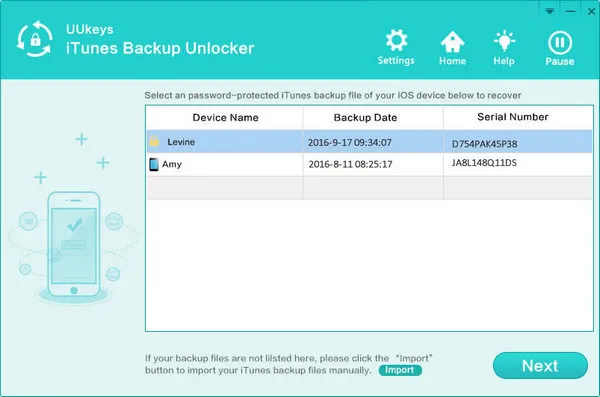 Step 3

Password Recovery Settings

Next is to select the right recovery mode and choose your hardware acceleration settings. Then press "Start" and your password will soon be recovered. You may then copy-paste it to access the iTunes backup file.

The best recovery mode to use is Brute-force with Mask Attack, but you will need to input some parameters about your password that you remember. If it's a blank, then just go with Brute Force. For the hardware acceleration, choose the number of CPU cores to be used, and if you have an NVIDIA graphics card, you can opt for GPU acceleration, which will make the process go even faster.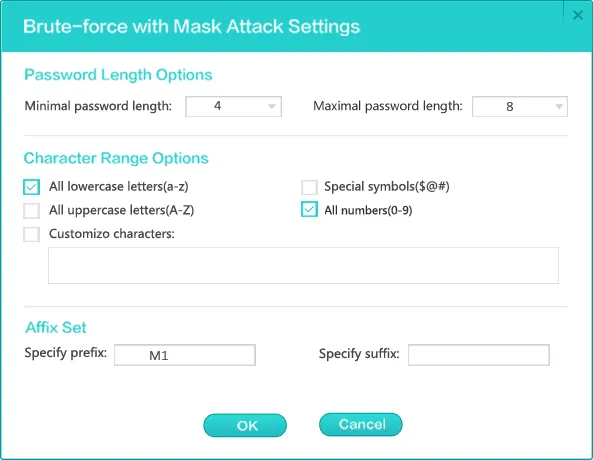 Step 4

Recover iTunes Backup Password

When the setting options are filled, click OK button to start the password cracking process. The actual recovery time is largely dependent on how complex the password is as well as the settings you have made.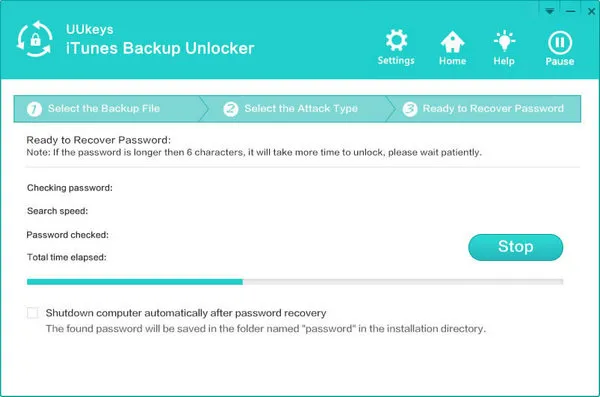 The program will display the password on the screen when it finally found it. Now copy and paste it to the iTunes to unlock the backup encryption.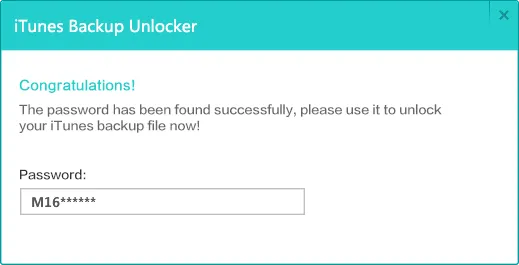 Conclusion:
Although the steps are very simple to follow, you need to remember that there is a huge number of password possibilities being tried in the background to find the right one if you forgot iTunes backup encryption key. This takes time, so make sure you run the program at night or when nobody is using the system. The software also has a pause and resume feature so you don't have to start over again in case of a power outage or other kind of disruption.
So, if you're okay with unencrypted iTunes backup files, then you can turn it off. If not, then the second approach might be the best option for you.