Excel worksheet is commonly shared with colleagues, workmates and other organizations. However, You definitely don't prefer the content being modified by others. The best way to ensure this is simply password protecting that excel sheet so that you are the only person with access, or you can share the password with a few guys whom you want. But what happens when you lose the password, or you need access to a protected sheet whose password you don't have? How to unprotect the sheet in such cases?
Well, you don't need to be a certified ethical hacker to help you unprotect the sheet. There are a variety of third party tools you can use to crack the worksheet password. Some of them are great like PassMoz Excel Password Recovery and some of them are just fake products. I am sure no one want to waste time on a defective tool, right?
How to Unprotect Excel Sheet without Password by Using PassMoz Software
When you search excel password unprotecting tool, hundreds of suggestions are popped up and you might be confused which product is the legit one. For strong password, it could take hours to unlock a strong password from Excel and you can't tell the bad ones from the list. So we did the testing for you and highly recommend using PassMoz Excel Password Recovery to unprotect a Excel worksheet.
PassMoz Excel Password Recovery tool is quite amazing to recover excel password without much time. It can help you find Excel open password or restriction password applied to an specific sheet. Mostly important, it supports all the major distributions of Excel from Excel 2006 to Excel 2016 with decent password recovery speed.
Step 1

Install Excel Password Recovery

Start by downloading the program files and then install them correctly on the working computer. Start the tool, and from the main Window, choose, "Recover Open Password from Excel". This will help you recover open password for that worksheet. To remove restriction password, please select "Remove Workbook, Worksheet Password".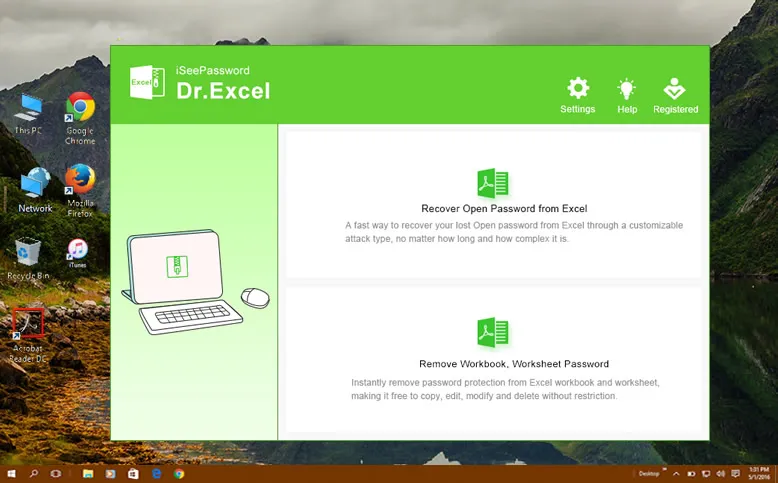 Step 2

Add Protected Excel Sheet

Choose the "Add File" button from the menu bar and then navigate to the password protected Excel file that you want to access.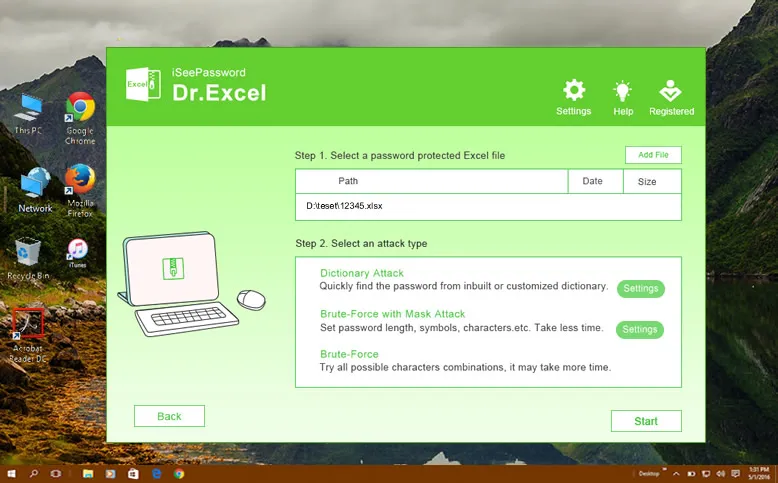 Step 3

Select the Right AttackType and Determine Parameter

The password comes with three different, but very powerful password recovery algorithms. Each algorithm corresponds to a specific attack type and it is imperative that you choose appropriately if you want the best results. These attack types include Mask Attack, Brute-Force Attack and Dictionary Attack.

The choice you make is rather personal, though it will highly depend on the current memory of the password. If you are not certain of the attack type to use, you can go with the default settings and you will still be able to get the password you need. For instance, if you are in a position to provide any part of the password information such as the length, special characters, uppercase, lowercase, letters etc., then Brute-force with Mask Attack is the best choice.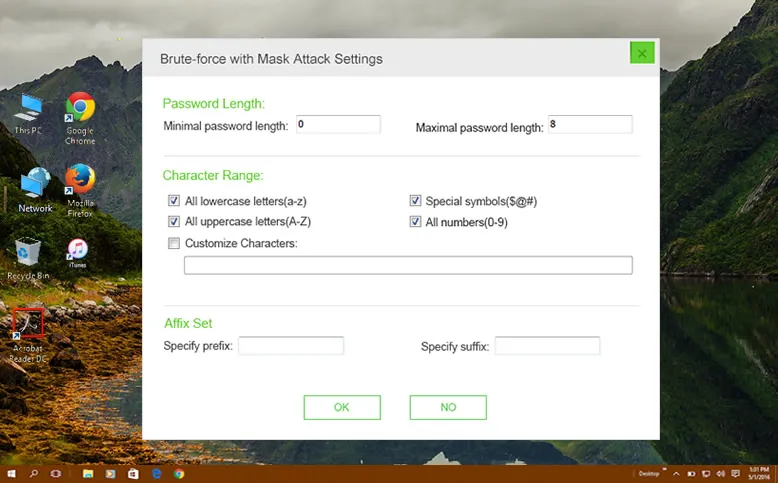 Step 4

Recovering Excel Password and Unprotect Excel Sheet Afterwards

When you click the "Start" button, the process of recovering the password will commence. The amount of time needed depends on the complexity of the password and the type of attack you chose. Once the process is over, a dialogue box will appear on the screen, displaying the recovered password. You can then use the recovered password to open protected the excel sheet.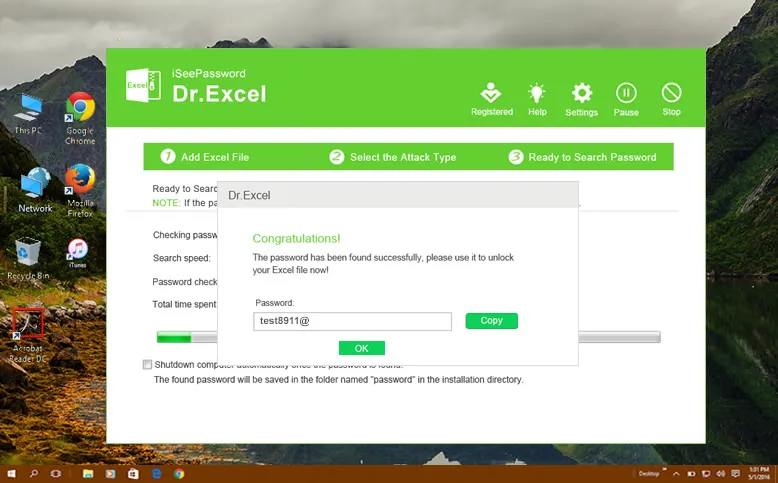 Note

Unprotect Excel Sheet with Restriction Password

There are a few cases that you can open the Excel sheet but can't make any change to the sheet. This kind of protection is called restriction password. And PassMoz Excel Password can removes this type of password much easily. First, open the program and click "Remove Workbook, Worksheet Password" from the main screen. Then add the file to the program. You can add mutilple files at one time. Finally, click "Start" button to unprotect the target worksheet in seconds.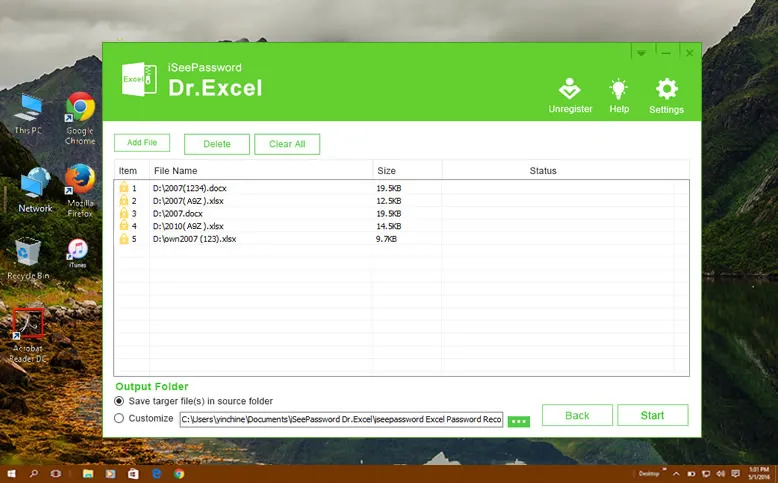 Unprotecting Excel sheet with PassMoz software is easy with a few settings. The user interface is simple to understand and you can find the password pretty fast.
How to Unprotect Excel Sheet Online (Not Safe)
I am a big fan of online services as you don't need to install any software on a computer. Just upload the file to a website and take a rest, waiting for the work being done remotely and send you the desired file later. This really rocks but it is not ideal for tasks who contacts private data. Why? It is all above data security.
You have no way to proof the website is legit or not, even for the polished or nice looking websites. What goes on at the backend is totally A secret. Only the owner knows how to deal with the data you just uploaded. However, if there is noting important in that Excel sheet, then it is 100% OK to use online website to unprotect Excel sheet.
Comment:
You can unprotect Excel worksheet locally with password recovery software or using an online service. The former suggestion is more seucre and take less time. However, you need to pay for a few bucks for it. Online service is free and more danagerous with the privacy. It is your turn to choose the solution based on the needs.