Microsoft has changed the course of the operating system for a computer, and they have improved security features on the latest edition of Windows 10 build. The developer team have designed the operating system to a new level hat ensures the users can protect themselves from a variety of threats, such as virus attacking, password breaching.
There's no doubt that the privacy invaders and hackers are targeting a common man on a daily basis to fulfil their evil deeds and they are using the latest technology to spread virus, malware, adware, and other harmful things. Windows 10 has strengthened HomeGroup feature to ensure that no third-party connects your Windows 10 PC unless you are allowing it. The official version of Windows 10 adds a strong password to the HomeGroup to keep the devices accessing your computer remotely. But, who remembers the HomeGroup password?
Part 1: What is a HomeGroup?
A group of Windows PC and Windows devices being connected to the local area network or LAN is known as Homegroup. Windows introduced the Homegroup feature to help the companies and individuals share files between Windows computers like pictures, music, videos, documents and printers with each other.
It added several features to the HomeGroup such as you don't have to log in whenever connecting to another shared group. The shared HomeGroup computer can select what libraries to share in public and what libraries not to share. You can even deselect the libraries that you don't want to share with other computers on the network.
Microsoft introduced the feature on Windows 7 in 2009, and they have continued it because the Windows users were using it at large. The Windows HomeGroup feature supports Windows 7, Windows 8, Windows 8.1, and Windows 10 of any edition. The Microsoft did not add any limit, so you can have an unlimited number of computers to the network, which is cool!
Part 2: How to Change or Reset Windows 10 Homegroup Password
In this part, please allow us to show you how to change or reset the password of HomeGroup password on Windows 10.
Step 1: Go to Control Panel -> Network and Internet -> HomeGroup or paste it in the file explorer, then hit enter to open it.

Step 2 : The interface will look something like above screen shots. And, there will be plenty of options for you to play around, but we will show you the right way to change the HomeGroup password in a few clicks.

Step 3 : Now, locate "Change the password" and click on it. You need administrator rights to access this option, so make sure you are logged into an admin account on Windows 10. If you forgot the admin password, you can reset it from here.

Step 4 : A small window will pop-up on your screen, and you have to click on "change the password." Again you need access to the administrator rights, or it won't work. .

Step 5 : In the next page, you have to create your password, or you can even let the Windows generate a password for you. After making your decision, then you can click on "next" to proceed.

Step 6 : The computer will begin making changes to the core files, and the password will begin to change in all networks, and it takes a few seconds to minutes. You can even monitor the remaining time left on the lock, and it won't take more than a minute.

Step 7 : The Windows will alert you that you have to save this password, or you might not be able to access printed located on the networks. But, you can always reset the password by repeating the process so that it won't be such a problem later on. But, make sure to save it to keep you from trouble when you need it the most.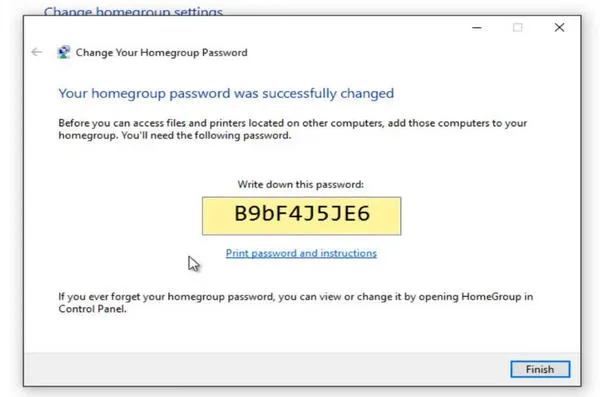 Summary:
The HomeGroup is extremely useful when you are running a small office, and you want to send files quickly to another computer, and then it comes in handy. I have used it while working for a company and it works like a charm. Let us know what do you think about it in the comment section below.