When you've backed up your iPhone, iPad or iPod data to your PC using iTunes, it is highly possible that you set a password for the backup so no one could access it without correct password. But what if you forgot the password and you need it to restore the backup file to the same or another iDevice?
With everything asks for a password these days it's almost impossible to remember them. Well, if you're using the same password for all accounts then you have a different problem - weak security - but, assuming you're not using a password manager and you can't remember what your iTunes backup password is, then these tools will be really helpful.
Fortunately, there are 2 amazing ways to crack iPhone backup password considering you still have access to the main backup files. It can be applied on both Windows and Mac computers. So, let's have a look on a detailed process of what we are actually talking about.
Part 1: How to Decrypt iPhone Backup Using Keychain on Mac for Free
If you've got an iMac or MacBook, and you've previously selected the "Remember this password in my keychain" option, then this method will help. If not, you can skip to the next section.
Keychain Access Utility is basically a password manager built by Apple into the macOS environment. To retrieve your iTunes backup password, simply go into Applications and Utility, then click on Keychain Access to open the application. From there, you should be able to see a "Login" option on the left. Select that and you'll see the full list of passwords for every login on that computer. Double-click the iTunes backup, select the Show Password box and enter your system admin password for the iMac or MacBook. You will now be able to see the password displayed on your screen.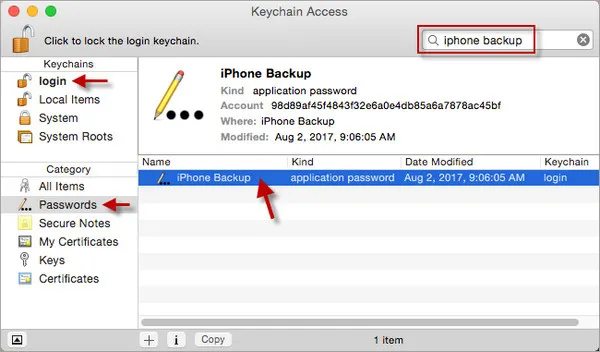 As mentioned earlier, if you didn't set up Keychain in the beginning, your iTunes backup password won't be saved there. If that's the case, then try the second method.
Part 2: How to Decrypt iPhone Backup Using iOS 11 Settings
With iOS 11 came the ability to create a new encrypted iTunes backup without having to remember the password for the old one. Before iOS 11, if you wanted to create a new backup then you had to enter the old password first. Not any more.
To do this, you can go to Settings >> General >> Reset on your iOS 11 device. Once you're on that page tap on Reset All Settings. You'll get a prompt to enter your iOS passcode - that's the one you see on the lockscreen, not the one that you forgot. Put that in and you'll see a final alert asking you if you're sure you want to reset everything. Tap again to confirm, and it will remove the password for the encrypted backup. You can then create a new backup or access the old one. Remember to note down any new password you set or you'll have to do it all over again.
The downside to doing it this way is that all your phone's settings will go back to factory resettings, including your wallpaper, screen customizations, icon layouts, etc. But it's less of a hassle than not being able to retrieve your backup.
Part 3: How to Decrypt iPhone Backup Password Using iTunes Backup Unlocker
If you couldn't remember the password and the above methods didn't work, then the last option is using password cracking utilty like PassMoz LabTunes. This is premium software that can quickly and easily recover your iTunes backup password without touching any of your data. Available for Mac and Windows, this software has one of the highest recovery rates and can recover even complex passwords. Here's how it works:
Step 1

Install iTunes Backup Unlocker

Download and install the software on your PC or Mac. Don't worry about doing a custom installation; just use the default options during the process.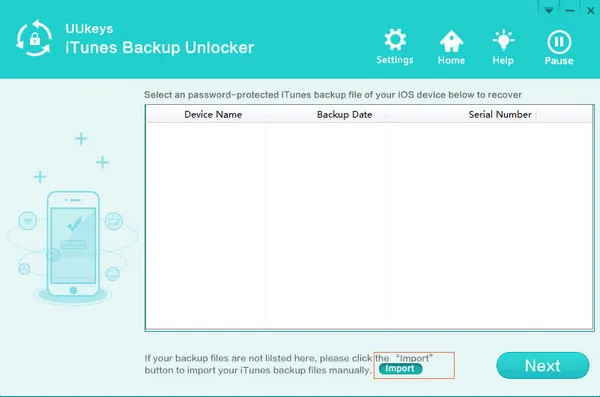 Step 2

Import iPhone Backup File

Next, run the software program and choose the iTunes backup file to import. If you've got multiple backups on your system, be sure to select the right one.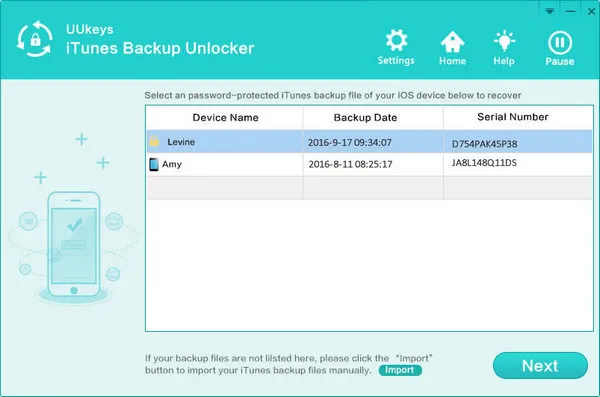 Step 3

Choose an Attacking Mode

You will now have to select the decryption attack type. If you remember any part of the password, like how many characters it had, what special characters you used and so on, you can choose Brute-force with Mask Attack method. Using just the Brute-force method may take longer because the software has to go through that many more character combinations. Providing any clue to what your password might contain will quicken the process.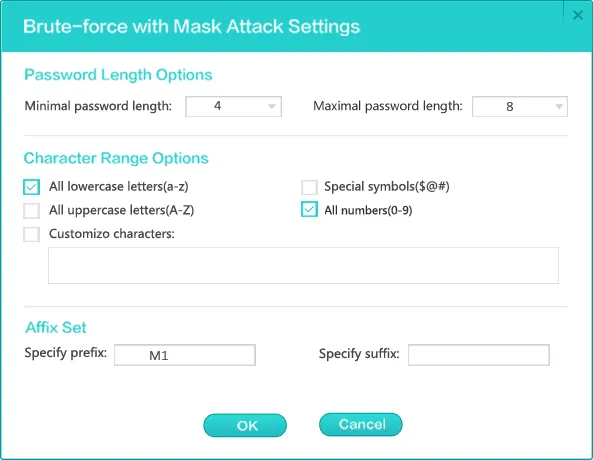 Step 4

Start Recovering Password from iPhone Backup File

Click "OK" button to start the password decrypting process when the setting is completed. You should be noted that the password recovery will take a lot of time if the password was strong enough. However, for simple password, it will be finished in minutes.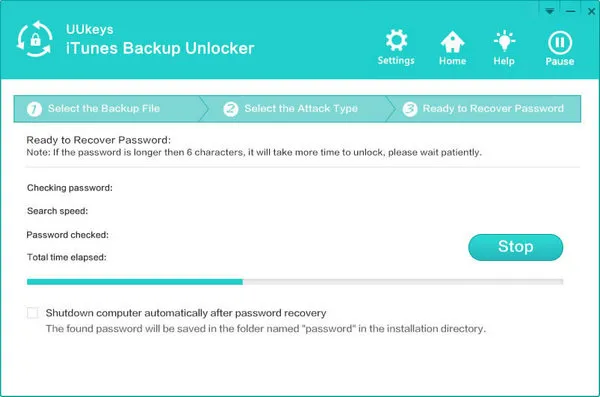 Once the utility has done its job the password will be displayed on the screen. Copy that and use it to unlock your iTunes backup file.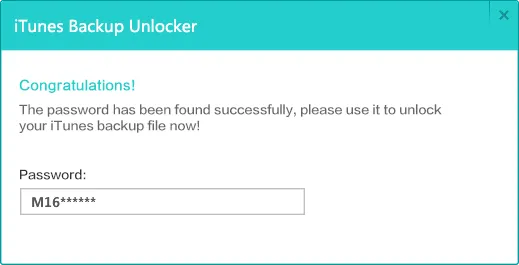 Conclusion:
The next time you forget your iPhone, iPad or iPod backup password, you know exactly what to do. We encourage you to share this article with your social circle so your friends and family can benefit from this information.