RAR file is basically alternatives to compressed ZIP file, and is proprietary IP distributed by win.rar GmbH. This format is not to be confused with .rar, which is another format called Resource Adapter Archive file format. RAR files are created by several types of commercial software like WinRAR and command-line RAR. There are several unpacking programs for this file format, and in Chrome OS the archive extraction is natively supported.
To secure such compressed files, users often apply password protection. While this makes them more secure, if you're using several RAR files on a daily basis, it's easy to lose track of passwords. When that happens, the only way to proceed is to unlock your password-protected RAR file through various means. Here are some of those methods you can consider.
Method 1: How to Unlock RAR File Without Password with DesktopTool
PassMoz RAR Password Unlocker is a purpose-built application that has the best recovery rate in the segment. It doesn't matter how complex your password is or whether or not you remember any of the characters or even the length.
The best part about this software is that it uses multiple password cracking methods to retrieve your forgotten or lost password. In addition, there are several options to let you customize your experience. For example, you can choose to periodically auto-save the progress so if the connection is interrupted, you can just resume from the last auto-saved point. In addition, you can ask the software to deploy hardware acceleration from the CPU and NVIDIA GPU.
Step 1

Download and Open RAR Password Unlocker

Simply download the software from the official site here and install it on your PC. Launch the application from the Start menu or the desktop shortcut.

Step 2

Add RAR File and Select a Password Cracking Option

Select the file you need to unlock by clicking on Add File icon on the left. Once the target file has been selected, choose the type of attack on the right. There are several types, as outlined below: Dictionary Attack, Mask Attack and Bruce-force Attack. In usual, Mask Attack is recommended because you can make proper settings to accelerate the process.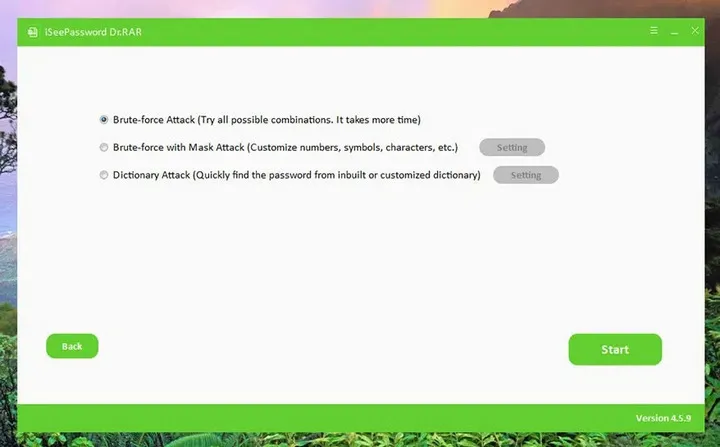 Step 3

Password Settings

For Mask Attack, you can enter any details you remember about the password, such as length, some of the characters used and so on. The Combination Attack method uses various combinations of printable characters, so that might be the best one if you don't remember the parameters. Depending on what you choose, enter the parameters on the tabs right below the first section.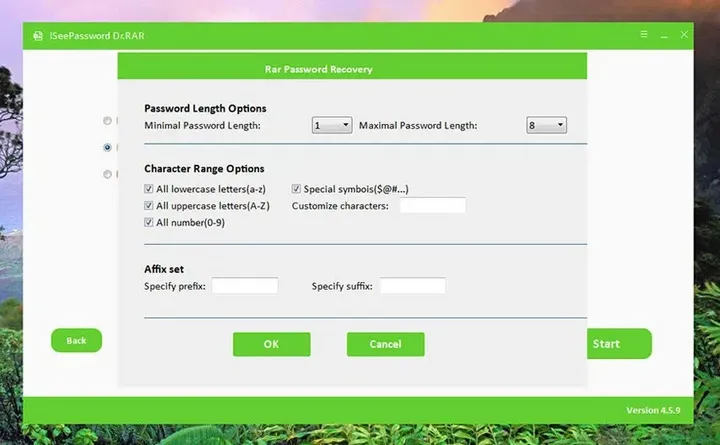 Note: Be sure to set the auto-save parameters if you want to keep saving progress. This is especially useful when you're on a shared PC and someone else needs to use it in the meantime. Since you have the option of engaging hardware acceleration, you may want to stop progress until they're done using the PC.
Step 4

Start Unlocking RAR File without Password

Once the parameters have been set, click on "Recover" icon at the bottom to initial the process. When the process is complete, you will see a final page that lets you copy the file path as well as the password for the RAR file. You can use those to locate and unlock the file. Be sure to reset the password once you're done, especially if it contains sensitive, confidential or private information.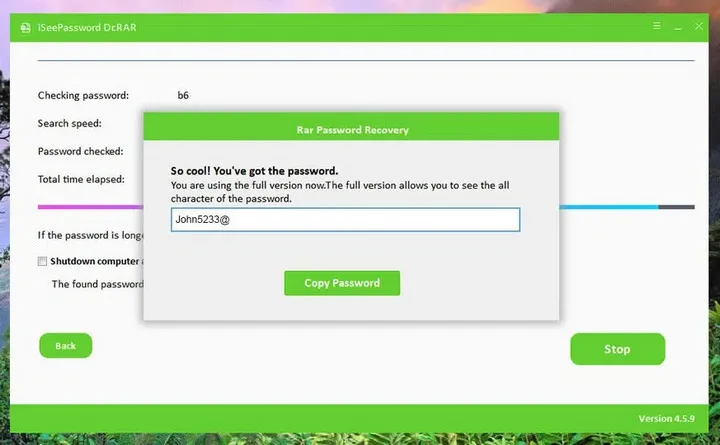 This is one of the best ways to crack a RAR password with advanced settings. The password recovery speed is much faster than similiar tools or online service. That's why it is ranked in top position of this page.

Method 2: Unlock RAR Password by Online ZIP Converter
Now, you're probably wondering why you need to convert the RAR file into a ZIP format, right? The reason is that during the conversion process, the password gets removed. It doesn't work with all conversion services, but you can try out this online service for that.
Please note that the provider has since changed its policy to NOT support password-protected archives, but it could still work with certain RAR files. No harm checking it out, since it's free anyway.
It's easy to use because you can target files on your computer as well as cloud locations such as Dropbox and Drive, including files directly from URLs. Give it a go, and if it doesn't work you can try this next method.
Method 3: How to Unlock RAR File with Notepad
Really? Yup, not many people know they can unlock a password-protected RAR file using the humble Notepad app on Windows. Of course, we've only tested this on the Windows Notepad application,but you could try it with any text editor. It should work the same, but no guarantees. To unlock your password-protected RAR file, open it in Notepad and then make the following changes:
Press CTRL+F and search for the string Ûtà then replace it with 5³tà'. Now do the same thing to find 'IžC0 and replace it with IžC0. Save the file after making the two changes above. Now when you open the RAR file with a regular unpacking application, it shouldn't ask for a password.
It's as simple as that. Although this has been tested and verified on Microsoft's Notepad, there's no guarantee that it will work for you. Theoretically, it should, so why not try it. The worst that can happen is that the file remains locked, in which case you can try the next method, which is guaranteed to work 100% of the time.
Summary
Recovering RAR password is simple and might take a lot of time to finally get the password to open the file. However, if you chose the correct method, then the time would be reduced dramatically. So in here, Method 3 is recommended because it has been tested on thousands of RAR files and gain a lot of positive user reviews.