Android is a budget smartphone operating system that changed the course of a mobile device, and it has revolutionised the world. The world is shopping online, finding a date online, selling used goods online, communicating online, and more.
In simple words, you have registered for a new account on several websites and portals, and that leaves you with plenty of credentials data. A normal man can not remember multiple email address and passwords all the time.
We all were in a position where we have forgotten email address and passwords of an online website account, and we have to go through the trouble of resetting the password. It turns in to a major problem when you don't have access to the recovery email, but your worries can end in a moment.
Instead of forgetting the password of a newly created account, why not save them within an app in your phone, including email, credit card and password? Please allow us to introduce the top 5 Android password manager apps that store credentials and secure the information so unauthorised person can not access it.
Dashlane - Never Forget Another Password in Future
The Dashlane is an old player in the market that offers a FREE PLAN for the users with encryption is 256-bit AES protection. It can save data like passwords of a Credit card, Debit card, Website credentials, and more; you name it. You can save the data in the Dashlane locally and to the cloud, which is a good option for experts. The developers have advertised premium version as well, so if you want to unlock all features, then you can opt for the premium version.
Security Encryption: AES-256 encryption – It could be an open source AES-256 encryption, but we cannot guarantee that the developers have added anything new to it.
Download | Free | Pro Version $3.33/MO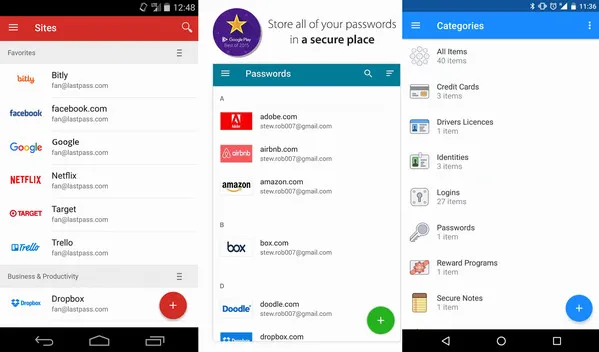 1Password - Password Manager for Families, Teams and Business
1Password offers strong protection that developed to protect your credentials and comes with features like password management, cross-platform support, password generation, and safety features. But, 1Password does not come for free of cost because it enables you 30-day free trial for setup and testing purpose, then you have to opt for the premium version.
Security Encryption: End-to-end encryption.
Download | Free | Pro version starts from $2.99/MO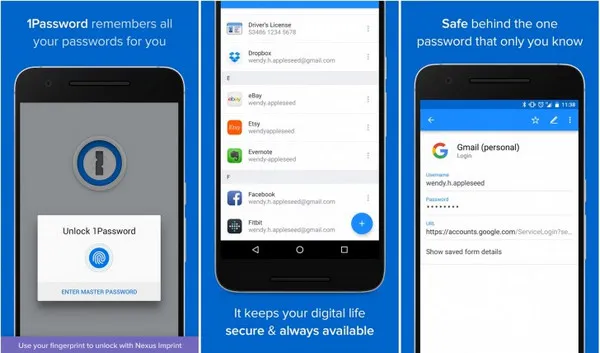 Enpass Password Manager for Android
Enpass made for cross platforms like Android, iOS, Mac PC, Linux PC and Windows PC with 256-bit AES encryption protection, which is fairly good enough to keep your data safe. The developers are offering a free version with certain limitations, but if your requirements are minimal, then you can put up with it. But, onetime payment of $9.99 will unlock all features for you.
Security Encryption: SQLCIPHER based on open-source AES-256 encryption.
Download | Free | Pro version $9.99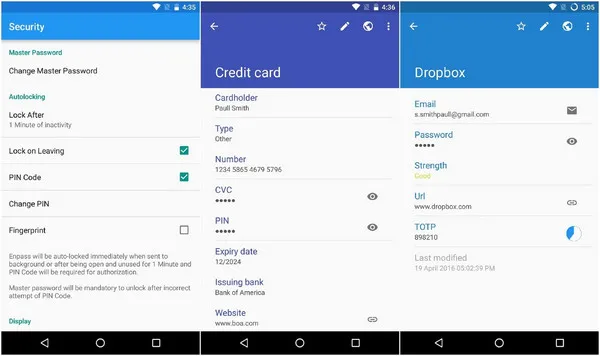 Keepass2Android Password Safe
Keepass2Android is an entry-level or call it a basic password manager that enables you to back up the password and manage them. It lacks power and competitive features when you compare it to the rivals in the web market. Keepass2Android is an open source password manager that developed by many professional developers around the world. If you are a common man trying to protect data from a common man, then the security on Keepass2Android will suffice for you.
Security Encryption: Basic!
Download | Free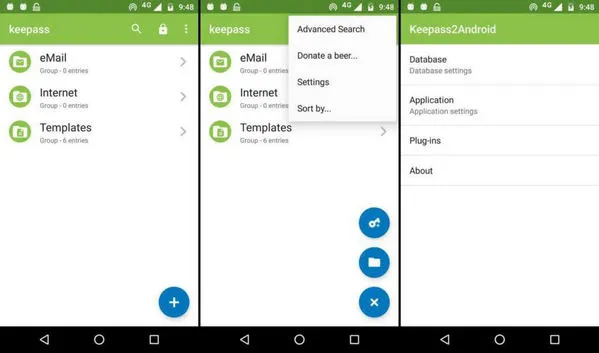 aWallet Password Manager for Android
aWallet is an old player in the web market, and they have piles of data on this niche, and that's what makes them powerful than other developers because they know what you need from a password manager. The developers have advertised eWallet using their AES encryption and Blowfish encryption over the years because it's powerful and it isn't a basic password manager.
You can save credentials like credit card information, debit card details, e-banking credentials, web accounts and application data. You also get features like auto-lock feature, built-in password generator, custom icons, and built-in search and more. You don't have to pay a single penny on the free version, only, when you are willing to give up on Password Generator, Unlock with a fingerprint, and CSV Import features that available on PRO version.
Security Encryption: AES encryption and Blowfish algorithms with key sizes of 128 bits, 256 bits, and 192.
Download | Free | Pro version $3.50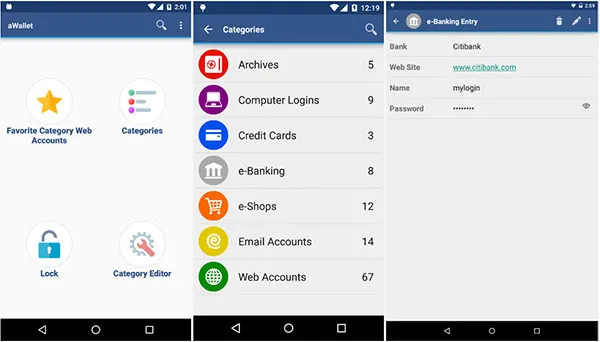 Conclusion
AES encryption 256 bits encryption is the industry-leading encryption algorithm that is not easy to penetrate by hackers and privacy invaders. But, many advanced hackers in the world can break the password, so be careful when you give access to another device remotely via Bluetooth, USB debugging mode, and WIFI. Let us know which one you picked among the list in the comment section below.