You might need to burn an ISO file to a DVD/CD for different reasons. You may want to reinstall an operating system, repair infected computer, transfer the complete contents of a Blu-ray or CD, and so on. Whatever the reason is, creating bootable media such as a CD or DVD using an ISO file has become such a common task today that there are several free as well as premium applications to do the job.
That said, free utilities may have certain limitations, which is why there are so many premium solutions available today. If you're going to be burning ISO files to discs or USB drives on a regular basis, we would suggest a premium offering that's reasonably priced and has a lot of extra functionality. We've given you some free and premium options to consider.
ISO to CD/DVD Burning Software #1: Free ISO Burner
For simple jobs, Free ISO Burner is probably more than sufficient. It writes the data directly to DVD so there's no need for a "virtual drives" as with many other methods. It is easy to use, and all you need to do is open an ISO file from the interface, put in your CD/DVD, choose a few parameters and then finalize disk.
The advantage of this software is that you don't need to install anything. Just running the .exe will take care of the job. And if you want to uninstall, just delete the program file and it's gone. However, it doesn't have the capability to create a bootable disk.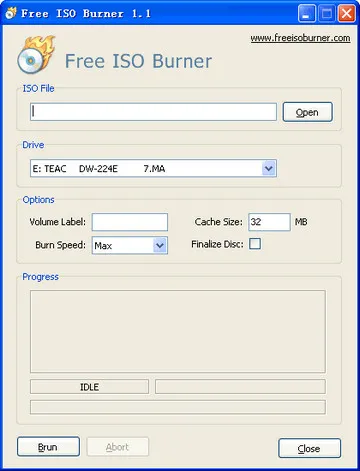 ISO to CD/DVD Burning Software #2: LabISO (Best Way to Create Bootable Disk)
If you want a really robust tool that is constantly being updated, then a premium software is the way to go. PassMoz LabISO is a licensed software that offers a powerful ISO file burning option at a reasonable price point.The best part is that you can do the job with three simple clicks, a major difference between this and most free software is that you can burn your ISO file either to a CD/DVD or a USB drive. In addition, it is the best candidate to make a reset disk from Windows ISO images. Here's how to use this utility:
Step 1: Download and install the software on your Windows desktop or laptop. Launch the app and click "Burn".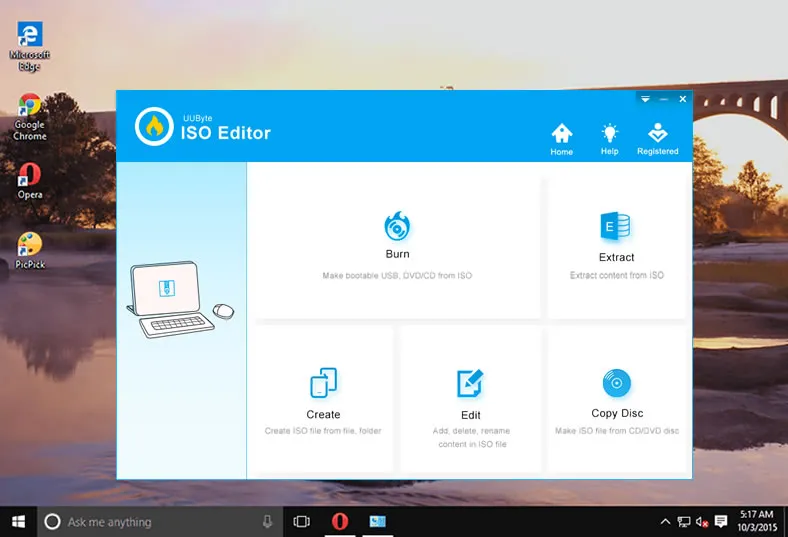 Step 2: Put in the CD/DVD into computer drive and select the ISO file to burn by clicking "Browse" button located at the top once the disc was detected by the program.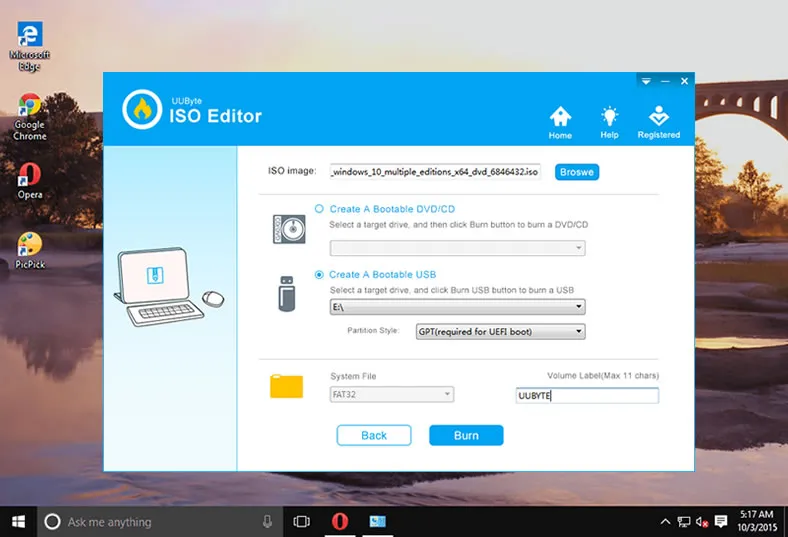 Step 3: Leave the settings as default if you don't know what it means. Finally, click "Start Burn" button to begin the burning process. Usually, it takes around 10 minutes to complete the task.
And the job's done! PassMoz LabISO is simple but powerful. Even though it's only a few steps to burn your ISO file, you'll see useful instructions along the way as you burn your disk. The software is also thoroughly tested with several top brands of USB and CDs to make sure everything works for you as it should.
ISO to CD/DVD Burning Software #3: ISOburn
Another free but powerful software is ISOburn. It supports bootable image files and, again, can write the ISO file directly to any type of CD or DVD. There's also a portable version available as a .zip file in case you want to carry it around with you on a USB drive.
As with Free ISO Burner, ISOburn is a flexible utility that handles ISO file burning in a seamless manner. You just have to select the source file and the destination drive (CD/DVD) and hit "Burn ISO", and the job is done in a matter of minutes.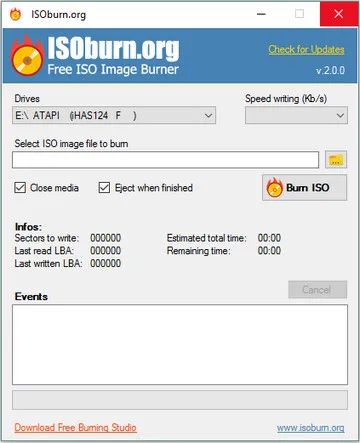 Final Note:
If you're an old hand at burning ISO files to disks, you'll know that one single mistake in the process will ruin your CD or DVD and you'll need to start over again with a fresh one. That's one of the reasons free software isn't appealing to experienced users - they know the pain. Although you do spend some money on premium tools, they're far more reliable, they'll have technical support to answer any questions, and usually offer a refund even though they have free trial versions. What more could a consumer ask for?