Microsoft Windows 8 received too many criticism for removing the start button from the edition, and they had to do something about it and released Windows 10. The latest edition supports excellent features which are sufficient enough to restore your Windows PC from a disaster.
If you forget lock screen password, then it is a big trouble because regaining access to Windows 10 PC would become a fight of your life. However, there is an official way to get back the control of your Windows PC, and if it doesn't work, then we have another way to help you unlock the computer without knowing the password.
Method 1: Create Password Reset Disk on Windows 10/8/7 for Your Owned Computer
Microsoft Windows have allowed their users to create a password reset disk, in case, when you lose the default lock screen password, and it happens often. Unfortunately, it has few flaws. It will be only able to reset the password on the computer that created this disk. It can't be used to unlock other computers.
Step 1: Go to Control Panel -> User Accounts -> User Accounts .

Step 2 : In the left sidebar, you can find "Create a password reset disk" and a small window will pop-up on your screen.

Step 3 : Now, click on "Next," and proceed. You need a USB device, or CD/DVD to create a password reset disk, and you can select it here.

Step 4 : Now, type your current user password, or lock screen password in the empty field, and click on "Next." It takes one minute to five minutes to complete the process. Click to finish the process.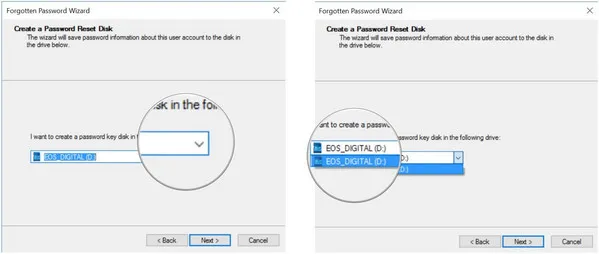 Now, you are ready to reset your Windows lock screen password using the newly created disk. This method is entirely useless when you are already locked down from your Windows 10 PC.
Method 2: Create a Password Reset Disk Windows 10/8/7 USB for Another Locked Computer
We have already mentioned that the Windows default password reset tool lacks few options and features, and we thought it would be better if we offer you an alternative to it. If you want to unlock another computer or simple forgot the password without a reset disk, then you have give a try on PassMoz LabWin, one of the best Windows password recovery tools available in 2018.
PassMoz LabWin is a powerful yet easy-to-use Windows password reset tool. It can remove login password from various Windows PCs and laptops, no matter it belongs to you or someone else. Basically, there is no limitation on the device. So it is a much better option than the built-in password reset creation tool in Windows 10. Not believe it? Why not just download a copy and verify it by yourself?
Step 1

Download and Install PassMoz LabWin on a Working Windows Computer

Download and Install PassMoz LabWin like any other Windows program. The main interface is shown at the following.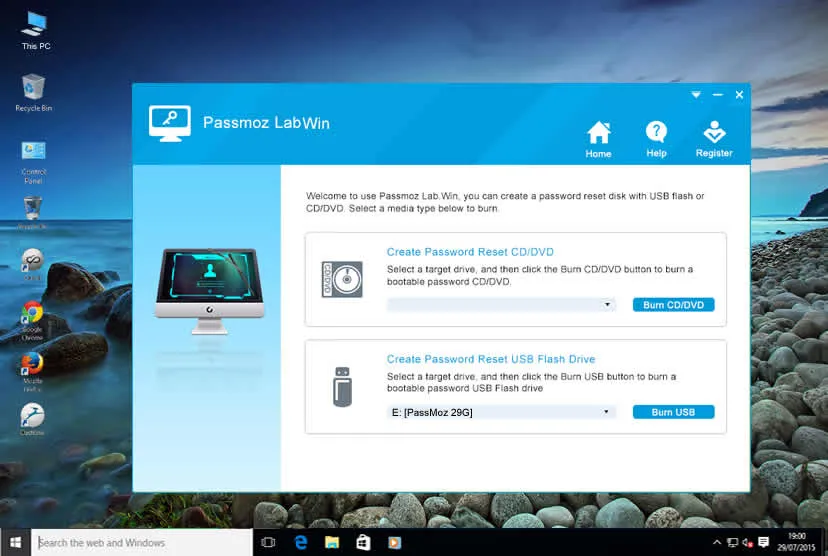 Step 2

Make a Password Removing Disk

Now, connect a CD/DVD, or a USB device to your computer. Now, click on "Burn to CD/DVD," or "Burn USB" and the burning process will begin. You can monitor the progress below, and it will show you how much time left for the process to complete. You can leave your computer and work on something else. Meanwhile, the PassMoz LabWin will alert you when the process completes. After that, a password reset disk was createdly successfully.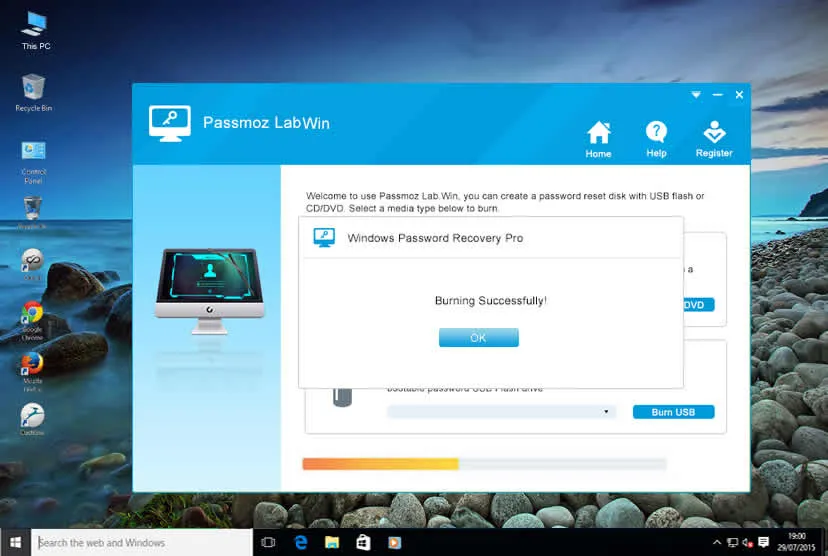 Step 3

Remove Login Password from Any Windows Computer

Now, restart your computer and set primary boot options to a USB device, or DVD/CD, then you will be able to reset your PC. Select the OS from the list, only, if you have installed multiple operating systems on your PC. Now, select the user that you want to reset Windows password. Click on "Reset Password". Wait, and then click on "Reboot".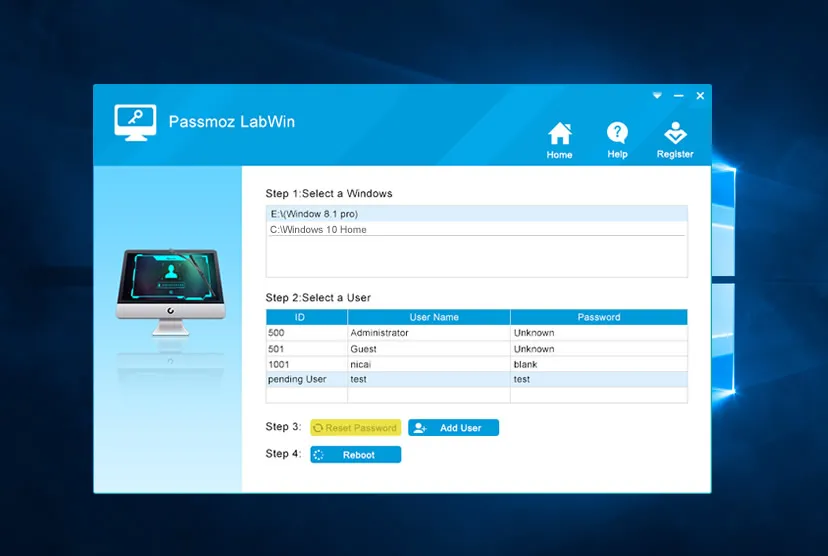 The next time when you start your Windows PC, then you don't have to worry about the password because it was removed completed from the computer.
Summary :
PassMoz LabWin is a registered company, so you don't have to worry about the program getting into your PC and leaking information, or any illegal activity. PassMoz LabWin is safe, and it won't affect your computer in a wrong way, and you can set a new password to your Windows PC after logging in.