Since you have landed on this page, we are assuming that either you forgot the login password of your Windows computer or you wish to hack into a password-protected computer. Nowadays, people have enormous amount of social networking accounts along with email; so it is really hard to memorize so many passwords at once. But unlike email accounts, computers do not have the option to reset password if you forgot it.
Obviously we need to find out the security breaches to get into a password-protected computer. In this tutorial, we will reveal a few Windows secrets that will allow you to get into a computer without knowing the password. Please note, you should only use these methods to unlock the password of your own computer. If you were cracking other's computer password then we will recommend taking proper authentication first before attempting these tricks.
Option 1: How to Get into a Password-Protected Computer with Other Admin Account
On modern working computers, there are two admin accounts on it. One is for daily work. Another is for emergency. If you forgot the login password, you can use another account to log into the computer and reset the password of the other account. Or simply ask the network manager to get it done. This is by far the easiest method for password recovery.
Another method is to use guest account. On most Windows computers, there is a default guest account associated with the program. You can get into a computer with the help of this guest account.
Step 1: Turn on your PC.

Step 2 : Login to your system via Guest Account. Click on Start and open "Run".

Step 3 : Type "compmgmt.msc" in the empty field and press "OK" or hit Enter.

Step 4 : On the Computer Management window, click on "Local Users & Groups" (located in the left sidebar). Open the "Local Users" folder to fetch all the administrator accounts registered on your PC.

Step 5 : Right-click on your username then select "Set Password". Enter a new password twice and make it your new computer password.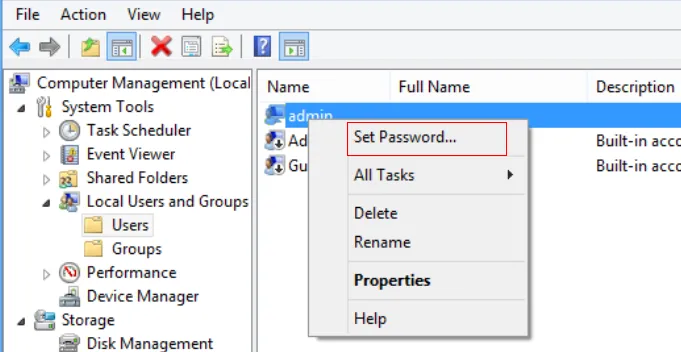 Warning: The guest account is required to have admin privilege to fully perform such a rescue. If this method failed, then Option 2 will be helpful for sure.
Option 2: How to Get into Someones Computer without Password by Using PassMoz LabWin
If you want to save your time and unlock the computer in an easiest way then make use of a third-party Windows password recovery tool. There are powerful and easy to use. Actually, We have tested 10 pieces of such software and we found out PassMoz LabWin is the best candidate for password reset.
PassMoz LabWin works flawlessly and it can crack up to 32-character long password in less than 5 minutes. The basic principle of this tool is to remove the logon screen from the PC with a password reset disk so that you can open your computer without any password at next login. It works with all kind of Windows versions like Windows 7, Windows 8, Windows 10, Windows XP/Vista and Windows server. The whole process is simple and you will know how to operate the program with the screen instructions. Most important, no data would be deleted on system drive.
Step 1

Install PazzMoz LabWin

You need to access another working computer for like 10-15 minutes. Quickly download the program, install it and insert a USB thumb drive on that computer.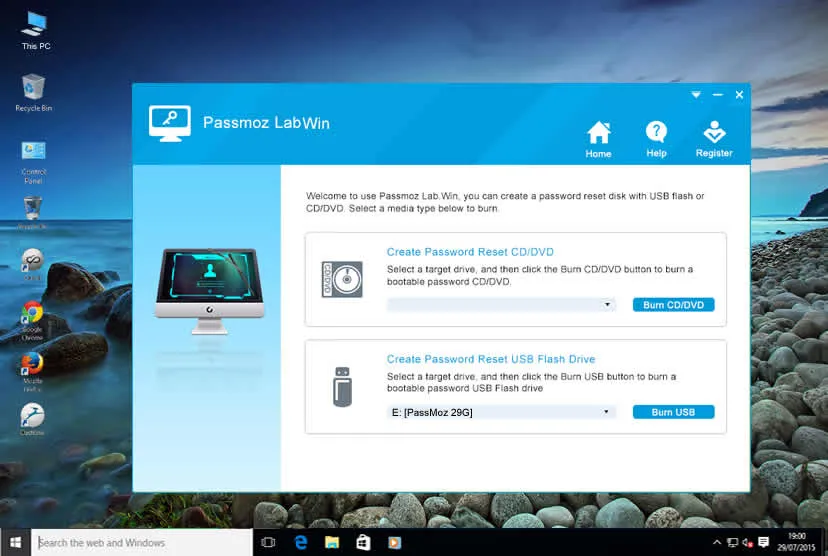 Step 2

Create Password-Reset Disk with USB Drive

The program will detect the flash drive and the name will appear on the main screen of the software. Click on "Burn USB" and within 2 minutes, the password reset disk will be created successfully. Eject the flash drive and you may now return the computer. Its job is done.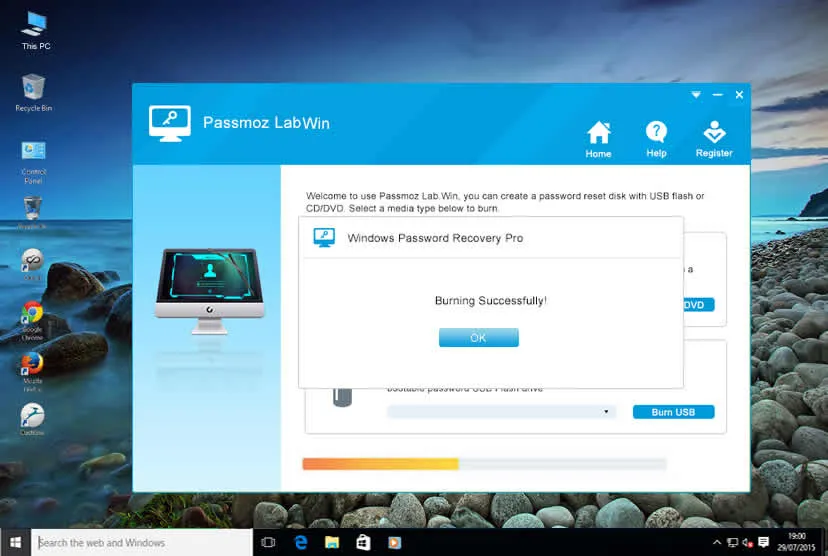 Step 3

Boot from Password-Reset Disk from Locked PC or Laptop

Insert the thumb drive on your protected PC and simply turn it on. Your computer should boot from your thumb drive automatically since it's bootable. If it fails then make sure to change the boot priority on your BIOS settings and make your flash drive as #1 priority.
Step 4

Reset Computer Password

Once the password recovery tool is loaded, select the administrator username with your mouse. Make sure it is highlighted then click on "Reset Password" button and it's DONE! Restart your PC and the password will be vanished automatically.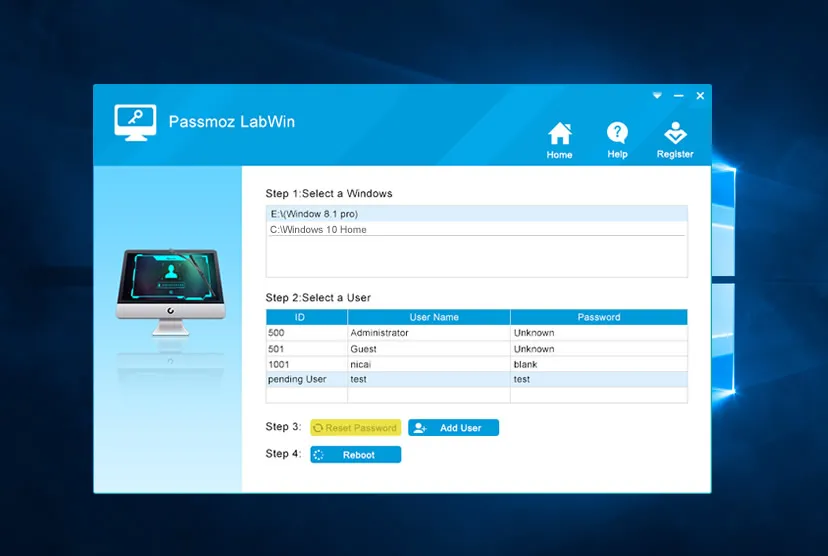 The time you spent on it will not exeed 5 minutes. And you don't need to perform complex text command to complete the task. The only drawback is that you have to pay for a few bucks to fully use the function. Frankly speaking, it well worths the money.
Option 3: How to Get into Windows Computer without Password by Reinstall
If the computer was bought from others and the seller didn't tell you the password, then reinstalling Windows is a good chocie. It would take 2-3 hours to fully set up the computer and install devcie drivers to make it work properly. However, you should have a Windows installation disk at hand. Please be warned! All data on system drive will be erased after reinstallation.
Step 1: Insert Windows installation disk on that PC or Laptop.

Step 2 : Windows will load files automatically and then installation process will appear.

Step 3 : Follow the instruction on the setup wizard and install Windows 7/8/10 on your C drive.

Step 4 : Go through the instruction and install the Windows operating system again.

Step 5 : Your PC will be restarted many times during the progress and after it is finished, your computer will be unlocked.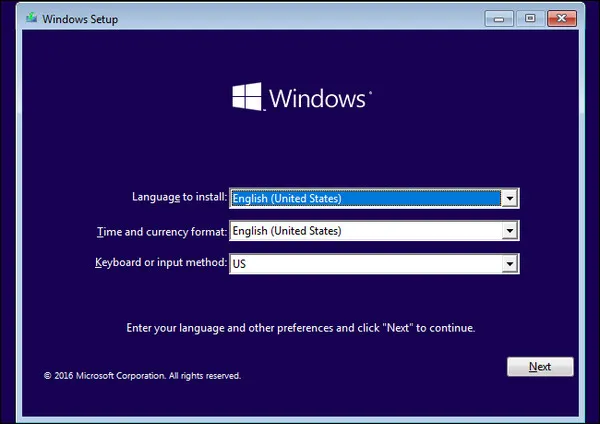 Conclusion:
After analyzing all the tricks, we have found out that re-installation is only recommended on new computers and resetting Windows password from guest account is very conditional. So, if you want to reset your computer password without any hassle then it is recommended to use Passmoz LabWin . The tool destroys the password from your PC and it is guaranteed that it will work for 100% sure. Don't forget to read the reviews and ratings of this product and if you have any query then feel free to contact the support staff.