If your Windows 8 or Windows 8.1 computer has private or confidential stuff that you want no one to take a peek at, then adding a lock screen password is the best option to prevent illegal access to the computer. However, if you somehow set a complex password and unfortunately forgot it, then this will bring a lot of trouble because you won't be able to enter into your own PC and without inputting the right password, there is no way to open the files and folders inside your PC.
So, is it the right time to dump your computer or format it? Absolutely not, because with the help of tech tricks and tweaks, you can easily manipulate the security breach of Windows 8 or Windows 8.1 computer by resetting the password. In this tutorial, we will show 3 different ways to reset Windows 8 password and I am sure one of them will definitely work well for you.
Method 1: Reset Windows 8 Account Password by Resetting Microsoft Account Password
For Windows 8/8.1, you have to add a Microsoft account to the computer so you can use the built-in Microsoft services more freely. If you are using Microsoft profile as the default account to protect your computer then you can reset login password of your MS account to resolve this issue. Here is how to reset MS account password:
Step 1: Go to https://account.live.com/password/reset from an accessible computer or you can even use a smartphone with internet connection.

Step 2 : Choose "I Forgot My Password" option and go to the next page.

Step 3 : Enter your Microsoft account email and follow through the instruction.

Step 4 : If you have entered all information correctly so far, then on the last page, you should get an option to reset your account password. Use the new password to input on your locked computer and it should grant access to your PC now.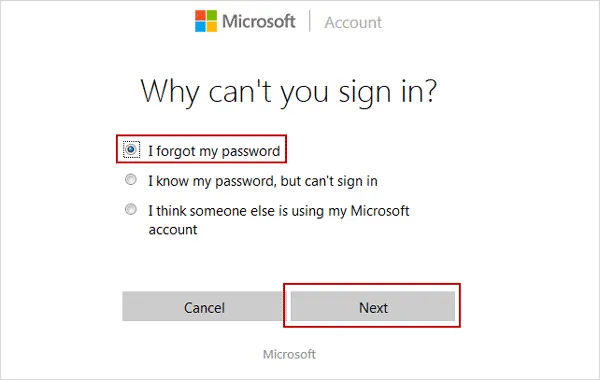 Warning: This method only applies to Windows 8 machine that is signed in with Microsoft account. For local account, you need to follow the suggestion in Method 2. Also, changing password of your MS account will automatically change password of all other MS services such as Skype, Xbox, OneDrive and so on.
Method 2: How to Reset Windows 8/8.1 Administrator Password with USB Reset Disk
Resetting password with a password recover utility can be much easier than going through any hectic procedures. LabWin Windows Password Recovery allows you to create a password reset disk in 2 ways to unlock a Windows computer within few minutes. With PassMoz program, you can reset password for any kind of account type such as local, administrator and root accounts.
Supported Windows Versions : Windows XP, Windows 7/8/10, Windows Vista and other older Windows servers.
Compatible Brands and Models – Dell, HP, Lenovo, Acer, Sony, and Samsung and so on.
Step 1

Install PassMoz LabWin on Another Windows PC or Mac

Download and install PassMoz LabWin on a different PC or Mac computer that you can use it as administrator. After installation, the program will be opened automatically. The main user interface is like this: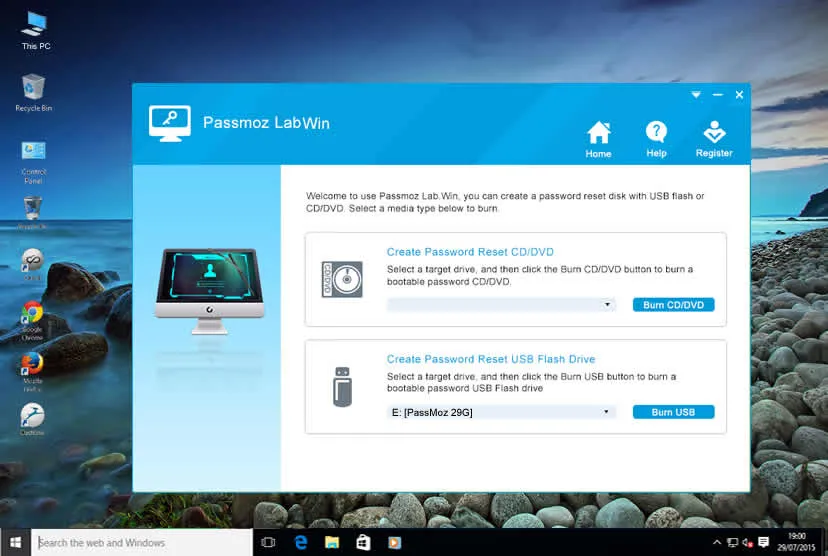 Step 2

Make Password Reset with USB Disk

Insert a USB flash drive or CD/DVD with at least 512 MB storage space on that computer. From the home screen of PassMoz LabWin, click on the drop down arrow and choose the correct drive name. Then click "Burn USB". Alternatively, if you are using a CD/DVD then follow the same instruction as above but click on "Burn CD/DVD".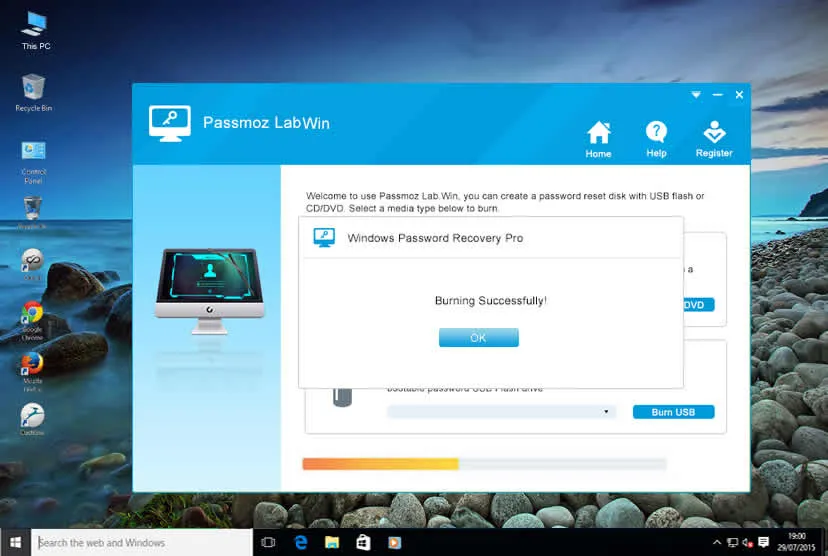 Step 3

Change Boot Priority on Locked Windows 8 Computer

Once you have successfully created the bootable disk, take it out and insert it on the locked computer. If you didn't make any changes, the computer will go to login screen again. The reason is that the computer boots from hard drive in default. In order to boot from external disk, you have to change it in BIOS settings or boot menu (on new computers). Please set USB or CD/DVD as the first booting device. After that, PassMoz LabWin will be loaded at next login.
Step 4

Reset Windows 8 Local Account Password with Reset Disk

If you have done everything correctly, then PassMoz program should appear on the display screen and now you are only 1 step away to unlock your Windows 8 computer. Select the user name of your computer and the Windows version (Windows 8) and you are all set.

Now hit the "Reset Password" button and wait for few moments while the password reset tool changes your computer password to null. Finally, reboot your PC and Voila! You have successfully accessed your PC without entering any password.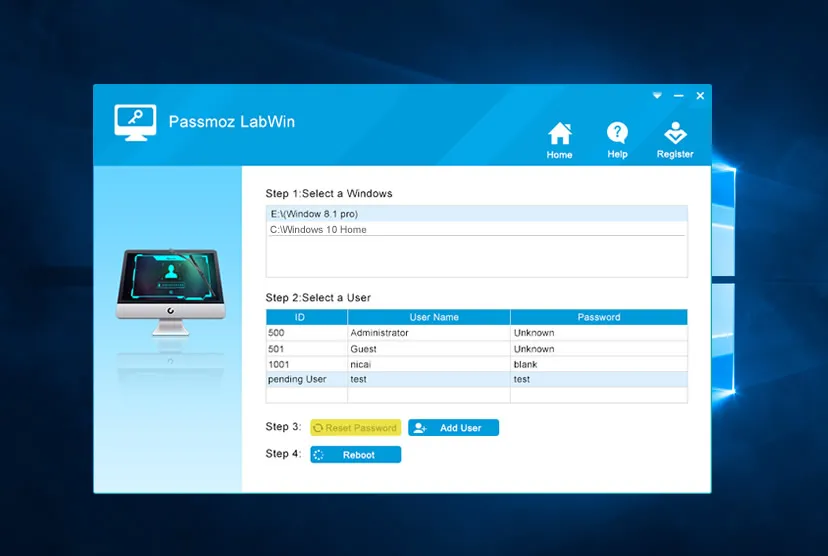 This is by far the best way to reset Windows 8 local user or admin accounts. It only takes a few minutes to successfully reset the account password. No data loss during the whole process.
Method 3: How to Reset Windows 8 Local Account Password without Disk via Ultimate Boot CD
Ultimate Boot CD is yet another powerful Windows password recovery program that can reset and remove the password from your computer. It is a text based emulating program, so of course you need some programming and technical skills to use this software.
Step 1: Download the ISO image file of the Ultimate Boot CD from the official website and burn the file into a CD/DVD or USB flash drive.

Step 2 : Insert it on your locked computer and select "Parted Magic" option from the menu and press Enter.

Step 3 : On the next windows press 1 to choose the default settings and continue.

Step 4 : Once the Parted Magic is loaded, go to System Tools followed by "Change Windows Password".

Step 5 : Follow through the instruction and finally remove the password from your computer and exit the program. Restart your PC and it should turn on normally without any password.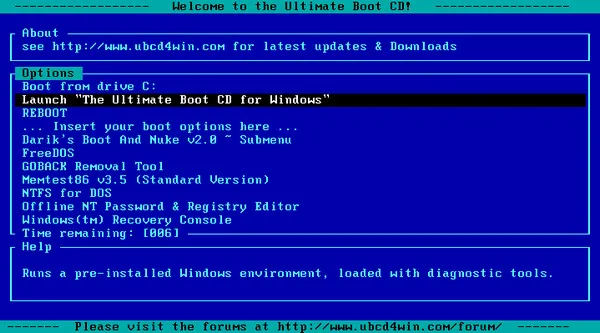 Note: Ultimate Boot CD is very complex program to use. Only certain level of computer expertise is required or else you might lock your computer forever.
Conclusion:
As you can see, it is quite easy to bypass your computer password even if you completely forgot it. The best way to avoid this awful situation in future is to create a password reset disk on your computer so that you can easily modify the password if forgot again. You can do it easily with PassMoz Windows Password Recovery, which has the ability to reset any kind of password from all Windows computers. It is super easy to use and no computer skills are required to operate this program.