HP laptop is one of the most famous and top selling devices in computer market. The main reason why people are choosing HP laptops over other brands is because it is reliable and provides countless features in a reasonable price. Not to mention, HP has incredible security measures like you can password-protect your laptop as well as use your finger touch as the protection method. How to reset HP laptop password when being locked out?
Forgetting HP laptop password is quite common in these days, considering that people have hundreds of online accounts with different types of password. Your brain may jumble up totally and can't remember clearly which password you are using for computer login. The laptop no longer recoginze the password you typed and resetting Windows local account password is a bit different than resetting online account password. We are going to list down 4 most favorite ways to reset HP laptop password if forgotten.
Method 1: How to Reset Administrator Password on HP Laptop without Disk
Most HP models like HP Omen, Elitebook and Pavilion have in-built guest account created on the laptop, which requires no password to login. You can certainly use this account to reset computer password of administrator account. Here's how to do that:
Step 1: Turn on your laptop and login to your PC via guest account.

Step 2 : Press Windows + R to open the Run program. Then, type "cmpmgmt.msc" and press Enter.

Step 3 : A new window will open with Computer Management options. Simply, select the "Local Users & Groups" from the sidebar to display all the accounts associated with your HP laptop.

Step 4 : Right-click on the administrator account and set up a new password for your laptop.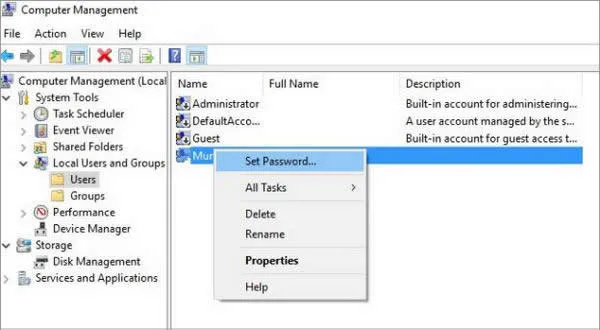 Tips: The guest account must have administrator rights. And it won't work with other HP models which has no guest accounts pre-created.
Method 2: How to Reset Forgotten Password on HP Laptop (Windows 10/7/8/Vista) in 1-Click
If you are not a computer expert and want to know the easiest way to reset HP laptop password then using third-party Windows password recovery tool is the most comfortable option. Out of all the tools available on the internet, we have discovered Passmoz LabWin is the most prominent password recovery program to reset password on locked laptops and PCs powered by Windows. It is incredibly easy to use and requires no computer skills to implement this software.
It is very effective in resetting administrator, local and server password. With the advanced version of this program, you can even reset Microsoft account passwords effortlessly. It is perfectly compatible with all HP laptop models as well as it works with other brands too like Dell, Samsung, Acer, Toshiba, Lenovo, etc. Let's see how to create a password reset disk with Passmoz and use it to unlock a locked laptop.
Step 1

Get a Normal Windows Computer and Install PassMoz LabWin

The only thing that you will require to make this program work is that you must have access to a Windows computer with admin privileges. Install the software on that computer and launch the program to see its main interface for the first time.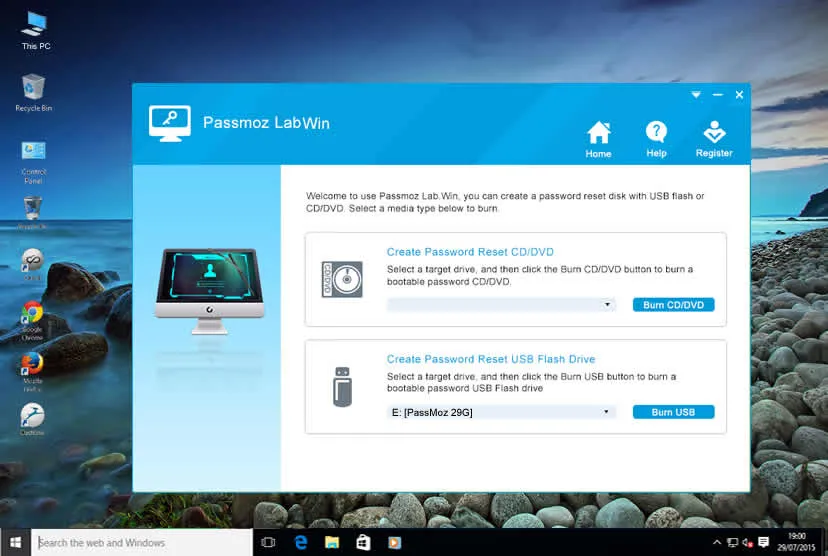 Step 2

Burn a Password-Reset Disk with USB

Insert a blank USB pen drive to the computer and press the "Burn USB" button to create a bootable disk. By the way, you can also do this via CD or DVD.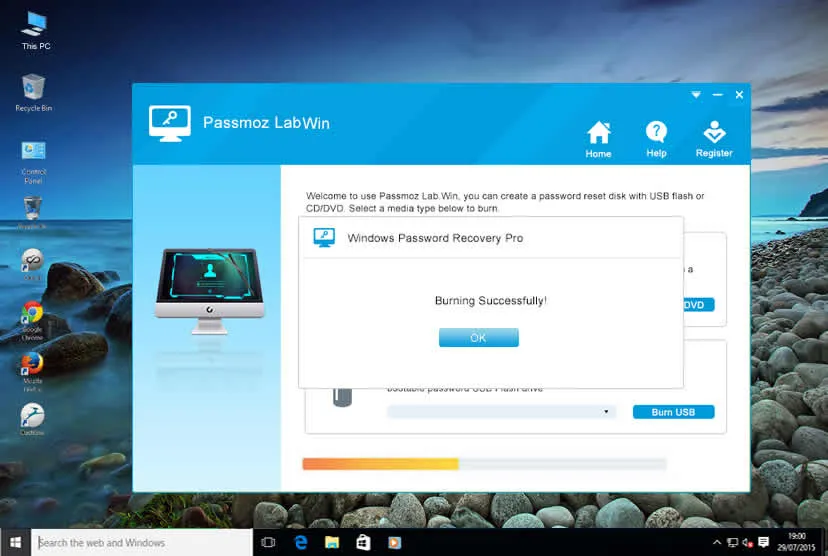 Step 3

Change Boot Order on Locked HP Computer and Reset Password from HP Laptop

The pen drive will now have all the necessary files to unlock the HP laptop. Insert it on the locked computer and turn it on. On HP laptops, press F2 to bring up the boot menu option and choose USB as the first booting device. After that, PassMoz LabWin will perfectly appear on the laptop screen. Select the locked username and click on "Reset Password".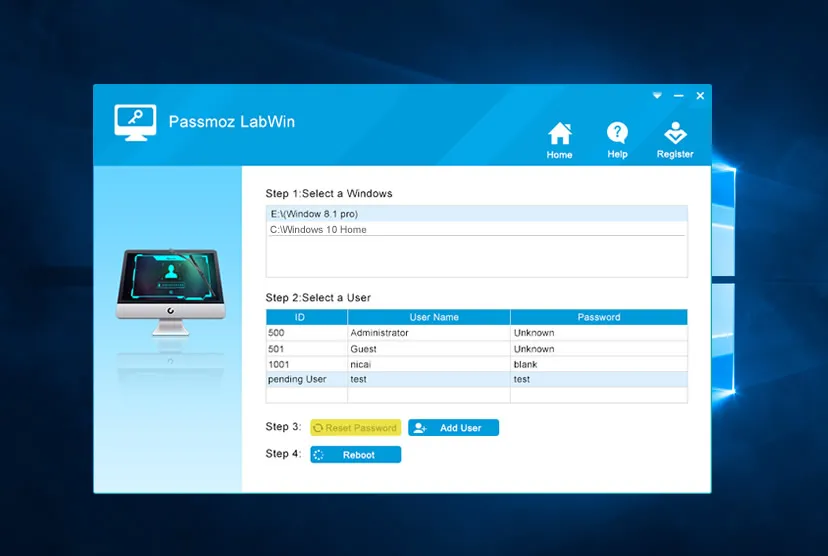 You are all set! Reboot your laptop and use it again without any password at all. You may also notice that no documents or data are deleted and you have successfully unlocked your laptop.
Method 3: Ask Help from HP Support If You Forgot HP Laptop Password
If you have a root or domain controller account associated with HP company then you can take help from their support to unlock the laptop. Please note, it only works with domain controller users and conditionally, it may also work with root users.
Step 1: Call 1-888-264-6672 (International number) and follow through the voice call IVR.

Step 2 : Get connected with any customer care.

Step 3 : Tell them you have lost your HP laptop password and give them your HP laptop model number, bill number, email ID and the domain username that were created by default by HP company.

Step 4 : You may also have to answer few extra questions to verify your laptop and finally they will email you a new password as well as text you the same on the registered phone number. Open the email from your phone to see your new password and use it enter into your laptop.

Method 4: Unlock HP Laptop via Local PC Repair Center
This is the dead end for your laptop if you found out the above methods irresistible. Simply take your laptop to the nearest HP service center and explain what is wrong with the computer and what you have done. We are pretty sure they will format your laptop and re-install Windows which will erase all the data from your PC. Plus, the price is expensive if you didn't buy HP premium service. Generally, this is the last option if all other solutions failed.
On the other hand, you can ask them to use Passmoz to bypass your laptop password if you don't want to lose any data.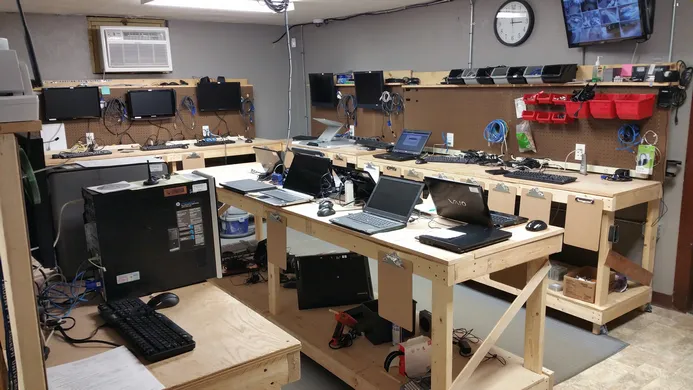 Final Words:
In this tutorial, we have explained the 4 best ways to reset HP laptop password. Please remember, you can use Passmoz to unlock any laptop or computer using any version of Windows operating system like Windows 7/8/10/XP/Vista as well as Windows server 2000/2003/2008/2012/2016. Passmoz is extremely powerful and can crack any strength of password in a short period of time. If you have any question then don't hesitate to contact their support to follow through the unlocking process.