Windows password is necessary for users because it keeps their valuable data from prying eyes. It is the first checkpost for security, and offers a relatively high level of safety from hacking. But password can sometimes turn on you and become the enemy, especially when you forget a password to your own Windows computer! Fortunately, Windows passwords are not impossible to crack, recovery or reset. In this tutorial, we'll show you how to use the LCP password cracking tool to get past your forgotten or lost Windows password.
Part 1: LCPsoft Windows Password Cracking Tool Review
LCP stands for Link Control Protocol, which is part of the Point-to-Point communications protocol, or PPP. It is essentially a password audit and recovery tool, and there are different versions for various operating systems and databases. It basically works by extracting the NTLM password hashes from the SAM file and cracking the password using its built-in recovery function. So it is a great alternative to free tools like Ophcrack, l0phtcrack, which is discontinued for years.
Currently, LCP supports a few powerful password cracking algorithms, including brute-force, dictionary and hybid attacks, making is the perfect canditate to recover lost or forgotten password from multiple Windows OS and databases.
Part 2: How to Use LCP Password Recovery (Applied to Windows 10/7/8/Vista/XP)
In this tutorial, we'll show you how to recover a Windows password using this efficient tool.
Step 1: Download the .zip file for the appropriate version of LCP, unzip it and launch the program.

Step 2 : The next step is to import the hashes, which can be done in a variety of ways. LCP can import from SAM files, Sniff files, PwDump files, .LC and .LCS files. It can also import from a remote computer if you're running Windows Server. For this example, choose the "Import from SAM File…" from the Import menu. You can usually find the SAM file at this location: C:/Windows/System32/Config

Step 3 : Once the SAM file is loaded, the LCP software will show you a table with several columns. The NT Password column will be blank at this point for any user account that has a password. If it doesn't, you will see "NO PASSWORD" against that user.

Step 4 : If you see your user name and the NT Password field is blank, that means you will be able to recover your password using LCP. You can now click on the play button (triangle pointing to the right, like the play button on a media player) to initiate the crack. But first, read the note below.

Step 5 : Depending on which attack method you chose, the cracking process could take a few hourss to days. It also depends on your computer's resources. Once the process is over, you should be able to see your password displayed against the corresponding user name in the NT Password column. Note it down. You can now close the LCP program, restart your computer and use that password to login.

Note: LCP uses various cracking methods to recover passwords. Brute force and dictionary attack are the main types, and there is a hybrid option that leverages the best of both methods. Both are basically guessing games, but a dictionary attack requires a pre-compiled list of possibilities (called a dictionary) to guess the most likely text combination for the password. Brute force tries all possibilities so it takes more time. Dictionary is faster, but it obviously has less coverage. Therefore, hybrid usually represents the ideal balance of coverage and time. On the LCP interface, tick the box against the option you want to use for the crack attempt.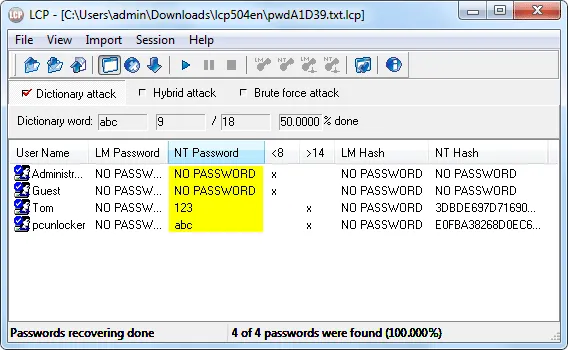 Part 3 : LCP Password Recovery Not Working? Which is the Best Alternative?
The above process doesn't require any computer expertise, but it does require a working knowledge of a few processes. For example, if you are locked out of the computer, you will need to create a bootable disk (Live CD) to access the SAM file. You may also have trouble locating the SAM file if it is not found in the /Config sub-directory. In addition, you will need an ISO burning software to create the bootable disk. If you would rather not go through all that, then consider a user-friendly alternative like PassMoz LabWin. It is trusted by millions of Windows users all over the world because of its ease-of-use and the fact that it has a 100% recovery rate over most versions of Windows ranging from XP and Vista to Windows 10.
Unlike the LCP method, the PassMoz LabWin software utility doesn't need you to execute a long process. Simply download the software on another PC, create the password reset disk, and then use that disk to reset your Windows password on the locked computer. This three-step process requires no technical expertise, and the unlocking is almost instantaneous because rather than recovering your password, it simply removes it so you can access your account without entering a password. This simplicity and speed has been proven on more than 50 top brands of PCs, making PassMoz LabWin one of the most accessible Windows password recovery tools in the world.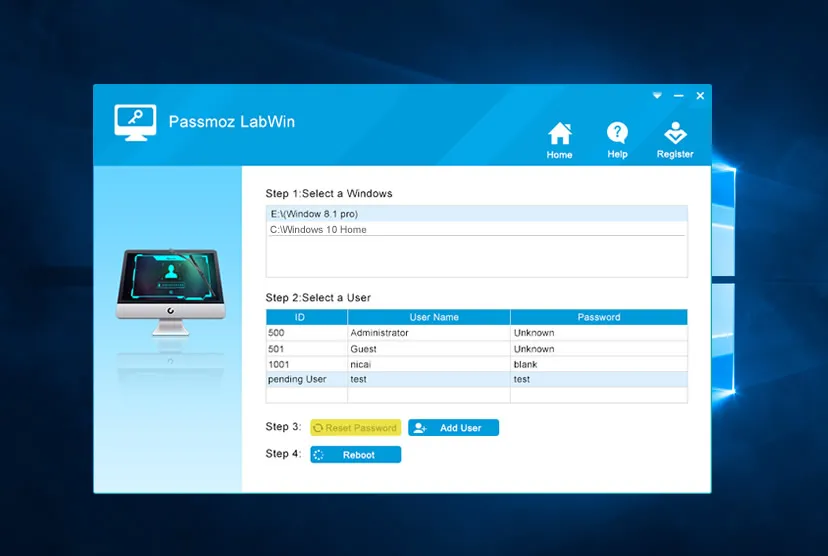 Conclusion:
You should be familiar with LCP if you want to be a hacker. The princle behinds LCP is worth checking out for every learners. However, it is not an ideal tool for beginners who only wants to get rid of the password from their computer. Hence, you can take a look at those free password recovery tools instead.