Windows Password recovery software is typically used to reset, recover or remove password for Windows machines. They are in great helpf when the password is lost or forgotten, or an authorized user wants to access the account of a user that is no longer being used. These tools are often called password 'cracking' utilities because they crack the password. They can also remove or reset password depending on their functionality.
There are dozens of password recovery software applications available on the Internet, but not all of them are equally effective. Some of them have a low recovery rate; others aren't vetted by other users so they may be unsafe or contain malware; some software can even damage or delete the data you have on your computer. That's why you need to be very careful when choosing the right tool to recover your Windows password.
This article outlines ten of the best free Windows password recovery tools that we've reviewed so far in 2018. They're all well-known among Windows users, and all of them have fairly good recovery rates. Of course, since they're free, they will each have their limitations. Some may take a long time to recover or unlock your Windows password; others might have restrictions on the password length they can handle, and so on. So let's get started with our list.
Pre-Created Password Reset Disk
If you're proactive, this is probably the easiest way to recovery your Windows password for free. In order to be able to access your PC without a password, you first need to create a password reset disk from within Windows. A reset disk created this way will allow you to simply insert it into a locked PC and reset the password on the login screen. If you forgot doing this in advance, please skip this part and choose one from the rest suggestions.
Connect a USB flash drive to your PC. At the login screen, please click "Reset Password". From the next screen, please follow the screen intructions and select the disk name from the prompt. Once the disk is recognized by the comoputer, it will ask you to set a new password for that computer. Just type a new password and click "Finish". Reboot the computer and input the new password for login.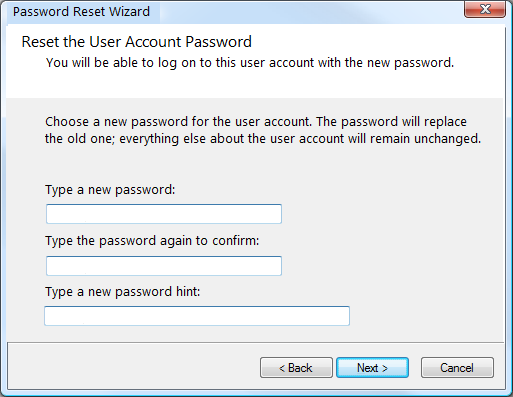 UBCD (Ultimate Boot CD) Password Recovery Software
UBCD is an useful tool when you've already forgotten your Windows password and you can't get into your user or admin account. Ultimate Boot CD, or UBCD, not only has the chntpw utility built into it to recovery passwords, but it also comes with an array of repair tools for several Windows issues. For now, we'll focus on password recovery.
Download the latest version of UBCD to a different computer, and use a free ISO burning utility like FreeISO Burner to burn the bootable media to a disk or a USB flash drive. Now insert and boot up your locked PC with the bootable UBCD disk or drive. On the boot menu, you'll see "Parted Magic"; select that and hit Enter.
On the next screen, just select the default settings to get to the Parted Magic desktop. Here, under System Tools on the bottom left of your screen, you'll see an option called "PCLoginNow ." Click on that.
Another smaller window will open and show you all the drive partitions. Select the right one, and that will display the Main Interactive Menu for the chntpw utility. Follow the on-screen instructions to choose the right user and then edit or delete that user's password. Finally, press q and Enter to quit, then y and Enter to confirm writing the registry hive to the disk. And you're done.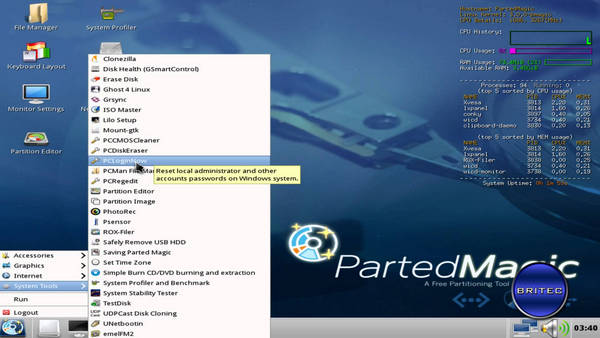 Summary:
As you can see, there are a variety of software applications and programs that you can use to recover passwords. Some of them are a little harder to use than others, but all of them are extremely popular and are being actively used by millions of Windows users around the world. All of these five utilities have their advantages and disadvantages, as you just saw. Some of them are fast, but complex. Others are simple, but limited by functionality. Depending on your exact situation, however, you should be able to choose at least one that works for you.