When you bought a used computer from eBay and find out there is a password on it, what you should to do? Return it or just simply crack the password? The answer is pretty obvious because there are many password cracking software available. And it would take too much time to send back the machine to the seller. However, password cracking is not that easy as you could image. Microsoft has done a tremendous job to secure a Windows computer. You are free to put a text password, PIN code or picture password as the default security type, which is hard to crack on old machines.
In this tutorial, PassMoz Editors round up all the possible ways to crack login password on Windows PCs or laptops. The suggestions work well on Windows 10/8/7 as well as Windows XP/Vista. Each of the methos apply to certain situations so please choose the right according to your own case. Please read the steps carefully and get the password cracked as soon as possible.
Method 1: How to Crack Windows 10/8/7/XP Administrator Password with Recovery Tool
Nothing could be easier than resetting Windows computer password with a password recovery tool. This kind of tool can directly reset user or admin password on Windows based computers. It is fast and easy. Most importantly, there is no data loss during the process. It means all the files on that computer with not being affected. This is a huge advantage over system installation.
Among the tools, PassMoz Windows Password Recovery is the perfect candidate. It can instantly reset and remove the password from computer. The basic logic behind PassMoz program is that it completely destroys the password from your PC so that you can login to your computer normally without any password at all. It works flawlessly with all Windows versions including Windows 7/8/10 and even older Windows versions like Windows XP/Vista/NT.
Step 1

Install PassMoz LabWin on Another Windows or Mac Computer

First download PassMoz Windows password recovery tool on a different PC or Mac that you can access temporarily. Then, install the program on the computer by following the on-screen prompts.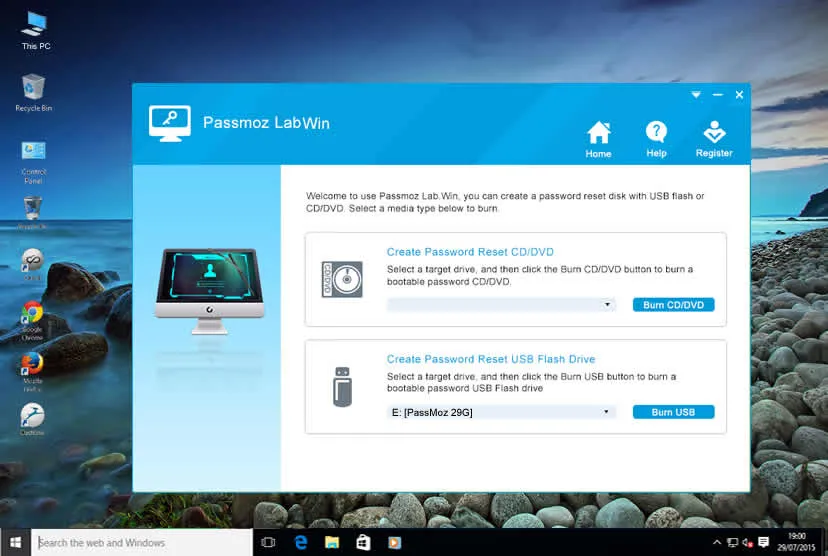 Step 2

Make Password Cracking Disk with USB Drive

Now, insert a USB drive on the computer with at least 200M free space and find the drive name on computer explorer. After that click "Create Password Reset USB Flash Drive" and select the drive name from the list. It will take 5-10 minutes to complete the burning process. Whne it is finished, eject the USB driver and insert it to the locked computer.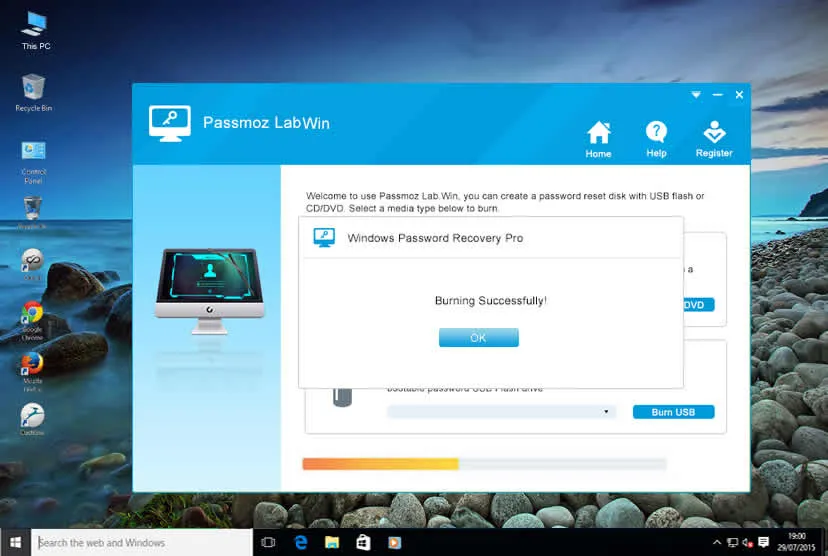 Step 3

Turn on Locked Computer and Change Boot Order

Generally, all Windows computers are set in default to boot from hard drive. In order to boot from the password reset disk, we have to change the boot sequence accordingly. This can be done in BIOS settings or boot menu (on modern computers). Make sure the first booting device is USB flash drive.
Step 4

Reset Windows Local Account Password in One-Click

Reboot the locked computer, it will boot from USB this time and PassMoz LabWin will appear on the main screen. All you need to do is to select the Windows version that you are using and the user profile name registered with your PC. Now, press the "Reset Password" button and restart your computer to access it normally without inputting any password.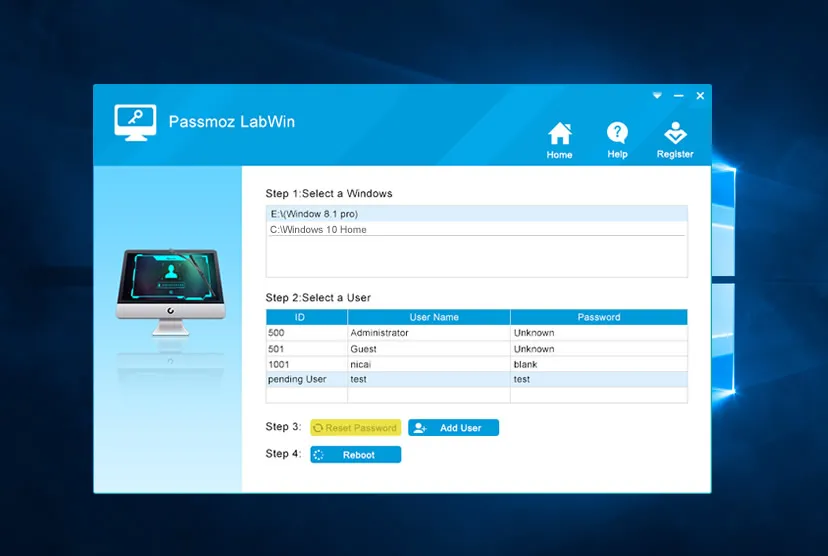 Method 2: How to Crack Windows 10/8/7 Admin Password without Any Software
On Windows 8 or Windows 10, you can login the computer with Microsoft account. Once you forgot the login password, simply reset the password of Microsoft account and use the new password for login. However, the computer should be connected to Internet.
Step 1: Visit https://account.live.com/password/reset from a separate computer or mobile device using your favorite browsing application.

Step 2 : Select "I Forgot My Password" from the given option and hit next.

Step 3 : Enter your recovery mobile number or email ID and receive the OTP code.

Step 4 : On the final page, setup a new password for your Microsoft account and apply the changes. Now reboot your PC and use this new password to enter into your computer.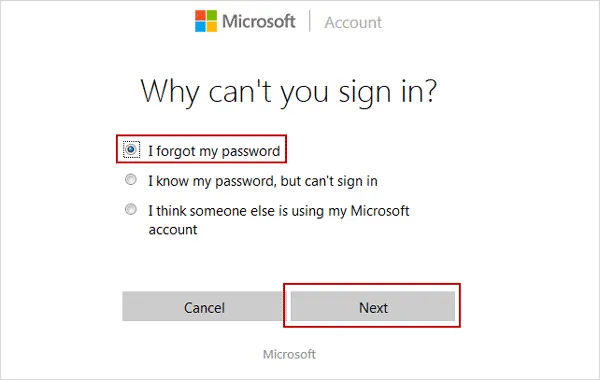 Step 4 : Reboot your PC again and login to your computer with the new admin account. Don't worry it won't ask for any password. Right click on "My Computer" and select Manage. Alternately, you can open the RUN box and type "compmgmt.msc" and hit enter to open the Computer Manager Windows.

Step 5 : Browse "Local Users and Groups" and you should be able to see all the user profiles linked to your computer. Right click on your main administrator account and select "Set Password".

Step 6 : Enter a new password twice for your computer and apply it. Restart your PC and login to your account with the help of the new password.
This part only applies with local administrator accounts and not with root or Microsoft accounts. The same method can be applied with Windows XP/Vista/8/10 as well to reset the password.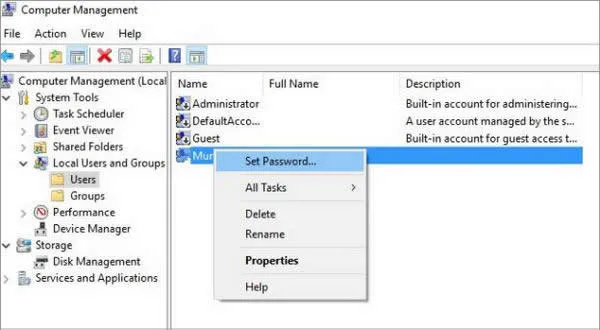 Method 3: How to Crack Local Account Password Windows 10/8/7 with Ophcrack Tool
Ophcrack is an old yet effective Windows password recovery tool that helps to recover forgotten password by running some simulations on your locked computer. It can only recover simple and easy passwords with less than 8 characters only.
Step 1: Find another computer and go to Ophcrack website.

Step 2 : Download the correct ISO file according to the computer configuration and burn the file to CD/DVD or USB drive.

Step 3 : Insert the disk into locked computer and wait for Ophcrack to be loaded on the screen.

Step 3 : Select "Ophcrack Graphic mode – automatic" and hit enter to continue.

Step 4 : Kindly wait patiently for a while and let Ophcrack recover your password. If it succeeds to find your password then it will appear on the main interface of the program like the following screenshot. Now, write down the password and use it to access your PC again.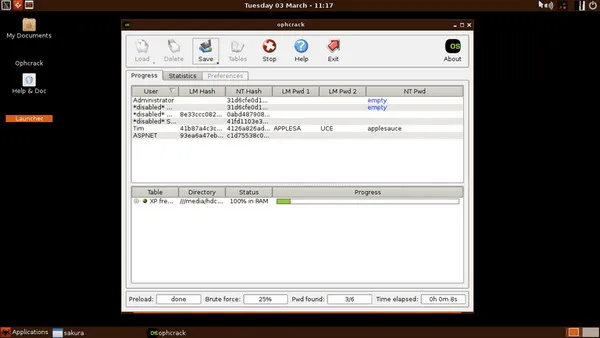 Note: Ophcrack can only recover simple password under 6 characters. And it doesn't work on Windows 10.
Conclusion:
In the future, make sure to have multiple administrator accounts on the computer or create a password reset disk for your own PC so that you can change the password is you forgot it. But even if you failed to do that, then PassMoz LabWin is always there to serve you and save you from a huge embarrassing moment. Do let us know if you have more tweaks and tricks to reset Windows computer password in the comments below.