Ophcrack is one of the most old and outdated Windows password recovery tools that is widely used for recovering Windows administrator password if forgotten. However, with the recent Windows 10 updates, things have drastically modified but the Ophcrack never updated at all to fulfil the latest requirements. Hence, people are looking for more reliable solutions to crack their computer passwords in case they forget it.
Problems You Could Come across When Using Ophcrack:
1. Password Not Found
2. Tablets Not Installed
3. No Tables Found
4. Black screen
5. Preload Waiting
6. Ophcrack Not Boot
7. Not Work for Windows 10 Machines
8. No Partition Containing Hashes Found
In short, you can't rely on this program in desperate moments. So, what are some awesome Ophcrack alternatives that you can depend on? In this guide, we will share 3 outstanding Ophcrack alternatives that you may not have heard of.
Ophcrack Alternative 1: Offline NT Password & Registry Editor
Offline NT Password & Registry Editor is a complete password recovery package that can crack password from numerous types of files. Of course, Windows password is at the range. It is a text-based program with powerful features but it is a little complicated to use.
Step 1: Grab a normla Windows computer and download the ISO image from its official website.

Step 2 : Now, Find a ISO image burning tool and burn downloaded image into a USB drive or CD/DVD.

Step 3 : Insert the disc on your locked computer and reboot the computer. The following screen will appear. Wait for the program to load and follow through the text commands.

Step 4 : Finally, select "1" to clear the user password and restart the PC. The password should be removed from your PC and you will easily access your computer like before.

Cons: It is a complicated tool and programming skills are needed.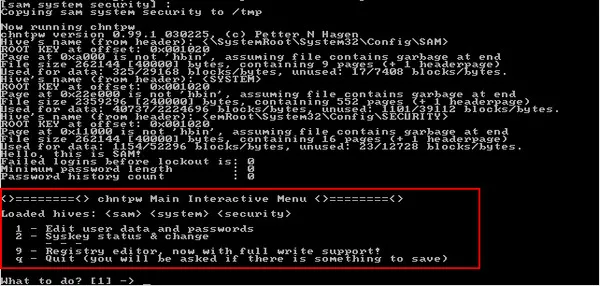 Ophcrack Alternative 2: PassMoz Windows Password Recovery (Best Choice)
If you want to instantly reset your Windows password without taking much time and needs a surety that your administrator account will be unlocked then PassMoz LabWin is the program you are exactly looking for. PassMoz LabWin is an innovative and classic Windows password recovery tool that can totally remove the logon screen from your computer, making the computer password free. It is working tremendously with all the versions of Windows operating system such as Windows XP, Vista, 7, 8, 10 as well as with Windows servers like 2003, 2006, 2013, 2016 and so on.
It is perfectly compatible with Microsoft accounts, administrator and local accounts. Let's see how this program works so that you can understand this better.
Step 1

Install PassMoz LabWin on Another Computer

PassMoz LabWin is a desktop program so first, you will need to grab a computer with administrator rights. Download the official version of PassMoz LabWin and install it quickly.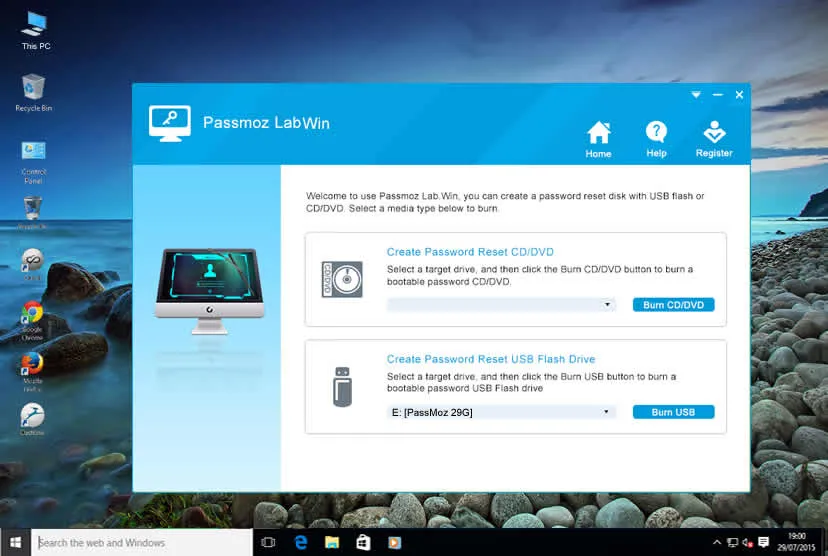 Step 2

Create Windows Password Reset Disk

Open the program after completing the installation progress to see the main UI of the software. Next, insert a blank USB drive or CD/DVD to start making a password reset disk. Simply, click on the "Burn USB" button once and wait for like couple minutes to write all the bootable files into the removable device.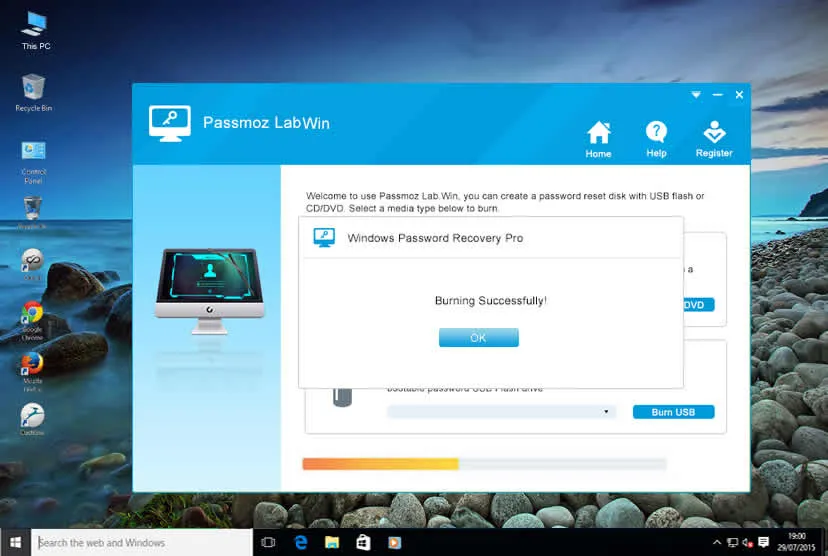 Step 3

Boot from Reset Disk and Remove Login Password

Once finished, eject the disk and re-insert it on your laptop that is locked. Change USB or DVD as the first booting device. After doing that, reboot the locked computer and wait for PassMoz LabWin to appear on the logon screen. Your operating system will be detected automatically, so you only have to choose the main protected username and hit the button that says "Reset Password" just like the screenshot below.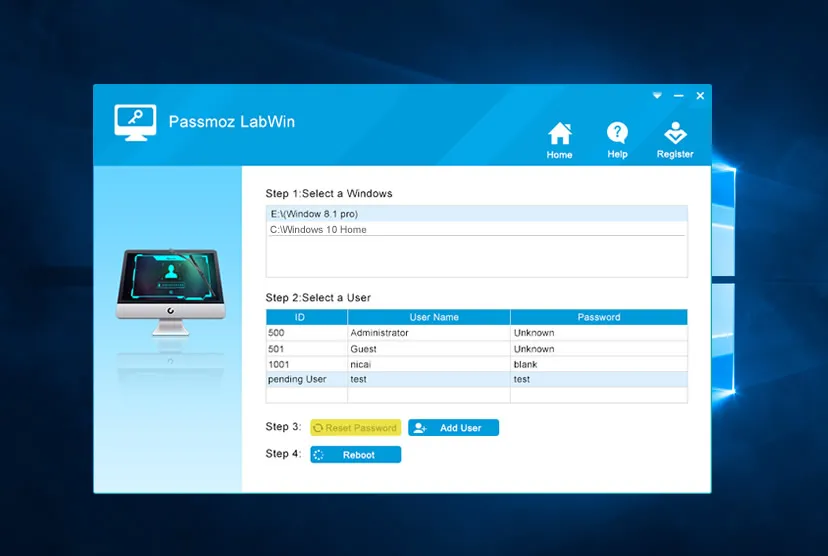 Once, you click the button, your computer will be instantly unlocked. All you have to do is restart the computer and eject the password reset disk.
Ophcrack Alternative 3: Ultimate Boot CD
Ultimate Boot CD or UBCD is another great utility to reset any kind of passwords likes zip, RAR files as well as Windows administrator accounts. However, it is also very complex program that requires special technical skills to operate the program.
Step 1: Download the ISO image file of UBCD from its official website and burn it into a USB drive.

Step 2 : Next, reboot your main laptop or PC with UBCD and choose the "Parted Magic" option in order to reset Windows password.

Step 3 : On the following page, choose the default settings and wait for the main UI to appear.

Step 4 : Click on "System Tools" then "Change Windows Password". Now you will have option to setup a new password for your computer.

Step 5 : Next, save the password and restart the computer to access it with the new password.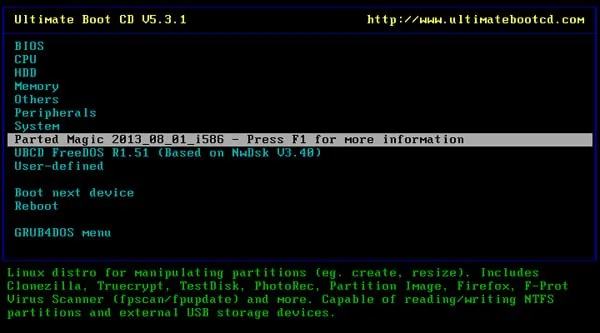 Cons: It is not compatible with Windows 10 64-bit version and it doesn't work with Windows servers.
Final Thought :
Ophcrack is decent for those who are using weak and simple passwords. But if somehow Ophcrack disappoints you then remember you have 3 amazing alternatives to replace it. Next time, try to write down the password on a paper or email so that you can retrieve it back. However, we will recommend to use PassMoz WinLab if you want to bypass your computer password without any problem or confusion.