Windows 10 is now dominating computer world in recent two years due to the free upgrade policy made by Microsoft in 2016. A lot of people were upgrading computer OS from Windows 7/8 to Windows 10. To be honest, Windows 10 is a great product, which offers an astonishing UI and adds many new features to the internal.
It's fair to assume that a few times we forgot the password and got locked out by our computer, considering how many passwords we should remember for numerous services and accounts. Forgetting computer login or admin password is slightly different from normal account because there's no "Forgot Password" option to recover it. The good news is that, there are some security breaches and loopholes that can be exploited to regain access to your PC. In this tutorial, we will show 3 ways to unlock or remove Windows 10/8.1 password seamlessly to save you the day.
Method 1: Unlock Windows 10/8 Computer without Password via Command Prompt (CMD)
For many Windows users, you probably heard about command prompt but never had a chance to give it a try. Command Prompt can certainly crack Windows admin password by erasing the registry files responsible for locking the computer. However, it does take a few steps and tricks to activate that option. Follow the below steps carefully to remove Windows 10 password with Command Prompt.
Step 1: Insert the bootable Windows 10 disc on your PC then reboot the system.

Step 2 : When Windows loads its files automatically, select "Repair your computer".

Step 3 : Next, choose Troubleshoot then Advanced Options followed by Command Prompt.

Step 4 : Inside the command prompt app, type the following commands:
MOVE C:\Windows\System32\Utilman.exe
C:\Windows\System32\Utilman.exe.bak

Step 5 : Restart your PC again and on the logon screen, press Windows + U buttons together to launch the command prompt app again.

Step 6: Now type the following command: net user administrator newpassword
Replace "newpassword" with any password of your desire and hit enter to execute the command line. Again, reboot the PC and now use the new password to regain access to the system.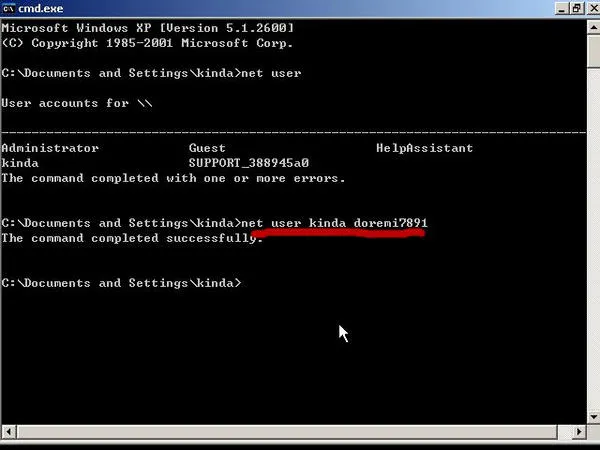 Warning: Command Prompt is an extremely useful tool for system administrators but it is a not a good option if you were not familiar with text commands. A single typo of command would casuse severe damage to the computer. So it is not recommended in here. Actually, Method 2 is more user friendly for ordinary users.
Method 2: How to Unlock Windows 10/8 Local Administrator Account Instantly
Third-party Windows password recovery is welcomed and favored by normal users. Most of them have a great user interface and the operation is easy via mouse. PassMoz LabWin is one of the greatest tools to remove Windows login password from Windows 10, Windows 8 and Windows 7. It works even in someof the worst situations.
It has the potential to break through the firewalls and destroy the password from your Windows PC. It requires no technical skills to use this program and you can unlock your computer within 15 minutes. First, you are required to install the software on a Windows PC since you can't use yours and create a bootable password reset flash drive then unlock your computer with it. We will explain the procedure below but before we would like to inform you about the true potential of PassMoz LabWin.
Step 1

Download and Install

Get a spare Windows computer with administrator rights or borrow one from friends or siblings. Next, download PassMoz LabWin and finish the installation process.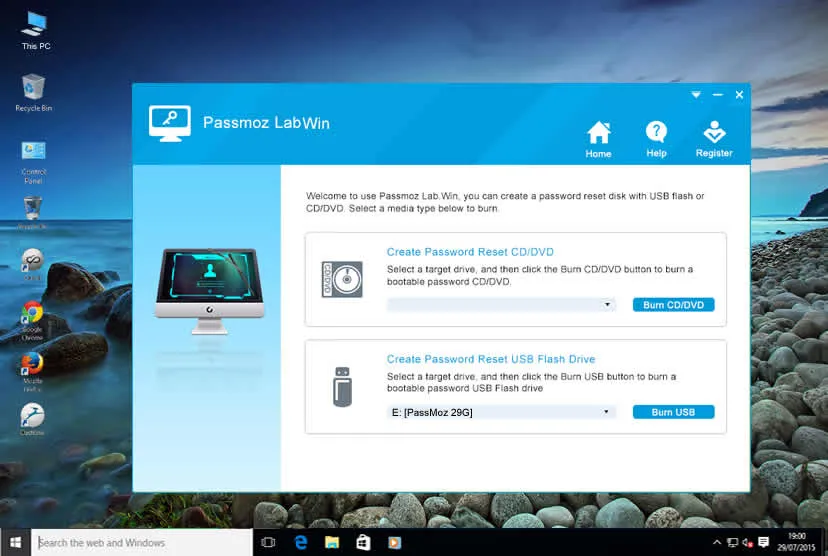 Step 2

Burn Password Reset Disk

Launch the software and insert a USB flash drive. Wait for it show up on the tool then click on "Burn USB". Eject the flash drive when the burning is done and re-insert it on your main Windows 10 computer. Reboot the PC and change the BIOS settings so that your computer can boot from the flash drive.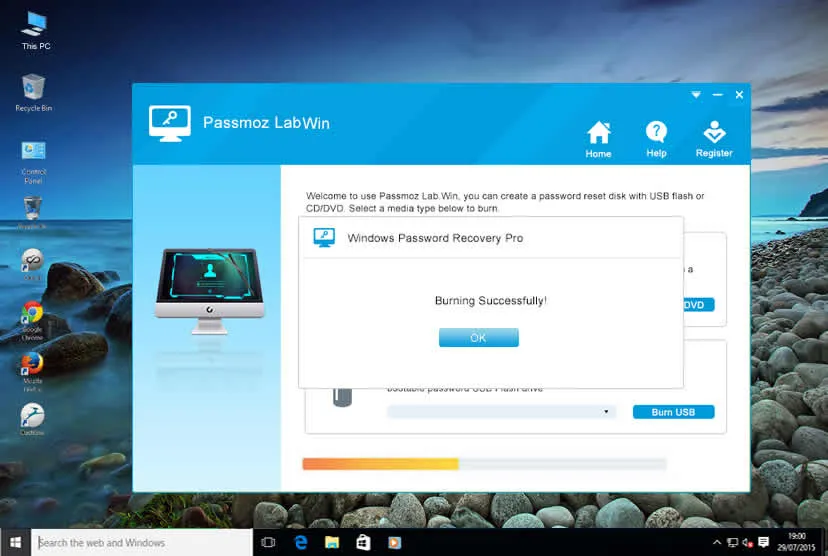 Step 3

Remove Admin Password from Windows 10 or Windows 8

1-2 minute later, you will see PassMoz LabWin appearing on the main screen. Please choose an administrator account on that computer and click "Reset Password" button. Now, the password was removed. To make it into effect, you need to reboot your PC and your PC is officially unlocked! No password will be required for login.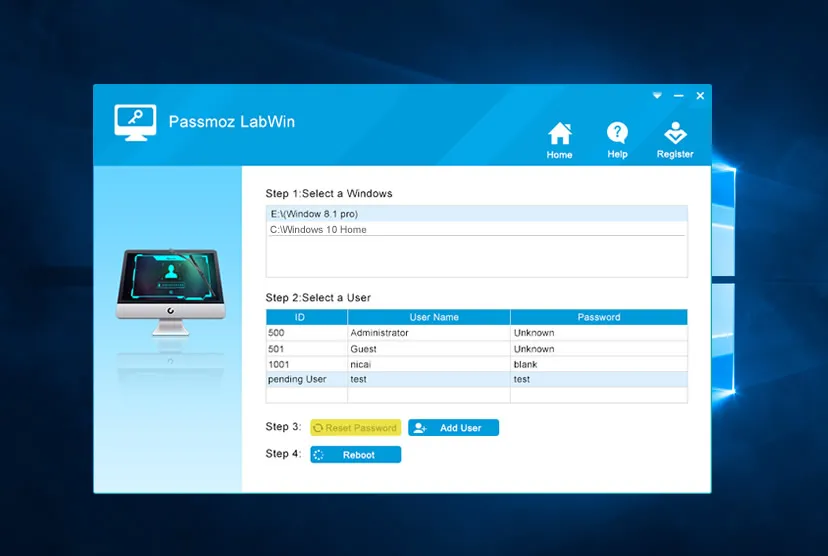 I have asked a few of my colleagues and tested each method one by one. PassMoz is the most comfortable way to unlock a password protected Windows computer. It takes less time and works really fast. So it should be the first option for most of people.
Method 3: How to Unlock Windows Computer by Resetting Microsoft Account
This solution is only applicable for those who has used Microsoft as their default account type. If you have used administrator or local users then we would suggest to follow the Method 2. On the other hand, if you are using an email and password to login then follow these steps to reset your account password.
Step 1: Go to live.com from any other PC or smartphones with internet connection and click on "Forgot Password".

Step 2 : This is the official page for resetting Microsoft account password. Choose "I Forgot My Password" and move on to the next page.

Step 3 : Enter your email and verify your identification by inputting your mobile number or recovery email ID.

Step 4 : Setup a new password for your account and use it to login to your PC again.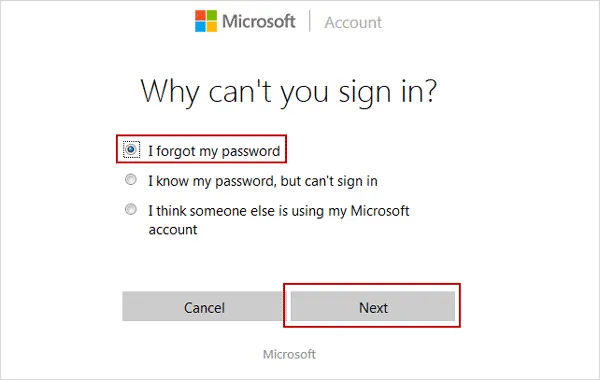 Summary:
As you can conclude, it is very much possible to unlock Windows 10 computer when you know the right tricks. If you are in a hurry and want to reset the password hassle free then we would like to recommend PassMoz LabWin to accomplish the task effortlessly. It has been adopted by millions of customers who are satisfied and unlocked their PC with it. Go ahead and download the trial version today.