Lenovo ThinkPad laptop is always the first choice for business. It is much durable and has longer battery life. ThinkPad laptop is great for writing and projecting purposes. Needless to mention, ThinkPad laptops does have much secure measures to protect the computer from unauthorized access. However, it would be a big problem if you forgot the admin password of the laptop. How do I reset my password on my ThinkPad laptop?
Certainly, you should be putting a secured password on your laptop to block illegal activities but at the same time they are very hard to remember. So, there's a seam probability that you may forget login password sometimes. This could be really disastrous moments because most ThinkPad laptop contains only important documents and projects that could be deal breaking if you lose them. Thus, formatting your ThinkPad Laptop is not an option but still we have come up with 3 creative solutions to reset ThinkPad Laptop password.
Method 1: How to Reset Password on Lenovo ThinkPad Laptop via NT Password (Free)
If you are good with computer programming then you can use Offline NT Offline Password & Registry Editor to reset the password. It is a powerful Windows bootable PE that comes with several options to fix Windows system issues. Instead of recovering the password, it directly delete the password of selected accounts on a Windows computer. However, it only works on old Windows versions like Windows 7, XP or Vista. And as you can see from the below steps, it is a complex tool for password reset.
Step 1: Download the ISO image of Offline NT Password and Registry Editor and burn the file on a USB drive.

Step 2: Insert it on locked ThinkPad laptop and wait for the program to load on your screen.

Step 3: Go through the process and choose "Reset password" when prompted.

Step 4: Next, select "Clear user password" and hit enter to remove the password from your PC.

Step 5: That's all! Reboot your computer and it should open normally.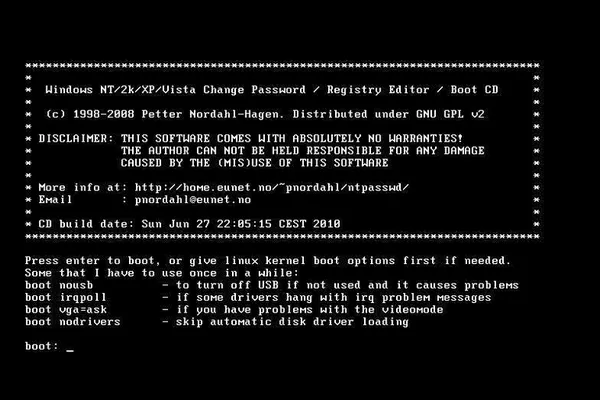 Warning: Any wrong input would casue serious damage to the laptop. If you had very important data on the device and not familiar with Offline Windows Password & Registry Editor, then Method 2 or Method 3 should be your choice.
Method 2: Reset Lenovo ThinkPad Laptop Password on Windows 7/8/10 with PassMoz LabWin
If you are looking for a simple and reliable way to recover forotten Windows password, then PassMoz LabWin is the best tool to go with.
It is the first Windows Password Recovery tool that can break and crack any password from all kind of Windows distributions. No matter if you have set a strong and weak password on your computer, PassMoz LabWin is able to get it recovered in seconds. It has been tested on over 100+ locked Windows computers and laptops without any problem. Plus, there is no risk by using this program. The data is safe and will not be deleted. No system crash or bluescreen. You could come across such issues on other Windows password recovery tool.
Support: Windows 10, Windows 8/8.1, Windows 7, Windows XP/Vista and Windows Sever 2008/2012/2016.
Step 1

Download PassMoz LabWin

Download PassMoz LabWin on a computer with administrator rights, install it and launch the program for the first time.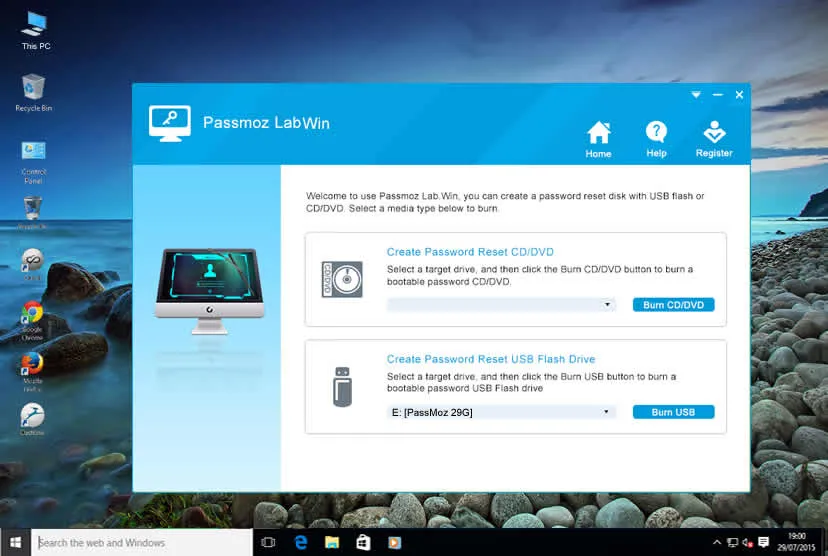 Step 2

Burn Password Reset Disk

It is extremely easy to use. Kindly backup all data before using this tool as all data will be erasd after formatting. Now, simply insert a USB pen drive and click on "Burn USB" to make the disk bootable. After that, a password reset disk was created successfully.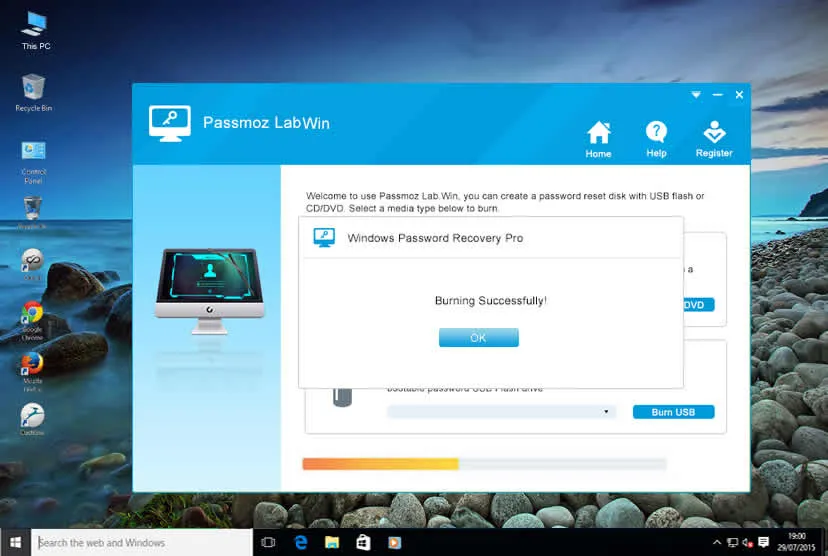 Step 3

Remove Admin Password from Windows 10 or Windows 8

Now, insert the password reset disk on your ThinkPad laptop and reboot it. You need to change boot device to USB if the computer not loading PassMoz LabWin after startup. If it was set correctly, PassMoz LabWin should be displayed on the screen. It will detect the OS automatically and you just need to select the account name. Then press "Reset Password" button with your mouse and reboot your laptop.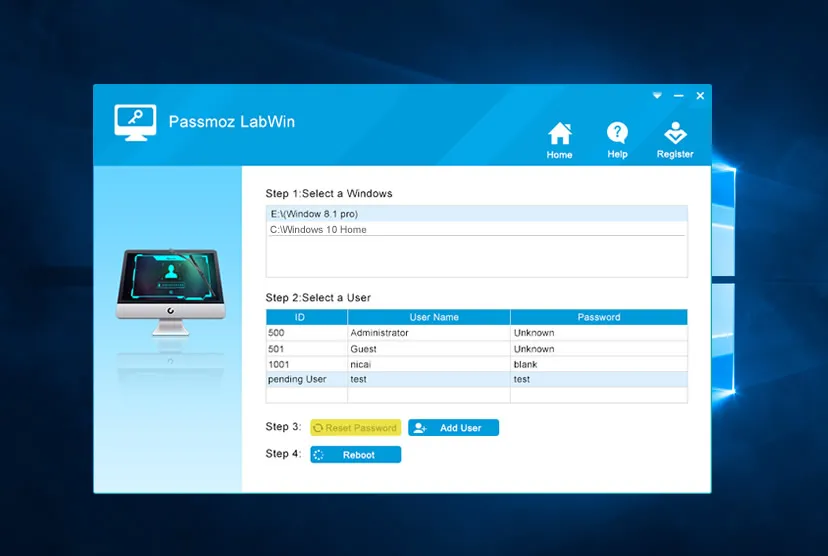 After reboot, the login screen will be skipped and you will get into computer desktop directly. There is no password to be input any more. This is the by far the easiest method I have tested for Windows password recovery.
Method 3: Take ThinkPad Laptop to Repair Shop and Get it Unlocked (Pricey)
If you still have problem after reading the above tutorials, then take the laptop to your nearest service center and ask the technicial to help you bypass the protection. Usually, they will format the laptop and reinstall Windows. However, it is highly recommended not formatting the laptop since it will erase all the documents from the device that you could never access again.
So make sure tell the technician or shop owner keep all the data on the laptop. You can't afford to lose any of them. Usually, it would cost you hundreds to get it done. And you need wait more time for it. Why not give it a try on PassMoz LabWin? If you have questions about the program, you can contact the support team. They are quiet responsible for cumstomer feedback.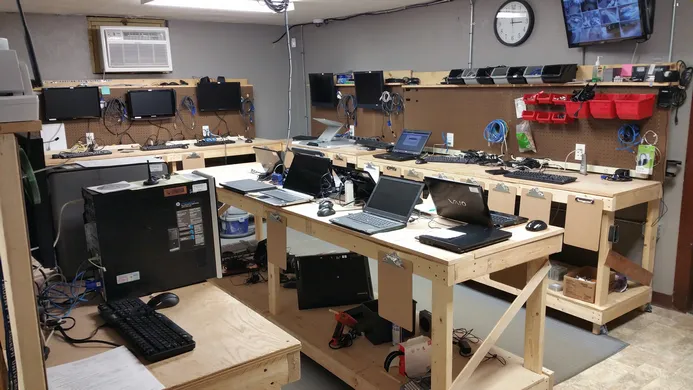 Summary:
Resetting ThinkPad laptop password is extremely easy with PassMoz LabWin since it literally needs few clicks to reset your computer password. Remember, you should only use the Windows password recovery tools on your personal computer or laptop and not for any illegal activitity. It is highly offensive and punishable by law.