Microsoft has pre-installed fascinating features in Windows 10 to make it more adorable. More importantly, Microsoft didn't compromise security level that was shipped after Windows 7 distribution. Rather, it has introduced 3 more ways to protect your computer like PIN, Microsoft and Picture passwords. Needless to mention, that we are getting indefinite numbers of requests everyday from our visitors asking how to remove Windows 10 password without knowing the current password?
This situation arises when you have misplaced the password or somehow can't manage to gain access to your machine due to the password protection. But never be afraid as we have come up with some marvelous solutions to get rid of this issue once for all. Certainly, you can change or reset Windows 10 administrator password even if you have forgotten the current password by following the guidelines we are about to share in this tutorial.
Method 1: How to Change Windows Login Password without Knowing the Old Password
One of the easiest ways to hack into a Windows computer is to use a Windows password cracking software like PassMoz Windows Password Recovery . This little program rescues you from countless embarrassing moments whenever you forget the password of your own computer. Basically, PassMoz LabWin helps to create a fabulous password reset device with your thumb drive that you can use to unlock any locked Windows computer.
However, you will be required to have a distinct computer in which you can run this program to make the password reset disk. Additionally, this program not only cracks Windows 10 password but also it is compatible with all the other Windows versions like Windows XP/Vista/7/8 along with Windows server.
Step 1

Install PazzMoz Windows Password Recovery

First, install PassMoz password cracking tool on another Windows computer since you can't login into your own computer. Open the program after installation and insert a USB flash drive with at least 300M space.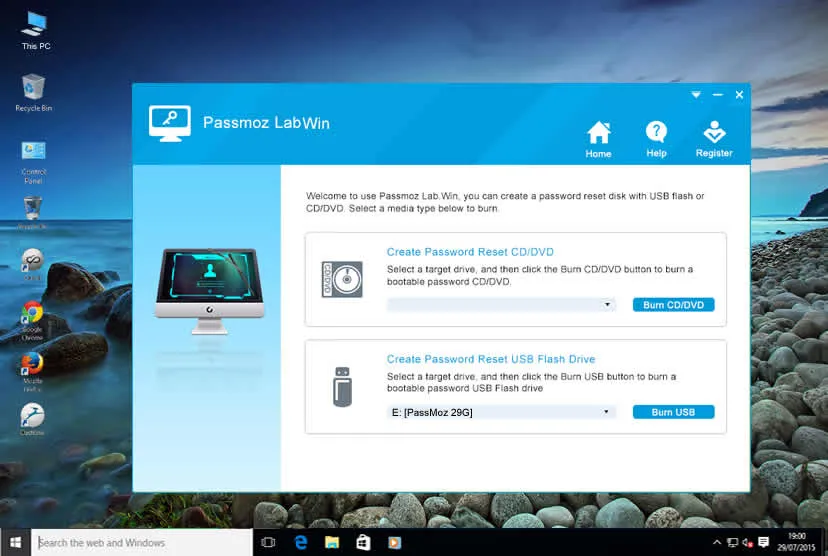 Step 2

Create Password Reset Disk

Make sure to backup data from your flash drive as the next step will completely erase everything from your thumb drive. As soon the device is detected by the program, you can click on "Burn USB" and wait for the program to turn the thumb drive into a bootable password reset disk.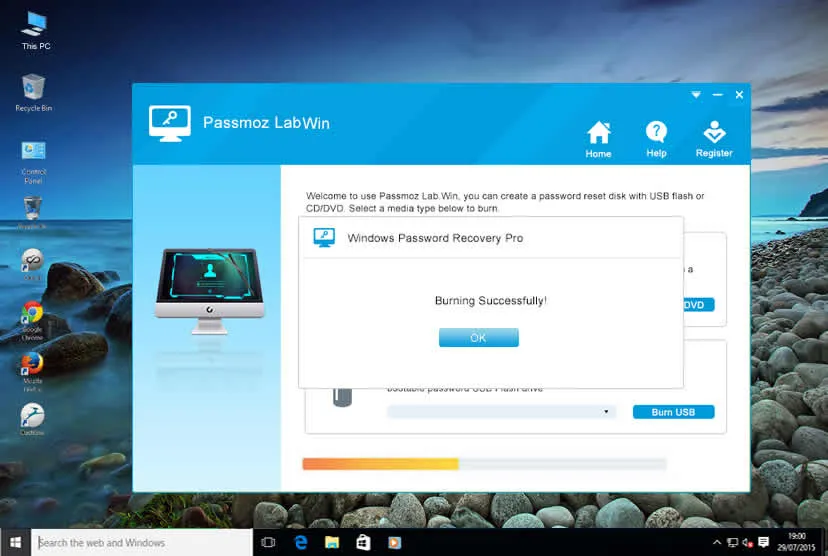 Step 3

Boot from USB or DVD

Once the burning process is finished, it's time to unlock your main computer. Insert the disk on the computer that you want to crack and reboot it. Change the BIOS settings so that the computer can read your thumb drive as a primary booting device.
Step 4

Bypass Windows Admin Password with Reset Disk

The program should be launched automatically upon startup and from here, you are only 2 clicks away to reset your computer password. Click on the username of your password and click on "Reset Password".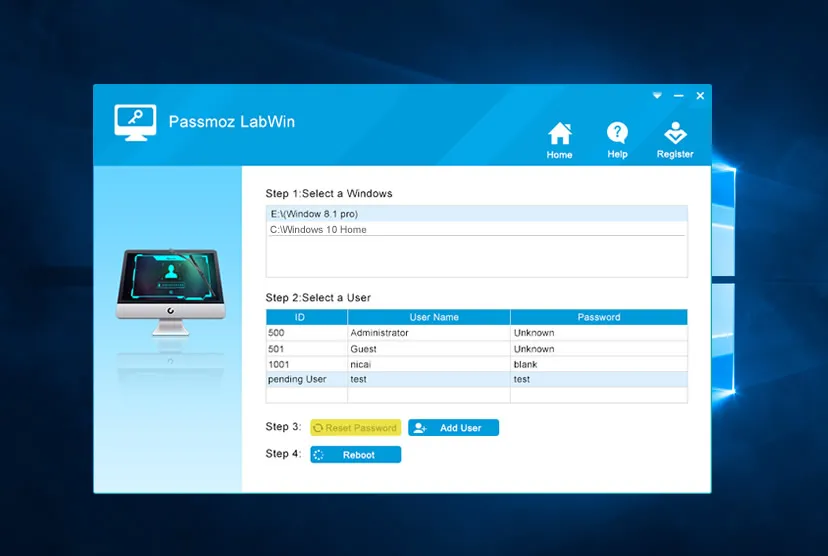 All set! You should reboot the PC and this time you are free to use it again as normal. The Password will be removed and you can add password after that as you like.
Method 2: How to Change Computer Administrator Password in Windows 10/8/7
Offline NT Password & Registry Editor is another great Windows password recovery program that helps to crack Windows user password. However, it is text-based simulated program that needs high technical skills to even remotely work with this tool. So, unless and until you are a programmer, it is not recommended to use this tool because you may end up doing more damage to your computer.
Step 1: Download the ISO image file from the official website and burn the image file into a USB flash drive. ou will be required to have an ISO burner to complete this step.

Step 2 : Once the ISO image file in burned into the thumb drive, you can plug it in your main computer.

Step 3 : The program should be loaded on the main screen and you will be able to see a black command window like the following screen. Just press the "Delete" key to enter the setup.

Step 4 : Now, keep following all the instructions and keep pressing the appropriate buttons to follow through. On the final screen, you should be able to see the option that says "Clear user password". Select that once, and the password should be set as blank.

Step 5 : You may now reboot the PC and it should welcome you normally.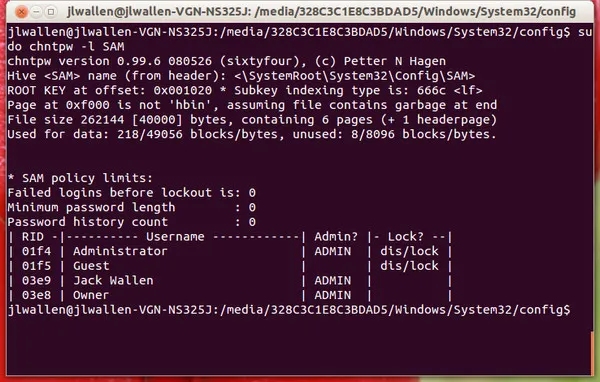 Summary:
Windows 10 is easy to unlock if you have forgotten the password with the methods shared in this article. We will highly recommend to use PassMoz LabWin if you are in a hurry because it will instantly reset your computer password. However, if you have enough time and expertise then you can use other tools or you can even try to format your PC. But that's only recommended if your computer has no important data at all. We hope this guide was helpful enough to resolve this issue for you.