As a tech admin, I have been asked many times by our readers, such as "How do I remove administrator password in Windows 10 or Windows X". I must admit that this kind of stuff happens much more often than anyone could imagine. People are now aware of the security issue on Windows and most of them put a strong password on it. So, if you keep changing computer password then there's a slight chance that you could misplace or forget the password. Losing the password is not the end of the world because we have myriad solutions in 2018. And in this tutorial, we are going to share few of them so that you can remove the password screen from your computer and access it normally again.
Please be notified that the methods shown in this tutorial are only for personal use and should not entertained for illegal purposes. With that being said, let's get crack in and see how to remove or reset Windows Password if locked out.
Method 1: Removing Password from Windows 10/7/8 by Reinstallation
The password will be removed entirely after a clean reinstall but this method is only recommended if you had no important data in that PC. Reinstallation will delete all content and settings on primary drive and there is no way to recover the data if you didn't take a backup. So be careful with this suggestion. If you kept valuable data on the computer, then Method 2 will do the same thing without deleting a single bit of data from the computer.
Step 1: Find a Windows installation disk or DVD and insert it to computer. If you didn't have one, then download the Windows ISO image file from the Microsoft website and burn it on a disc or flash drive.

Step 2 : Boot up the computer and wait for the Windows disk to load the files.

Step 3 : All Windows version have the same way to install the operating system. First, click on "Next" on the pop-up screen then follow through the installation process.

Step 4 : Once the installation is started, you can sit back as it takes several minutes to finish the process and note that your PC will be restarted few times during the progress.

Step 5 : After the installation is finished, your computer will be booted normally without any password.

Cons: Severe data loss will certainly occur if this method is applied without any backup.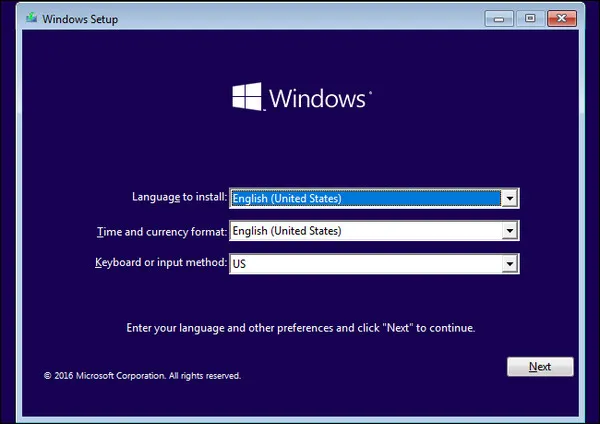 Method 2: How to Remove Forgotten Password from Windows 10/8/7 without Data Loss
If you want to unlock your Windows computer then making sure all of your data inside the PC are safe. This is 100% guaranteed with the help of PassMoz LabWin. PassMoz LabWin is an effective Windows password recovery utility that helps you remove the password from any Windows computer so that you can logon to your PC normally again. Basically, you will be needed to install the program on a working computer and make a password reset disk with it which you can further use to get rid of starup password.
LabWin Windows Password Recovery can be used to reset all sorts of passwords like text, picture, Microsoft and PIN passwords. Additionally, it allows a user to create a password recovery disk in 2 ways using CD/DVD and flash drives. Also, it is compatible with all kinds of hard drives like IDE, SATA, HDD, SSD, etc. To summarize, PassMoz LabWin can crack any kind of passwords from any type of Windows computer. With that being said, let's see how this program works.
Step 1

Download and Run PassMoz LabWin

At first, you should get a working Windows computer in which you can install PassMoz LabWin. Once that installation of the tool is completed, launch the program and insert a pen drive or compact disc on the computer.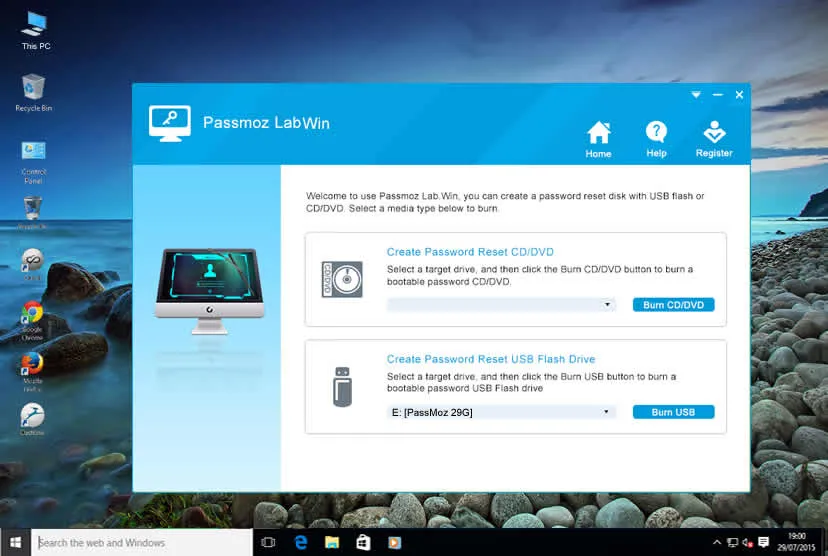 Step 2

Make a Password Removal Disk

Launch the program and you will only have to 2 options to choose from – "Burn CD/DVD" & "Burn USB". Click on the option that is most desirable for you to create the password reset disk.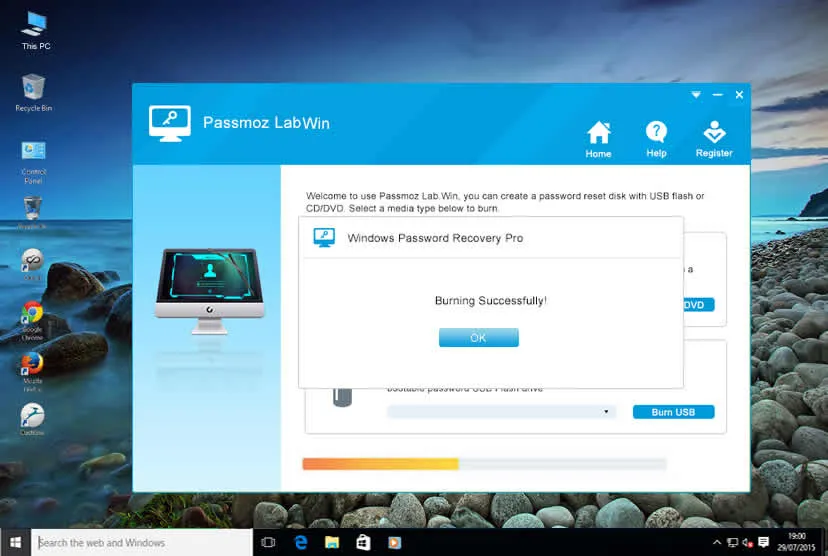 Step 3

Boot the Disk on Locked Computer and Remove Password from Windows Account

Next, insert the disk on the computer which is password-protected and turn it on. Now change the boot order to set the computer booting from the external disk you just created. After that, the program will be loaded on the main screen automatically. You will be able to see the administrator user, just click on it once and tap "Reset Password" option.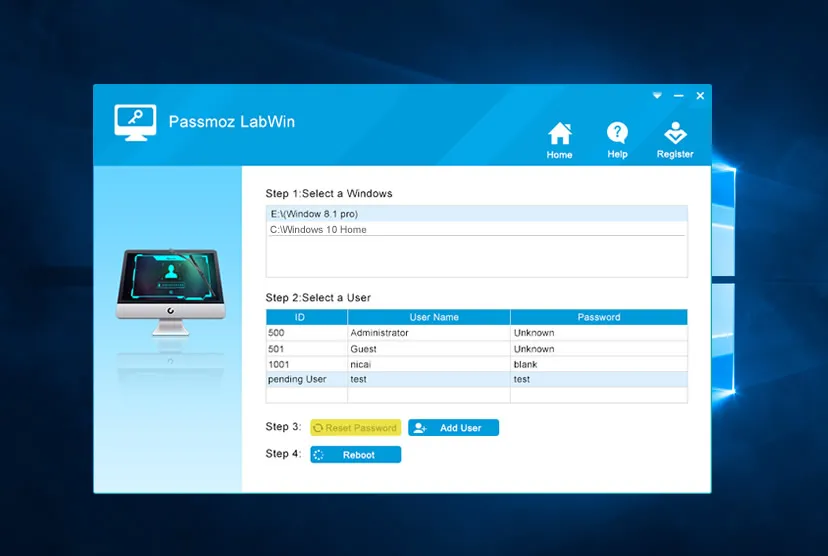 That's all! You may now eject the flash drive and turn on your computer normally. At this point, the program got rid of the password completely and you can get into that computer without inputting any password.
Summary :
In this guide, we have shown how to remove Windows login password if you forget Windows password and got locked out. Please remember, PassMoz LabWin is a must-have tool in this era where forgetting password is very common. Moreover, you only need to register this tool once to get lifetime privileges. In excess to resetting Windows passwords, you can even add new users to the computer using the same tool without proceeding through the long inconvenience process. And if you have any issue with the tool then you can get connected with any support staff at early as possible.