There are millions of people who buy Acer laptop each year. I am part of them. Unfortunately, I forgot my laptop password after change. I saw this is not only a separe case. Forgetting laptop password is common questions in online discussion forums. People are freaking out, thinking they have no way to get into their laptop again. Now, before you dump your laptop and get a new one, we would like you to apply the solutions to reset the password locked Acer laptop we are about to mention in this article.
Certainly, Acer has no support available if you forgot your laptop password however you can play with their security threats to manipulate the sub system files in order to regain access to your laptop. We are about to show 3 ways to reset Acer laptop password effortlessly and we are pretty sure these will surely unlock your laptop again.
Part 1: Reset Password on Acer Laptop with Ophcrack (Windows 7 or Windows 8 Only)
Ophcrack is an old and popular Windows password recovery tool that uses brute force algorithms to crack your computer password. It is not very effective and can only can passwords less than 8 characters. Currently, there is no official update for years and it is only available for cracking password on Windows 8.1 and previous versions. So, if you just used a simple password to encrypt your laptop then this tool is perfect for you.
Step 1: Download the ISO image file of Ophcrack from the official website on a distinct computer.

Step 2 : Burn the image file on a flash drive.

Step 3 : Insert the flash drive on your Acer laptop and turn it on.

Step 4 : Choose "Ophcrack Graphical Mode – Automatic" when the tool pops up on the screen.

Step 5 : The simulation will run automatically and once the password is cracked, it will appear on the main screen of the tool like the following screenshot.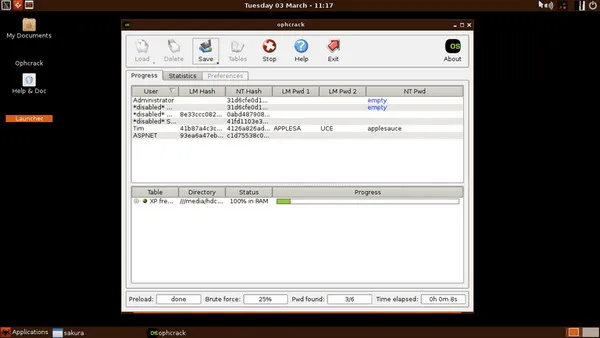 Part 2: How to Reset Acer Laptop Password via PassMoz LabWin (Windows 10/8/7/XP/Vista)
With the latest Windows Anniversary update, most password recovery tools are failing to reset Windows administrator password. But thankfully, Passmoz LabWin passes all the barriers with the recent algorithm update and magnificently cracks any kind of Windows administrator password in seconds.
Technically speaking, Passmoz LabWin is a Windows desktop program that needs to be installed on a normal computer. You can burn files and make a bootable password-reset with USB or CD/DVD with the help of LabWin. Further, it will allow you to unlock a locked laptop instantly by completely removing the password from lock screen on that locked Acer laptop.
Step 1

Install PazzMoz Windows Password Recovery

Go and find a normal Windows laptop or PC. If you don't have a spare system then you can borrow it from your siblings or relatives for like 10 minutes. Download and Install the program rapidly. Then launch it by double clicking on the Passmoz Winlab shorticon on computer desktop.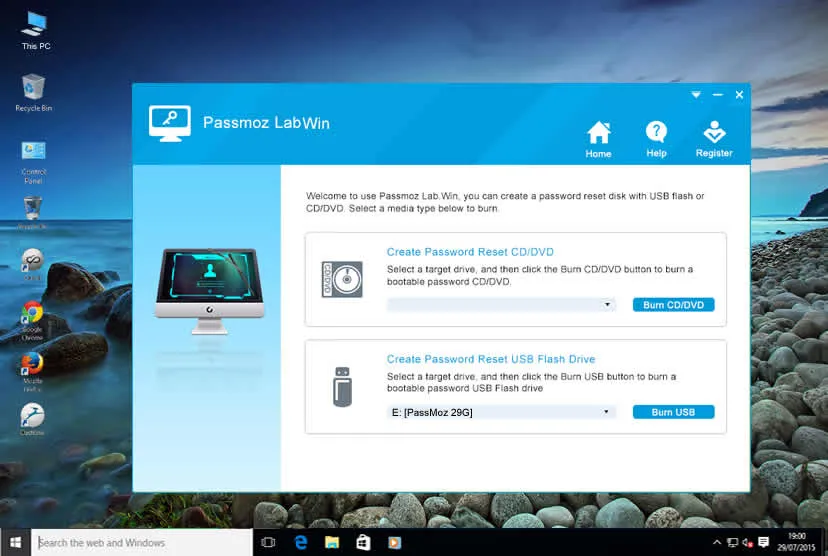 Step 2

Burn Password-Reset Disk

Now, as soon the home screen of the tool appears, carefully insert a USB thumb drive and wait for the name of the device to appear on the program. Then, click the "Burn USB" option and it will typically take 2-5 minutes to finish the burning process.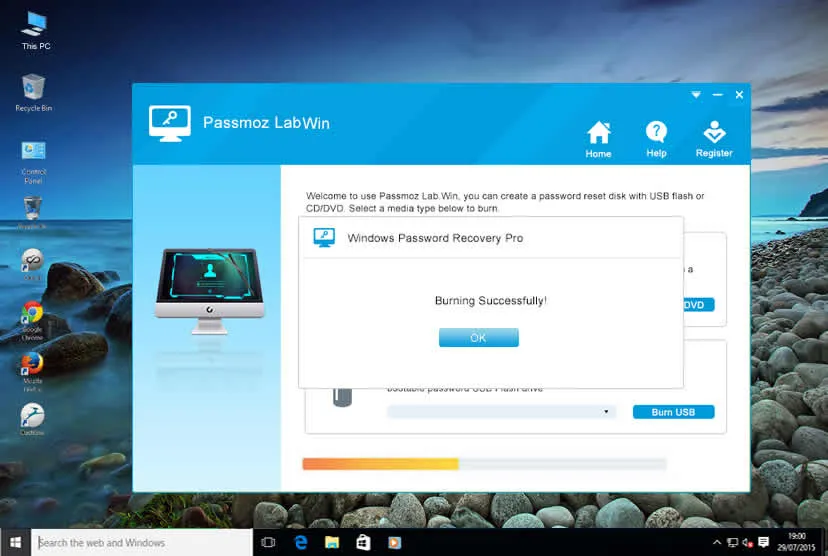 Step 3

Turn on Locked Acer Laptop and Boot from Reset Disk

Insert USB reset disk and Power on the locked Acer laptop. Now, make proper settings to let the laptop boot from USB flash drive. One minute later, you can see the Passmoz LabWin displayed on the screen.
Step 4

Cracking Acer Laptop Password

PassMoz LabWin will automatically recognize Windows operating system version and all you have to do is to select the username of your laptop. Then hit "Reset Password" and the process is done. Your laptop is now unlocked! Eject the thumb drive and use it normally.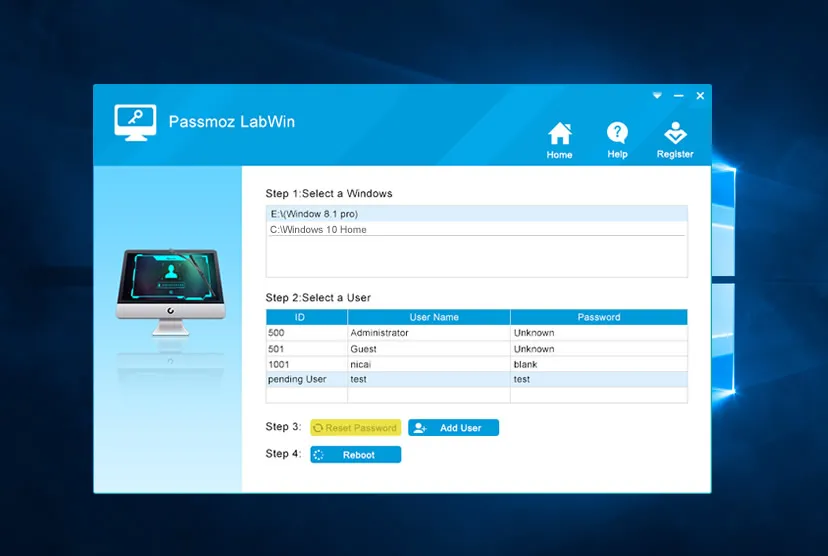 This is pretty easy, right? It only takes around 5 minutes to regain access to the computer. Plus, no damage to the current data on that laptop. This is by far the most recommedned way to unlock a password protected computer. Why not just grab a copy and give it a try?
Part 3: How to Unlock Acer Laptop Password by Reinstallation
Reinstalling Windows is the first option that comes into our mind when we forgot the password. It seems easy but actually it is a dangerous and time consuming method. The installation process will take around 30-60minutes depending on which Windows OS you are going to install. After that, you have to install the drivers, which takes hours to download and install. What is more, the whole data on system disk will be removed permanently after reinstall. So if you didn't care about the time and data, it is still a good choice.
Step 1: Insert a Windows 7/8/10 bootable disc into Acer laptop.

Step 2 : Boot it up and wait for the installation window to appear.

Step 3 : Click on "Install Now" and keep moving through the settings to install the operating system.

Step 4 : Go through the instruction and install the Windows operating system again.

Step 5 : Your laptop will be rebooted few times during the progress but after it is done, your password will be removed.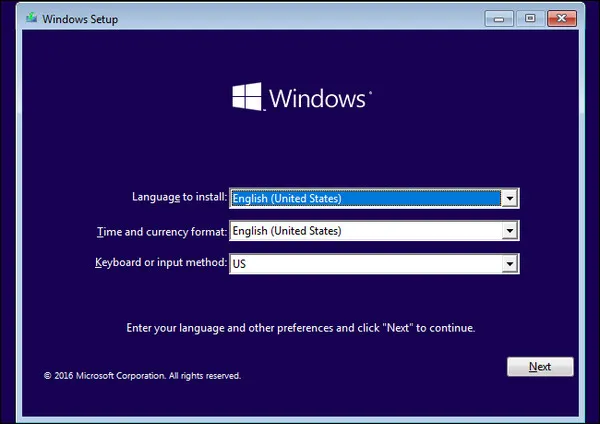 Summary:
Hopefully, we were able to resolve the issue in this article and we hope you reset Windows login password successfully. Kindly remember that Ophcrack might not work and re-installing Windows is just not viable. Passmoz Winlab neither deletes any data nor it is completed to use. It is an easy to use utility and it can crack your laptop password within few minutes effortlessly.