When you want to install a fresh copy of Windows 10 and you don't have an installation disc, one of the best option is always to create a bootable Windows 10 USB and use it for installation. The process of creating a bootable Windows 10 USB is very simple, and you don't need to have any tech skills, the instructions are provided in below. Actually, all you need is a Windows 10 bootable USB creation tool. We will share 3 tools in this category.
PassMoz ISO Burner - The Best Windows 10 Bootable USB Tool
A great challenge when it comes to the creation of Windows 10 bootable is the high chances of files getting corrupted during the burning process. Sometimes using a bad software is time consuming because you have to do the same process multiple times before success. For fast, quick and reliable results, PassMoz ISO Burner is highly recommended as it is the best way to burn Windows ISO to USB in easy steps.
ISO Burner is a versatile application that won't waste your time on this boring task with higher success rate. It has decent support for UEFI and legacy BIOS boot, which means you can use the USB to install Windows 10 on fairly old machines, as well as the latest devices. Please follow the steps below to create a bootable Windows 10 install USB.
Step 1: Begin the process by downloading and installing the ISO Burner on a PC. Be sure to get the download the .exe file which you will then right click and install and you normally install other types of software.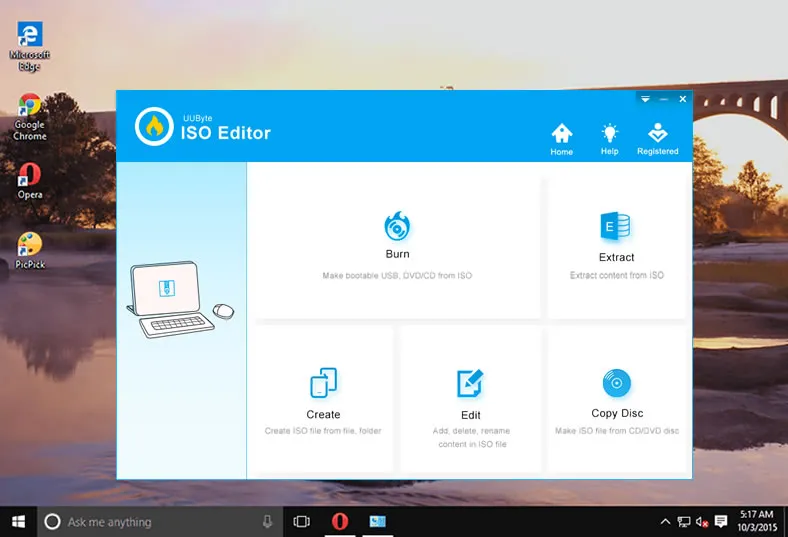 Step 2: Once you have successfully installed the tool, start the application and click on the "Burn" button on the main interface. This will initial setup and all you will be required to do is to follow the installation prompts on the screen.
Step 3: Once this is successfully done, you will be redirected to a page where you can select the ISO file from where you will create the bootable USB file. Select the file, and then insert a USB drive that has at least 4 GB of space before you proceed to the next step.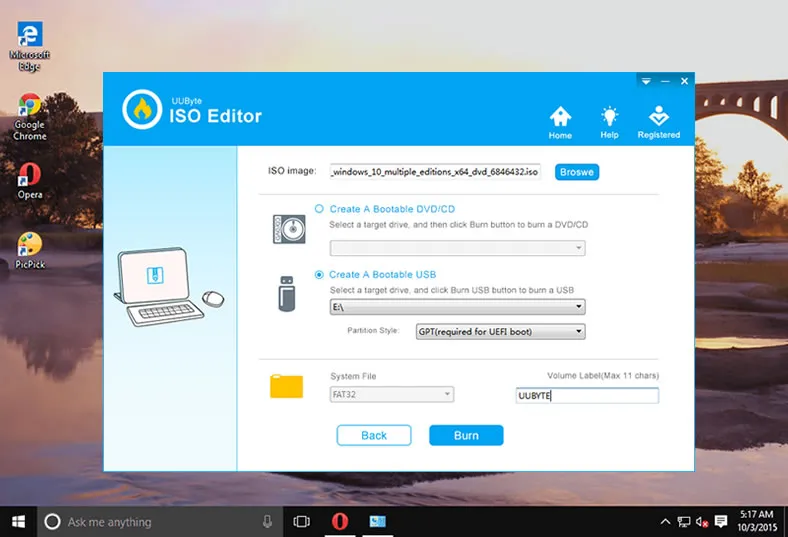 Step 4: Choose the USB drive as the burn option and then click the "Burn" button to start the process. This may take a few moments, after which the USB drive will be ready. You can then remove it and use it as you please.
Windows Media Creation Tool - Windows 10 Bootable USB Tool from Microsoft
You have to burn Windows ISO to USB or CD/DVD manually and Microsoft didn't provide any assistant on this matter. However, Microsoft changed the policy due to rapid decrease of Windows 8 markshare. So Windows Media Creation Tool is available at the same time Windows 10 being released. It is the official tool to create bootable Windows 10 or Windows 7 USB. However, it is much slower than ISO Burner and success rate is pretty low.
Step 1: On a Windows PC, open a web browser and go to the Official Windows 10 download page.
Step 2: Click "Download tool now" to download this tool on PC. Double click the MediaCreationTool.exe to launch the utility and accept the terms and conditions.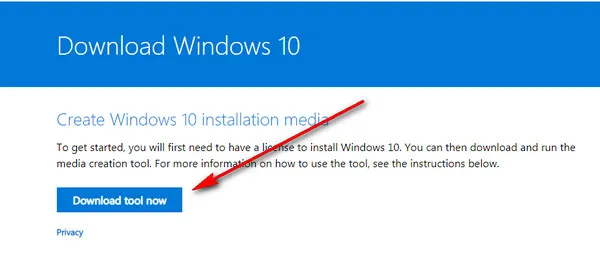 Step 4: Tick "Create Installation media for another PC". Then select the language, edition and architecture for the installation.
Step 5: Insert an USB drive and pick up the drive name from the list. The wizard will start downloading Windows 10 installation files and it will also create a bootable device from USB.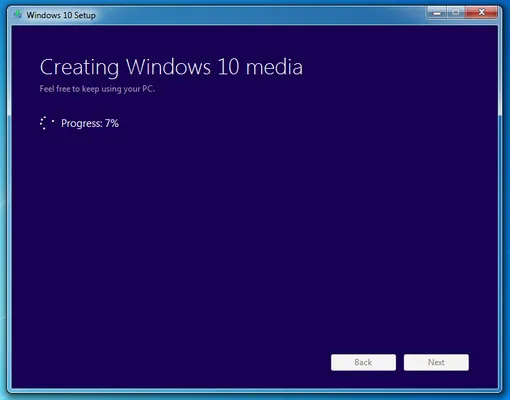 Create Bootable Windows 10 USB by Copying from Windows 10 Installation DVD
To use this method, you may need a third party software like WinToFlash to make the process easy, faster and more accurate. After you have downloaded and installed WinToFlash to your computer, use the following steps.
Step 1: Insert the USB flash drive as well as the Windows installation disc in the optical drive.
Step 2: Start WinToFlash and then select "Windows set up bootable USB wizard" and then "I have CD inserted into my computer."
Step 3: On the next screen, specify Windows 10 Installation location in the first box and the location of the destination USB on the second box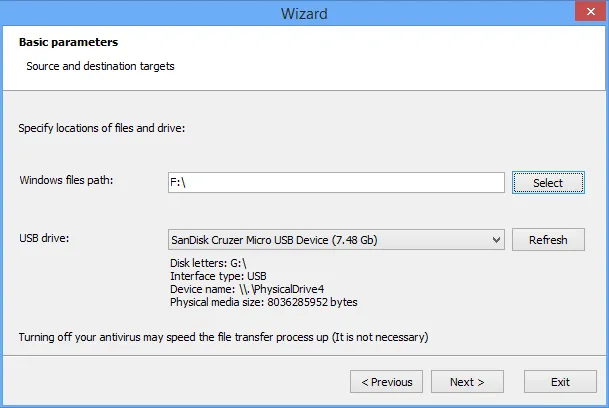 Step 4: Confirm the settings and then agree to the terms and conditions of the license. This process will clear all present data in USB flash drive, and the process may take some time to complete, so be ready to be patient.
Final Thoughts
Windows 10 Bootable USB Tool does a greta help to create a Windows 10 installation media so you can use it to install Windows 10 on a new PC or repair the system on old PC. The above 3 tools are the best option to make a bootable Windows 10 USB.