iSumsoft Windows Password Refixer Reviews and Known Issues
iSumsoft Windows Password Refixer is a widely used password recovery software for Windows PCs. It works by letting the user create a password reset disk on a different PC, and then use that media to boot up a locked PC and remove the password quickly and efficiently. The only problem is that the Refixer isn't perfect, the most common error being "boot media failed". This happens when the ISO file is not burned properly during reset disk creation. Sometimes, the computer still asks password for login even being reset successfully by iSumsoft. Besides, the support is not that well for Windows tablets such as Surface Pro.
In addition to the known errors such as the one discussed above, there are also multiple license types for the software, which can cause confusion among users because they can't decide on what features are really important to them. In certain other cases, the recovery process itself might not work, throwing up an unknown error that you won't be able to fix on your own.
If you've been through any of these experiences, you will appreciate these two alternatives to iSumsoft Windows Password Refixer.
iSumsoft Windows Password Refixer Alternative 1: PassMoz LabWin
By far the most effective and dependable Windows password reset tool is PassMoz LabWin. This award-winning utility can help you create password reset media in minutes and will instantly unlock any Windows PC for which the password has been forgotten. No expertise is required to use the software, and all you'll need is a different PC on which to create the password reset disk or drive.
PassMoz LabWin has gone through rigorous beta testing before release, which is why millions of users will testify to its effectiveness no matter what brand of PC you're using or how complex or long your password is. It doesn't really matter because the software blanks your password rather than attempt the tedious process of trying to recover it. It is also compatible with any version of Windows ranging from the older Windows XP up to the latest Windows 10 version.
Step 1

Installation

If your PC is locked because of a forgotten password, then this first step can be done on a different Windows computer. Install PassMoz LabWin using an authentic installation file that you can download from the official website here.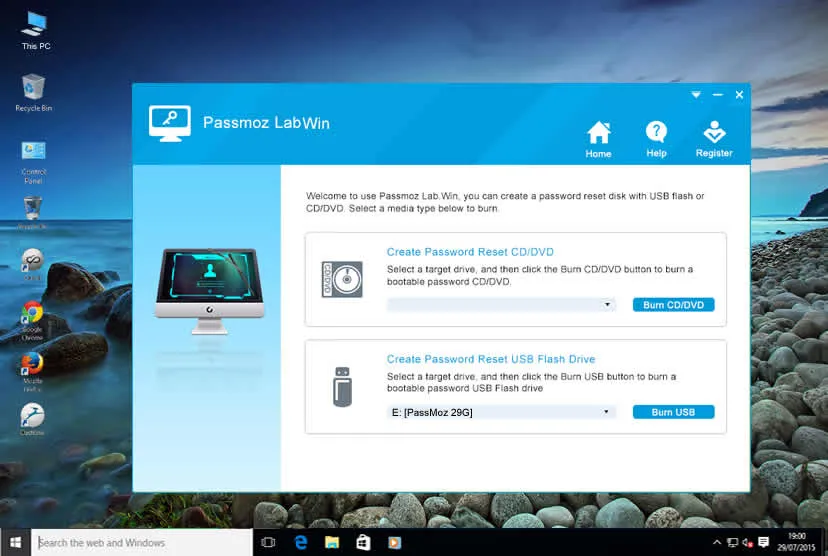 Step 2

Create a Reset Disk

Now insert a storage medium such as a DVD/CD or a USB flash drive and launch the program. On the software interface, select the "Burn" option next to the media type that you are using. This creates your password reset disk or drive containing the ISO file.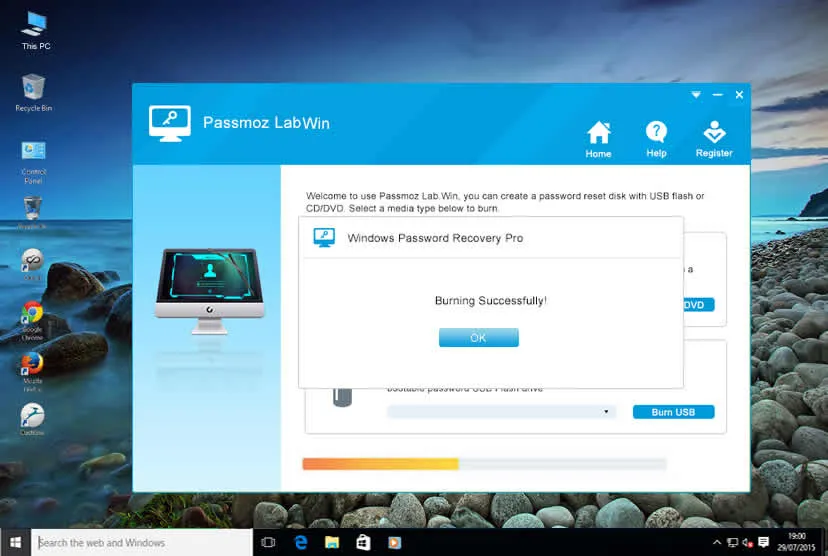 Step 3

Boot from Reset Disk and Remove Password from Login Screen

Next, eject the media from the other PC and insert it into your locked computer. Now boot up your system from the disk or drive. You can do this by entering the boot menu and changing the boot priority. It usually requires pressing Del/Esc/F2 or another special key to get to the boot menu.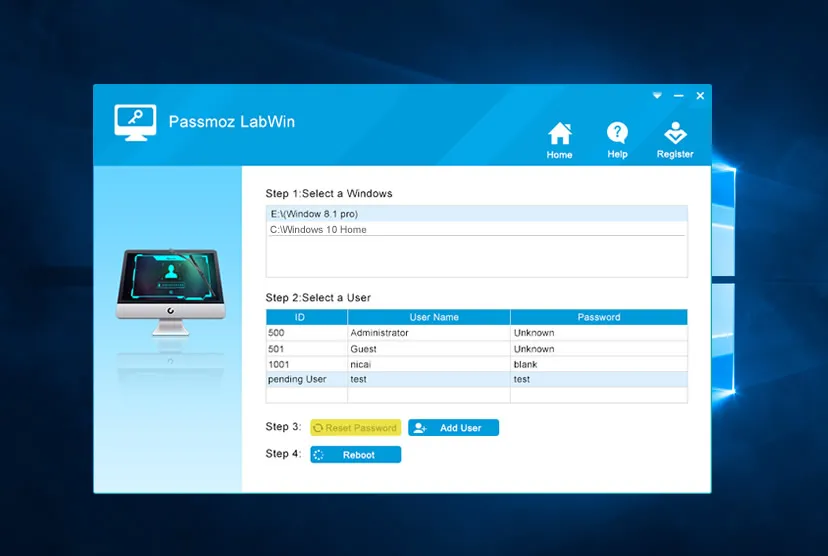 Once your computer boots from thereset disk or drive, select the right Windows version and the locked user account. Sequentially click on "Reset Password" and then "'Reboot". This time, remove the media for the computer to boot normally. You will see that the password has now been removed and you can login without one.
The best part about PassMoz LabWin is that it maintains data integrity throughout the process, which means none of your data will be disturbed when the password is removed. This is in stark contrast to reinstalling the OS or factory-resetting your PC. Another utility for Windows password recovery is L0phtCrack, which is described next.
iSumsoft Windows Password Refixer Alternative 2: L0phtCrack
L0phtCrack is actually a Windows password audit tool that will allow you to crack Windows login password rather than reset it. Some knowledge of password hashing is preferable, but not required. However, if you are a complete novice, then we recommend using PassMoz LabWin instead.
L0phtCrack works by using several methods to extract password hashes. The software then using Brute Force and other password recovery methods to figure out LM and NTLM passwords for all users on a particular machine or domain.
Step 1: Download the latest version of L0phtCrack from here and install it on your PC. Make sure you get the right version (Win32 vs. Win64) or it won't work.

Step 2 : At first setup, you'll see the Wizard. The information provided here is important, so make sure to read how the process works.

Step 3 : Next, choose the retrieval method for the password hashes. The options are: local machine, remote machine, NT 4.0 emergency repair disk and by sniffing the network.

Step 4 : Now choose the audit method, which ranges from Quick Password Audit to Strong Password Audit. There is also a Custom option where you have to set specific parameters.

Step 5 : Next, choose what style of reporting you prefer for the audit results. The first option - display passwords when audited - is essential, of course, but you can also leave the other options selected.

Step 6 : Click on "Finish" to begin the audit process. The results will show you recovered passwords for all user accounts, so note down the one you wanted and use that to login.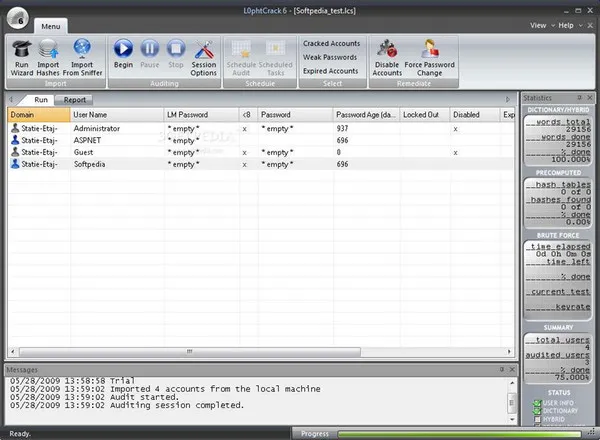 Final Words
You may notice that this is done on the local machine, which means you will need another account in order to install L0phtCrack and run the audit process. If you've forgotten Windows admin password and don't have another admin account you can use, then PassMoz LabWin is the better method to use. It's faster, doesn't require any computer knowledge and is a highly trusted software that keeps your data completely intact.