Netplwiz is a very useful function in the windows 7 and Windows Vista that allows you to bypass your login screen. What that means is, when you use this functionality, the system will allow you to remove the need for a password on every login attempt. While this might seem like an unwise decision, a lot of users might feel that their PC is safe inside their home and nobody else will be able to get physical access to it so that they can login and steal data.
The only problem is that when you upgrade Windows operating system to a newer version, for some reason Netplwiz may not work anymore. There are a number of reasons why this could be happening. According to Microsoft, if a user has linked his computer with a Microsoft account for the purpose of logging in, then the password requirement cannot be disabled. This is also true if there's an application you're using that is automatically set to sign in with your Microsoft account. So, even if you try using Netplwiz to bypass the login screen, you will be running around in circles not knowing what happened.
In certain other cases, the particular version or Windows build that you have upgraded to might be the cause of the problem. What you need is a workaround solution that will allow you to remove the login password to be entered each time you want to access your PC. Today, we are going to talk about PassMoz LabWin, an award-winning Windows password recovery program that can easily allow you to bypass any account on your Windows machine.
How to Disable or Remove Windows 10/8/7/Vista Login Password If Netplwiz Not Working
PassMoz LabWin works by allowing you to create a password reset disk on a different PC in case you have forgotten your password. If you remember your password, then you can create the disk on the same PC. The reset disk can then be used to blank any of the passwords used on that machine. That means, once you use the software to remove a password, that user account will not require a password to login. Just leave the password field empty after selecting the username, then hit Enter, and it will log you in automatically.
Step 1

Preparation

The first thing is to go to the official PassMoz LabWin website and download the application to your PC. You can then install the program by following the instructions provided in the installation or setup wizard. It shouldn't take more than a few minutes to complete this step.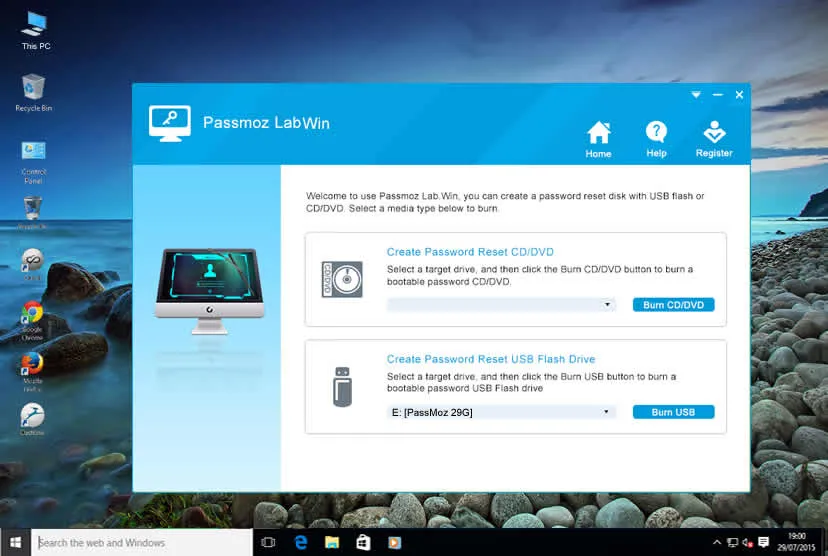 Step 2

Make Password Reset Disk

Now insert either a USB flash drive or a writable DVD/CD into the PC and launch PassMoz LabWin. On the user interface, you will see two different options - one for each type of storage medium. Depending on which storage medium you have inserted, click on the "Burn" option against that. This will burn the bootable media (ISO file) to the disk or drive that you inserted, and this medium can now be used to remove the password on your PC.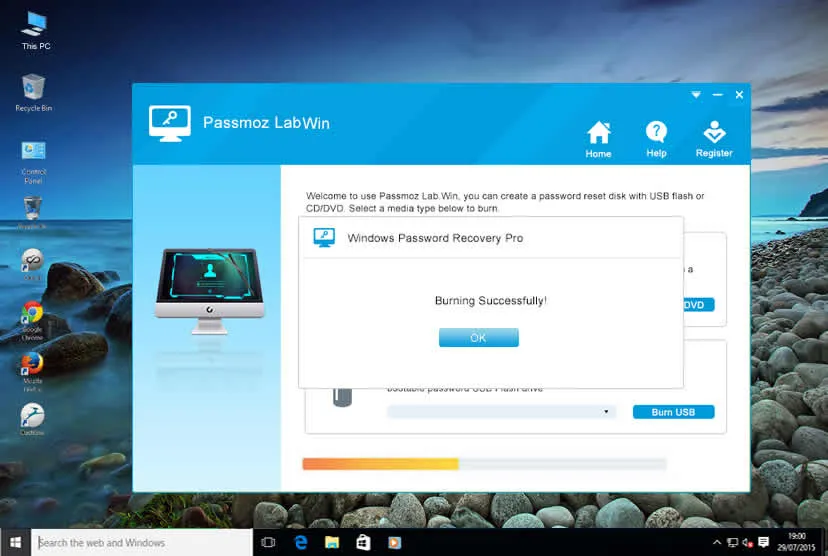 Step 3

Boot Locked PC

Insert the boot disk or drive that you just created into your PC and boot from this medium. During the boot up, you will need to go to the boot menu by clicking a special key such as F2 or Del. In the boot menu, change the boot priority so that your computer boots from the disk rather than from the default installation of Windows. Once the boot up is complete, you should be able to see the PassMoz LabWin window on your computer's screen.
Step 4

Disable and Remove Windows Login Password

You are now just a few clicks away from removing your password. On the window that you see, select the appropriate Windows version and the user account for which the password needs to be blanked. Next, click on the button that says "Reset Password". After this process is complete, you may click the button that says "Reboot". Once you restart your PC after removing the boot disk or drive, you will see that the selected user account no longer requires a password for access.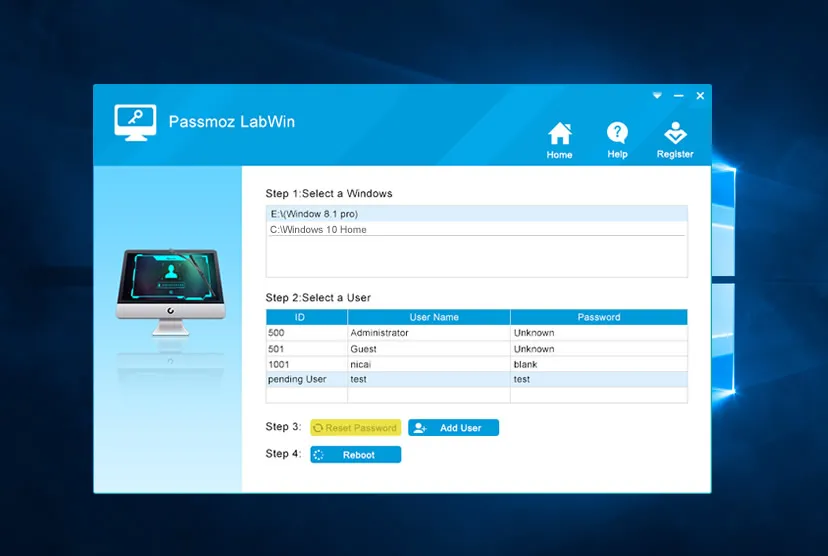 At the End
PassMoz LabWin has been thoroughly tested on multiple versions of Windows ranging from XP right up to Windows 10. It has also been validated on more than 50 of the world's top brands of PCs and laptops. However, the most compelling feature about this software is that it is it is trusted by millions of Windows users across the world. It is one of the easiest and most convenient password recovery tools available on the market, and even a novice user with no experience with iSO files or password recovery techniques will find it intuitive enough.
Even though there are several tools like PassMoz LabWin to help you bypass your Windows password, it is not recommended that you leave things this way. Physical access is not the only way in which you can lose data. If your computer is linked to the internet, not having a password will only make it easier for hackers to access your private information or to introduce malware that can completely and permanently destroy your data.