PC Login Now used to be a great Windows password recovery tool. You can download the ISO file from here. I say 'used to' because there are quite a few downsides to using the latest versions. But let's talk about the plus points first.
PC Login Now is definitely one of the fastest password cracking applications around. It works very similar to ONTP&RE (Offline NT Password & Registry Editor) but it's much simpler for novices to use. A few clicks is all it takes to get into a locked PC. Another benefit is that you won't need to remember anything about your old password. The best part is that the same software works for different Windows versions.
On the other hand, there are several disadvantages to using PC Login Now. First of all, the utility is no longer free, as it used to be. You can still find some older versions but they're just trial versions so you can't use them to their fullest extent. The application also does not support Windows 10 or even Windows 8, so it won't work on PCs running those Windows OS versions. Even if they did work, it would only be for local accounts. Moreover, Windows has been known to detect hard drive issues when the password reset process is being executed.
So what are the alternatives to PC Login Now? Let's look at two options that work equally well or even better.
PC Login Now Alternative 1: Ophcrack Windows Password Cracker
This is a favorite for a lot of users because it is quite versatile. You have to execute several steps, but the recovery rate is pretty good and your password will be displayed at the end of the process. Ophcrack hasn't been fully tested and rated for Windows 10, but some users manage to retrieve the occasional password. It's more luck than anything else, but it should work fine for older versions of Windows.
We'll show you the steps required to get and use Ophcrack to get into your PC. But since you can not access your system at the moment, do the first steps (1 to 4) on another computer.
Step 1: Head to the official Ophcrack download page here and click on the Ophcrack Live CD option. You will see a new page with different versions of the download.

Step 2 : Select the appropriate version. There's a version just for XP, but anything higher and until Windows 8 will require the Vista/7 LiveCD version. Click on the chosen option and the download will begin. The downloaded file is basically an ISO image file that needs to be burned onto a USB drive or a CD. Do not open the ISO file. Just save it to your desktop for now.

Step 3 : Your ISO file needs to be burned correctly to a disk or drive. It's not the same as copying and pasting a file or even burning media to a disk. You will need a special application like Free ISO Burner for the purpose. Burn the file to the desired storage using the ISO burning utility suggested or one of your own choosing.

Step 4 : Now take the storage medium and insert it in your locked PC and boot up the computer. After the initial boot process, you will see the Ophcrack Live CD Menu appear on your screen. Select the option that says "Ophcrack graphic mode - automatic". It will be selected by default, so just click on it or leave the countdown to run down on its own and start the process.

Step 5 : You will see several processes being executed, but don't do anything at this point. Just wait for Ophcrack to do its work. When it's done, you'll see a windows popup with the user accounts and other data. Look under the NT Pwd column against the locked user account and you will see your password displayed. Note it down.

Step 6 : The final step is to remove the disk or drive and restart the PC, after which you should be able to get into your locked user account with the password you noted down.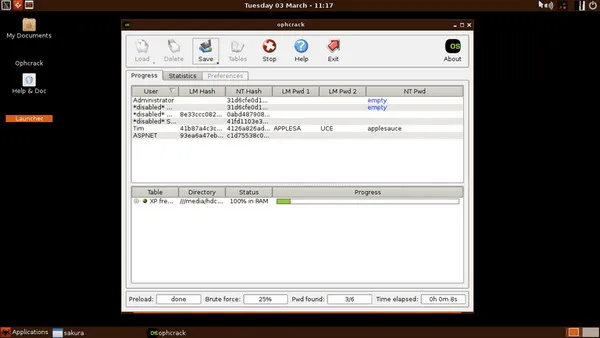 Ophcrack generally has a pretty good recovery rate for passwords, but if it doesn't work for some reason, then the second PC Login Now alternative is guaranteed to work, even with Windows 10.
PC Login Now Alternative 2: PassMoz LabWin
The big advantage with PassMoz LabWin is that it has been tested with a number of PC brands. More than 50+ brands, as a matter of fact. Pre-releases were sent to more than 100 beta users to weed out and fix bugs before the final release. The software is trusted by millions of users globally and has been extensively reviewed by well-known brands like Top 10 Reviews and Softonic.
The utility uses a similar password reset disk method that needs to first be executed on another PC, but the big difference is that the ISO burning function is built into the software. You won't need any other software and there's absolutely no command line work to do. Just create the reset disk or drive on a different PC, insert that into the locked computer and click a few times. That's all it takes.
Step 1

Preparation

Download and install PassMoz LabWin on the second computer, launch the application and insert a USB flash drive or a blank DVD/CD.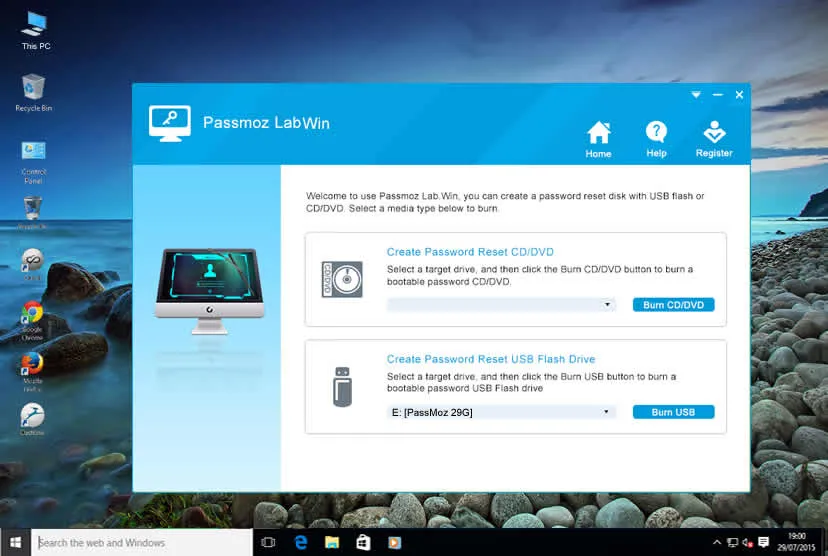 Step 2

Burn ISO to CD or DVD

Choose the right burning option for the ISO file and click on the "'Burn" button against that option. Your bootable ISO image file will now be available for use.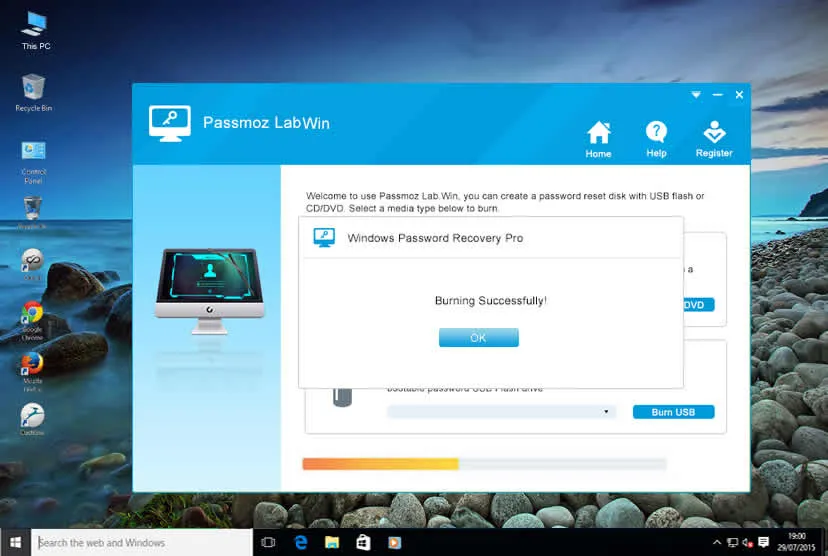 Step 3

Boot Locked Machine and Remove Forgotten Password

On the locked PC, insert the media and boot up the machine normally. During the boot process, press the F2, Esc or Del key to enter the boot menu. Here, change the boot order to point to the media you inserted. The computer needs to boot from here. Then let the boot process resume until you see the PassMoz LabWin interface on your computer.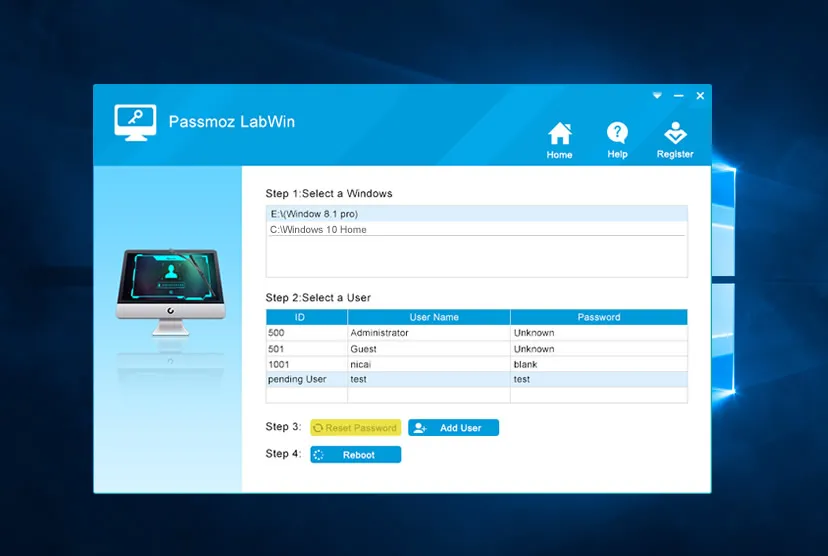 There's only a couple of things to do here. Select the right Windows version at the top, then choose the locked user account in the middle, and click on 'Reset Password' below that. Allow the process to complete, then click on 'Reboot'. You can now remove the media and restart your computer, and you'll be able to get into your user account without requiring a password.
Conclusion
One of these two methods will definitely work for you. Ophcrack is a great tool for Windows password recovery and very useful under certain circumstance, but if you're on a Windows 10 machine and you don't want to spend time during a trial and error method, then PassMoz LabWin is recommended as the Windows password recovery tool of choice.