Forgetting your laptop's password is really frustrating when you just sit down and get ready to do something important. As with any Windows laptop, the process for resetting a Windows laptop involves creating a password reset disk ahead of time. But what do you do when you don't have one and are still locked out of your Lenovo laptop? How to reset Lenovo laptop password in such a case?
First of all, a word of caution. There are several open source tools for Windows password cracking out there. While most of them are safe because of the open community of developers working on them, not all of them can be trusted. Besides, a lot of them might not be updated for years so they lack support of the latest Windows operating system, such as Windows 10 or Windows 8.1. Please check them first before proceeding. If not, you will waste a lot of time on useless solutions.
The only way to put your mind at ease is to go with a properly licensed tool. Here are a couple of them that can reset your Lenovo laptop's password quickly and painlessly.
Method 1: Reset Lenovo Laptop Password with PassMoz LabWin
PassMoz LabWin is a unique password recovery utility that stands out from the crowd because everything you need to crack your laptop's password is already built in - no additional installations are required. With many of the other tools available on the market; there's very little input required from you other than helping out with whatever bits of your password you can remember. It even has a built-in ISO burner so you can quickly create a password reset disk from another device.
Supported OS: Windows 10, Windows 8/8.1, Windows 7, Windows Vista, Windows XP and Windows server.
Step 1

Find a Windows Computer and Download LabWin

Download, install and register PassMoz LabWin software on a borrowed PC or laptop. Just click on the downloaded .exe file and the installation automatically starts.

Note: The program is free to try, and you can check on the locked computer as to whether or not you're able to see the locked account. If you do, then PassMoz can unlock it. Once you purchase the license and register the key you received by email, you're ready to move to the next step.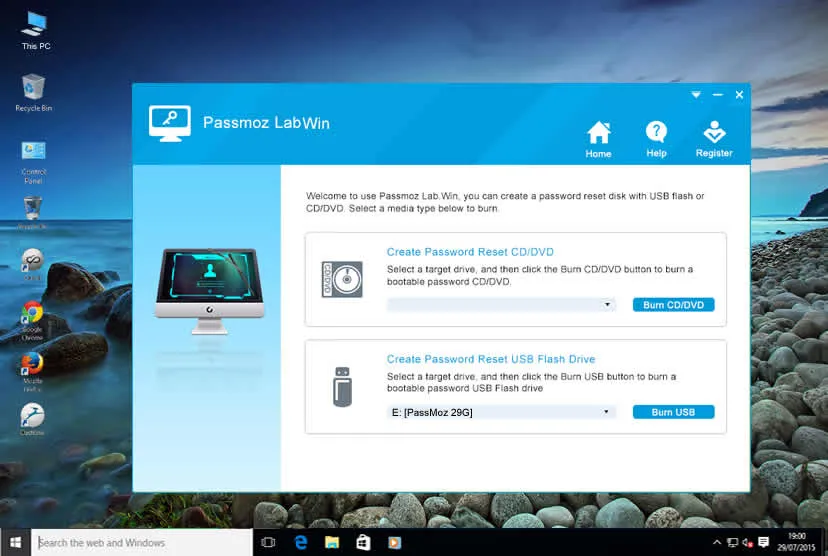 Step 2

Creaet a Windows Password Reset Disk

The next step is to create the password reset disk. This has to be done on the borrowed PC, and you can choose to burn it to a USB drive or a CD/DVD. All you need to do is insert the appropriate media and click on "Burn USB" or "Burn CD/DVD" in the PassMoz LabWin interface.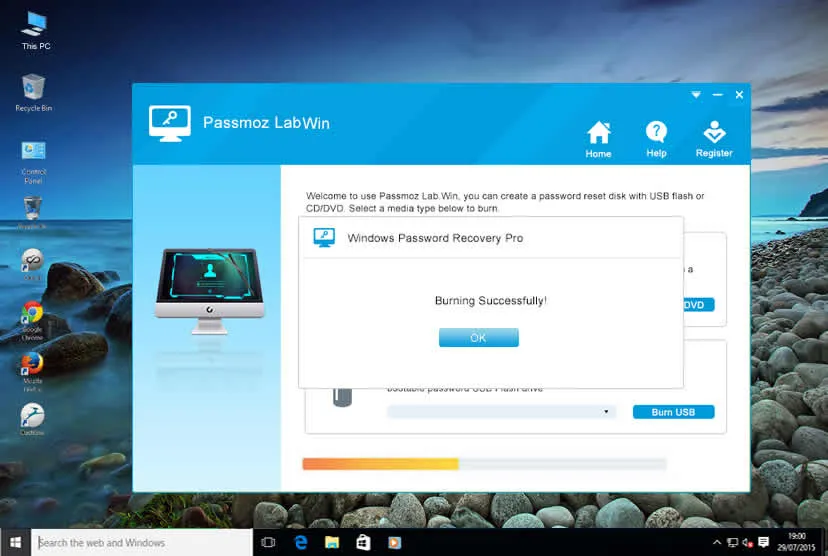 Step 3

Reset Account Password on Lenovo Computer

Next, remove the media from the borrowed computer and insert it into the locked one. On startup, choose the option in the Boot or BIOS menu that lets you boot from an external USB or CD/DVD.

A few seconds into the boot process and you'll see the PassMoz LapWin window again. Here, select a Windows version and choose the account you want to unlock. Now hit "Reset Password".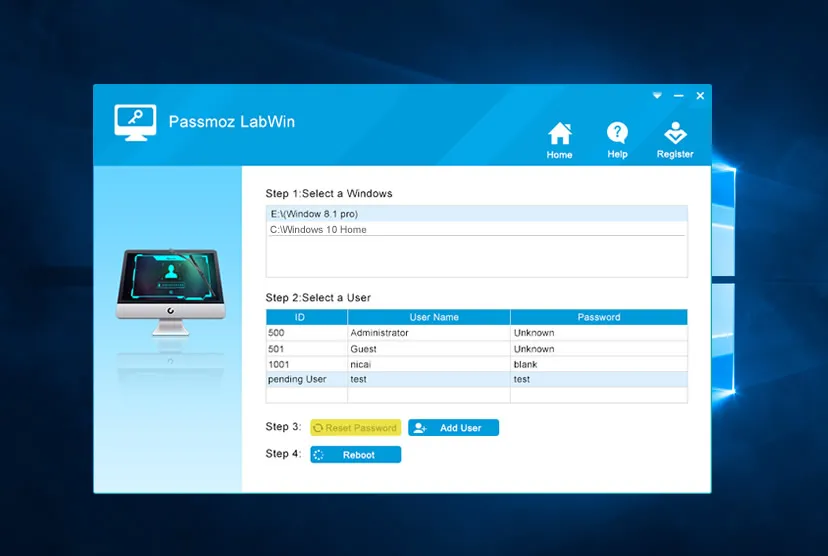 And you're all done! The system will boot up as normal and take you to the desktop. You can now set another password, and do remember to preserve the media that you burned so you have it handy if you ever need it again.
Method 2: How to Recover Lenovo Laptop Password by LCP
LCP is another powerful password cracking application, but it requires a little extra effort. You first need to find the Security Account Manager (SAM) file and extract the NTLM password hashes, after which you can use the cracking tool to get into the locked account.
Step 1: download the portable version of LCP from here, and unzip it.

Step 2: Next, you'll need to extract the password hashes from the SAM file, but since you're locked out of your PC, you need a Live CD to boot it up and extract the hashes.

Step 3: Once you've found the SAM file and extracted the password hashes, the program will now show you the user names and the password hashes associated with them. Now click on the arrow button that you'll see on the toolbar to start the crack.

Step 4: When the passwords have been cracked you'll see them listed in the program. Note them down along with the user names, and use that to unlock your Lenovo laptop.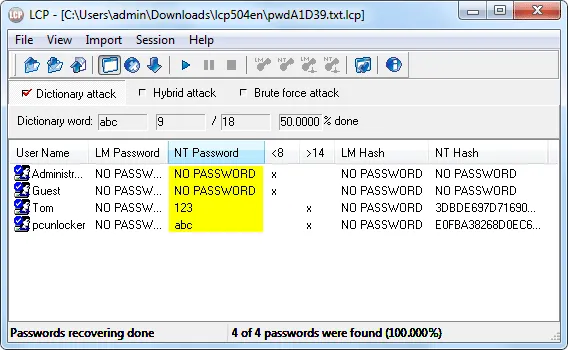 LCP is no doubt a useful tool, but depending on the complexity of your password it could take days to unlock the device. Your options are either to wait it out and hope that it gets done quickly, or simply choose a premium product and get it done in a few steps.
Conclusion:
The first method has been proved the most effective solution to reset a password of Lenovo based PCs and laptops. It has been tested on 10+ Lenovo computers with 100% success rate. That is why we recommended it in first place. LPC is good but it takes too much time to break a strong password longer than 6 digits. Actually, there is another way out. It is to make a clean install of Windows. However, this will cause data loss in system drive. Please be aware of that.