We are moving towards paperless world. All our communication, data management, and other transactions are done through digital media like PCs or laptops. We are spoilt for choice with a variety of those devices. While there are many makes of electronic devices on offer, Samsung laptops have captured the market globally. When we use these devices we store large volumes of data and important information in them. Security of this data is essential. One of the simplest ways to secure your device is by locking it with a strong password. However, this could lead to another problem and you have to find ways to reset the password if you failed to remember it.
If Samsung laptop is password protected, it is definitely safe from any outside source trying to access it. It is recommended that the passwords created should be cryptic so that it can not be cracked. However, there could be an instance when you might forget your password. What do you do then? It can be a frustrating experience! But fortunately, there are methods to unlock your Samsung laptop. Let us see some of the methods for unlocking.
Method 1: Reset Samsung Laptop Password by Formatting and Reinstalling Windows
This method suffers from a drawback that it resets Windows to factory settings. The contents of the main drive such as files and programs get removed. However, if nothing else works you can use this method by this stepwise process:
Step 1: Reboot your PC after inserting Windows installation disc in the CD-ROM drive

Step 2: When it boots, press the F8 key repeatedly until the bootup menu appears. Use the arrow keys scroll and press "Boot from CD" option.

Step 3: You will see a blue screen on your laptop with messages. The process of collection of files is initiated. On completion, a list of options will be displayed. Using the arrow keys, Choose "Press Enter to set up Windows Option."

Step 4: A new page is displayed with options for installing Windows. Format the hard drive by removing partitions. All partitions are listed at the bottom in the system. Select a partition by scrolling the arrow key. Delete the selected partition by pressing "D" key and press L in the new screen.

Step 5: On completion, the process takes your system back to the initial screen. You will need to create new partitions in place of those that have been removed. Scroll using the arrow keys to Select "Unpartitioned Space". Create a new partition by pressing "C". Choose the size of the partition by entering the figure. Press Enter. Where Windows is installed, select a new partition as primary. Choose NTFS file system.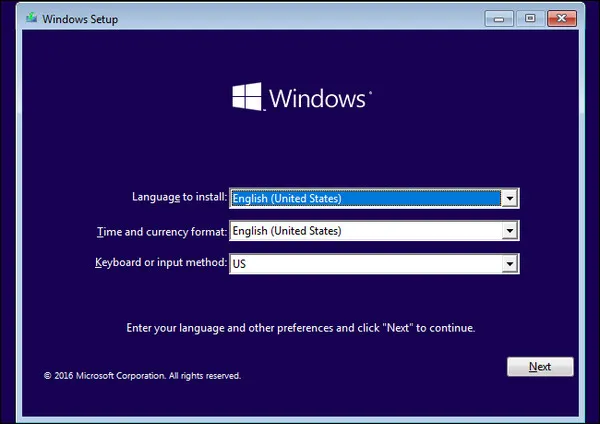 Method 2: Reset Samsung Laptop Password with PassMoz LabWin
PassMoz LabWin is a very useful software for password recovery. It is fast and efficient and does not require any additional tools for resetting the password. It is a one-click solution for password recovery. What's more, it is compatible with all brands of computers such as Dell, Lenovo, HP, and many more. It offers 100% secure transactions since it is completely virus free.
Passmoz offers its users 24/7 support service to resolve your problems. It enables you to reset five different types of passwords-admin password, user and guest password, Microsoft account password, and Windows Server password. The beauty of this tool is that the recovery is without reinstalling Windows and so there is no loss of data. It can be easily used by even inexperienced users. What makes Passmoz stand apart from its competitors is the fact that it uses powerful algorithms bypass Windows password in a single click..
Step 1

Download PassMoz LabWin and Install

Passmoz Windows Recovery should be downloaded and installed on a PC that is in working condition. Please launch the program when the program is installed on the computer.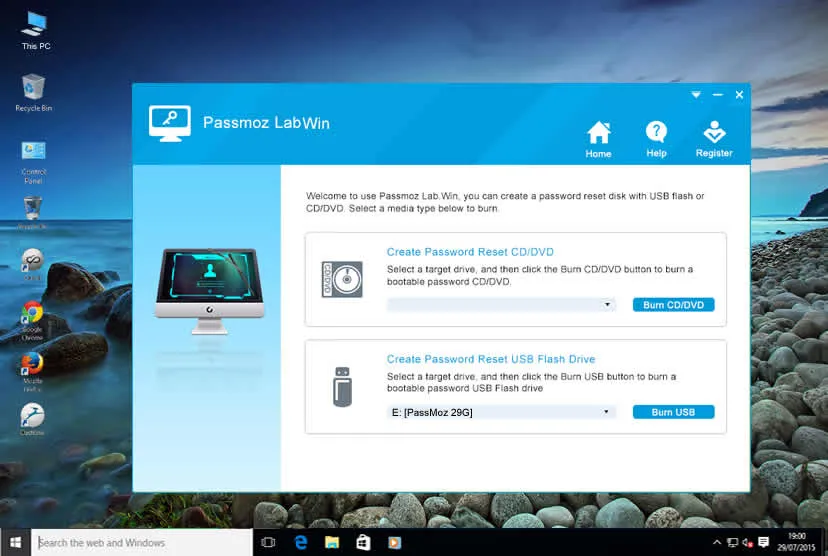 Step 2

Make a Password Reset Disk

The next step is to create a password reset disk. You can do it with USB drive or CD/DVD. It is up to you. Now insert the disk to computer and click Burn button to start making a reset disk. When the burning is successful, please take out the disk from the computer.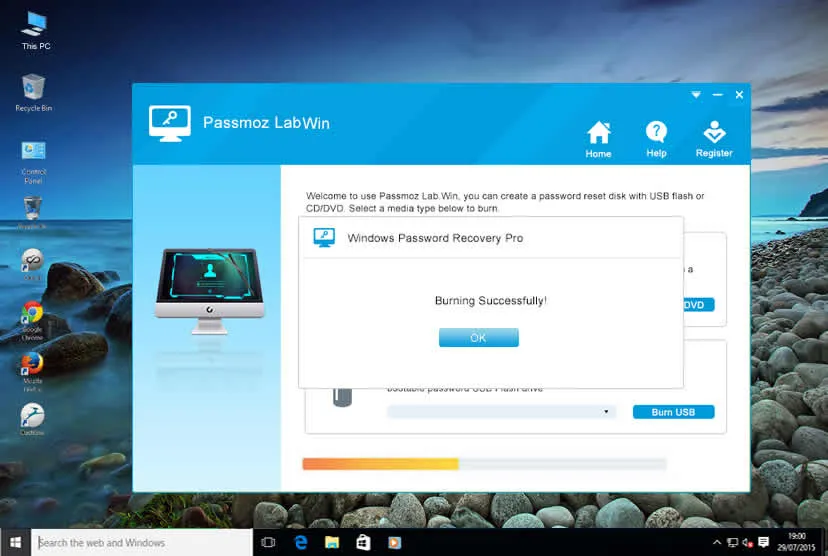 Step 3

Reset Account Password of Samsung laptop

Insert the disk to the locked Samsung laptop and set the computer booting from USB or DVD, which is dependent on which media you used to create the disk. After that, PassMoz LabWin will be displayed on the screen and select an account from the list. Finally, click "Reset Password" to remove the password from Samsung laptop.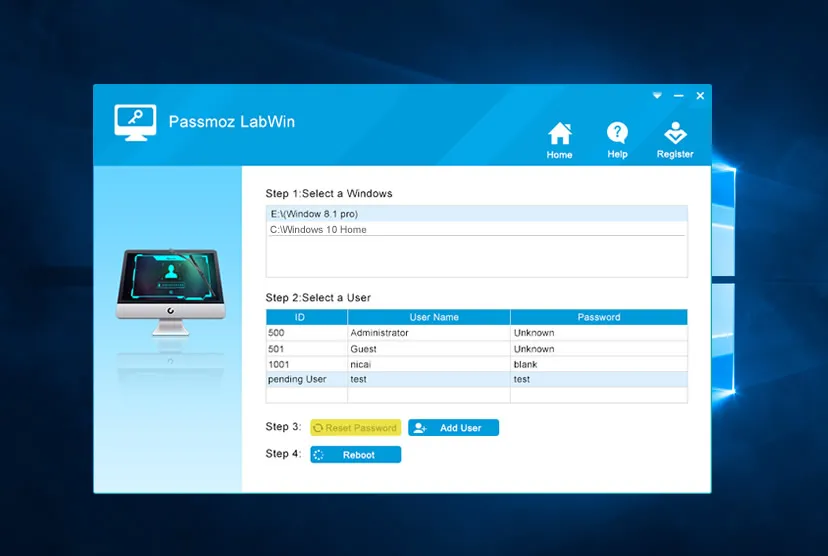 Method 3: Reset Forgotten Password of Samsung Laptop with LCP
LCP stands for Link Control Protocol. It is a useful tool for password auditing and recovery. In addition to these, it also encompasses brute force session distribution, importing account information and hashing. Password security can also be tested using this protocol. It is a freeware tool.
Step 1: Download the portable version of LCP and unzip it.

Step 2 : Open LCP programs and click Import Menu. Then select Import from SAM File. In case you are locked out of Windows, you can access SAM file or hashes for the password by booting your PC through an external CD.

Step 3 : On selecting the "Import from SAM file" option, you will get a prompt to locate the SAM file for your target system. In the options on the screen, uncheck, "Additional encryption is used" and click Ok

Step 4 : On your screen, you will see usernames with the corresponding password hashes. These are extracted from your SAM file. Using the arrow button in the toolbar, you can begin cracking.

Step 5 : The recovered passwords are displayed in the NT Password Column. Record all the passwords recovered for different accounts. Reboot into Windows and log in with the new password.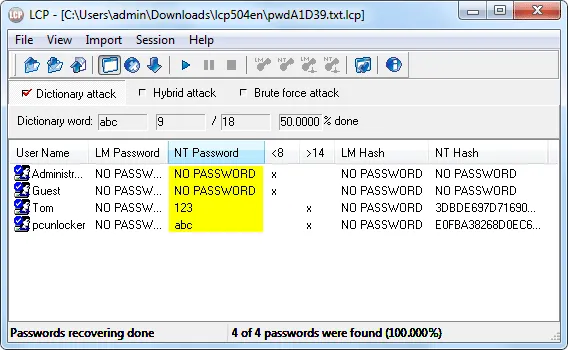 In Conclusion:
Forgetting a password and not being able to use your laptop can be a frustrating experience. But, fortunately, there are ways to recover the password and get your system working again. In case you are unable to do so, please leave comment below or shot us an email about the problem. We will try out best to help you out.