UEFI is short for Unified Extensible Firmware Interface. It it a new type of BIOS to define the specification between software and hardware. This feature is enabled on latest motherboards and laptops powered by Windows 10 or Windows 8. So if you forgot Windows 8/10 password and it is UEFI based, then it is extremely difficult to reset a password because the traditional password reset tool fails. Well, this has happened countless times with tons of people on this planet but don't feel devastated yet. Formatting your computer to remove the logon screen is the last choice left. Certainly, that will erase the password from your system but did you know that it will also delete all the data from your computer that can never be recoverable again?
That's why in this article, we will reveal 2 amazing ways to bypass Windows 8/10 UEFI protection without even touching any data on your computer. In short, you will have your password recovered and access the PC normally just like you used to do before. Please note that all the methods shared in this article must be used for personal purpose only and not for hacking into any other systems without their permissions.
Method 1: How to Reset Windows 10/8 UEFI Password with Ubuntu
Ubuntu is the most popular Linux distribution and has tons of utilities to fix all kinds of system issues for both Linux and Windows. Honestly, this method is easy for Linux users as they are dealing with commands each day. However, this would be a big complicated for normal Windows users. Make sure following the steps carefully and any wrong action would break the computer without any notice. So if you were uncomfortable with this method after reading, then Method 2 is obviously a better solution.
Step 1: Download the latest 32 or 64 bit of Ubuntu ISO image from its official site.

Step 2 : Next, download and install Universal USB installer to burn ISO to USB. Now, click on "Browse" from the main interface of the program. Select Ubuntu 10.10 ISO file from your computer and click on "Create" to burn the ISO image file into USB or CD/DVD.

Step 3 : Insert the disk on your locked Windows computer and boot with the disk. Your computer will automatically load the terminal emulator on your main screen. Go through the instruction unless you find user edit menu.

Step 4 : Once the user edit menu is loaded, press "1" to clear the password and user from your PC and hit enter.

Step 5 : Press "Enter" to boot and proceed to the next screen which will ask you choose the correct hard drive partition where Windows was installed. Next, confirm the location of the Windows Registry Path. Just type "1" and press "Enter" to accept the default path.

Step 6 : Reboot your computer and eject the disk to access your computer normally again.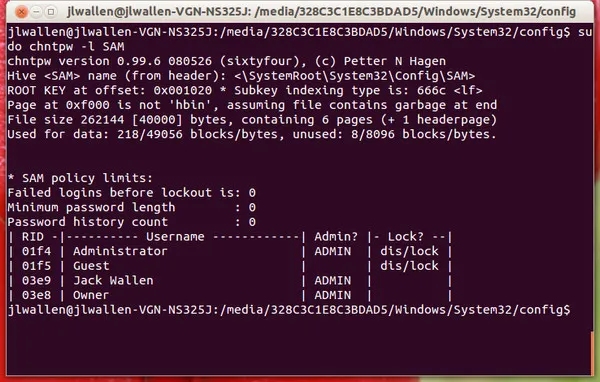 Cons:
1. Very complex and time-consuming tool.
2. Only recommended for computer experts.
Method 2: Reset Windows 10/8 UEFI Password with PassMoz LabWin
Since the above method is not easy and reliable, we have come up with a magnificent and effective Windows password recovery software to complete this job. In this tutorial, we will be using PassMoz LabWin to reset the lost password from your PC and destroy it completely so that you can launch your computer normally again. PassMoz LabWin is an award-winning tool that can reset any kind of password from all Windows operating system computers. Doesn't matter what type of password is used to encrypt the computer, PassMoz LabWin will simply remove it like it never existed.
Step 1: You should make a password reset disk first so you need a separate computer to install this Windows password recovery tool.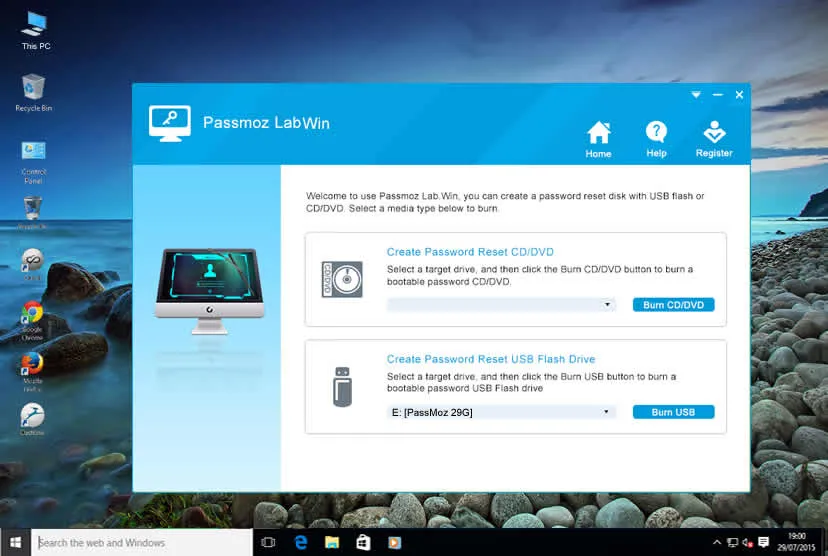 Step 2 : Once the program is installed on the other computer, insert a USB drive to create the password reset disk. Launch the program and click on "Burn USB" to produce the password reset disk without any issue. If the program doesn't detect your USB drive then try to plug in the device in another USB port.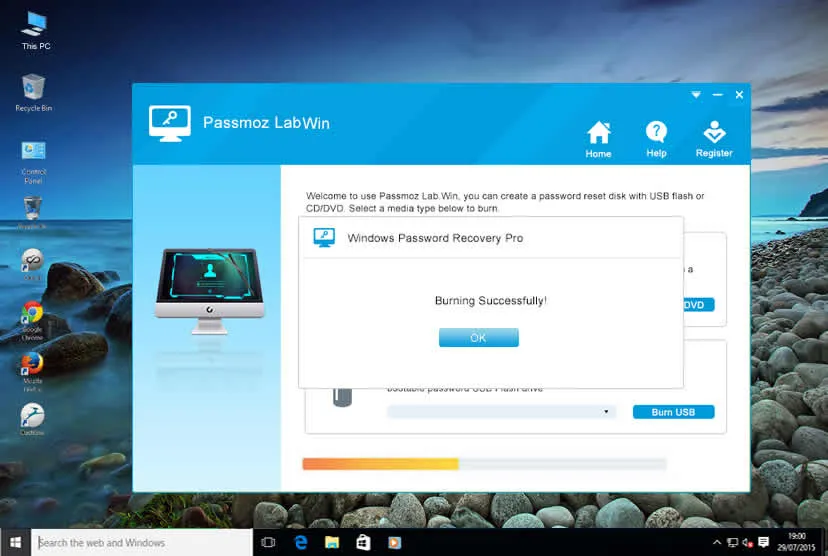 Step 3 : After the password reset disk is made, unplug the removable disk and re-insert it on your main computer that needs to be unlocked. Reboot the computer with the program, you need to turn off UEFI boot option and turn on legacy boot. Save the change and reboot the computer. Now PassMoz LabWin will be automatically launched on the screen of your computer at next boot.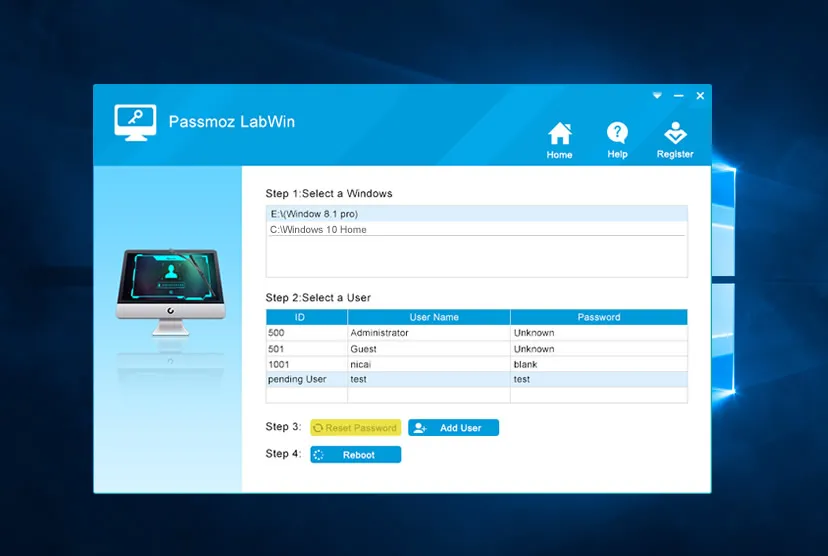 Step 4 : The tool will automatically recognize OS on the drive and you only need to select an username then click on "Reset Password". Now, the password will be erased instantly. Eject the disk and reboot your computer. Now enable UEFI booting option under BIOS settings and disable legacy boot. If you didn't do this, the computer will get a bluescreen error after password reset.

You're DONE! There will be no password on your PC anymore and if the computer asks to enter a password simply press anything and press hit Enter to get into your computer normally.
Summary
Resetting a Windows 8/10 UEFI password is not that tough if you are using PassMoz LabWin tool. However, we will recommend not to use this tool for any illegal activities as it will be served as a cybercrime. This tool must be used only on personal computers that are owned by you or any other computer if you were granted the proper authorization. Hopefully, you were able to regain access to the computer with this tool and if you have any inquiries then go ahead and contact the support staffs.