Password security is very important for any digital environment, and that includes your Windows 10 PC, laptop or tablet. It is often considered to be the first line of defence against any sort of hacking attempt - both remote and physical. But there are times when you want to quickly access your account without the hassle of entering a password. You may also want to remove it altogether so you don't need to ever enter one again. In either case, there are a lot of tools available to bypass or reset a password. Today, we're going to be looking at one of the best tools available for this purpose - PassMoz Windows password recovery.
This powerful password reset utility for Windows works with all the recent versions of Microsoft's operating system, right from the old Windows XP and Vista until the latest update for Windows 10. The software is constantly being updated with security patches and has been extensively tested on more than 50+ brands of PCs and laptops, including Dell, HP, Acer. What makes it quite different from most other utilities is that it is a completely self-contained software application. Most tools require the use of additional software or manual command line inputs. PassMoz LabWin has its own built-in DVD/CD/USB burning function, and there is no need for any command prompt actions whatsever.
How to Open PC or Laptop without Knowing the Password in Windows 10/7/8/Vista/XP
The method used by PassMoz LabWin is the password reset disk method. It's a simple three-step process that requires creating bootable media that is burned to a storage medium like a disk or a USB flash drive. This medium is then used to unlock any Windows password on a locked PC. Since it contains its own OS environment, you won't even have to boot your machine from the native Windows installation. Later on, we'll explain how to boot up a locked Windows 10 PC from the bootable media.
NOTE: If you have access to your PC and simply want to reset the password so you don't have to enter it on future login attempts, you can execute the first step on the same computer. If it's locked, then you will need to do it on a different PC with admin rights and an optical drive or USB port. You will not need any additional software or advanced knowledge of computers.
Step 1

Install PassMoz LabWin

Download PassMoz LabWin to your primary or other PC and install the application. Make sure you have administrator privileges on your login.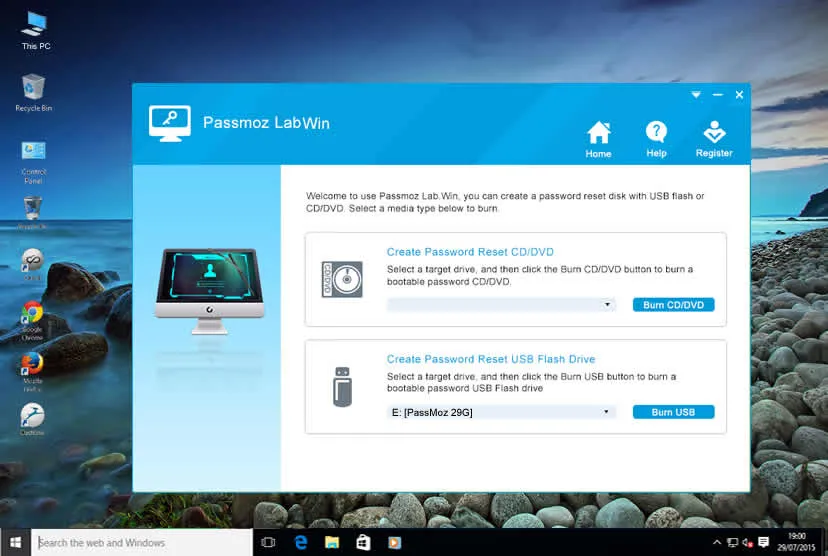 Step 2

Make Reset Disk

Launch the application and insert a storage medium like a DVD/CD or USB flash drive. When you see the software interface and the burn options displayed, select the 'Burn' button next to the appropriate storage medium type. This will create the bootable media to reset the password, also called your password reset disk.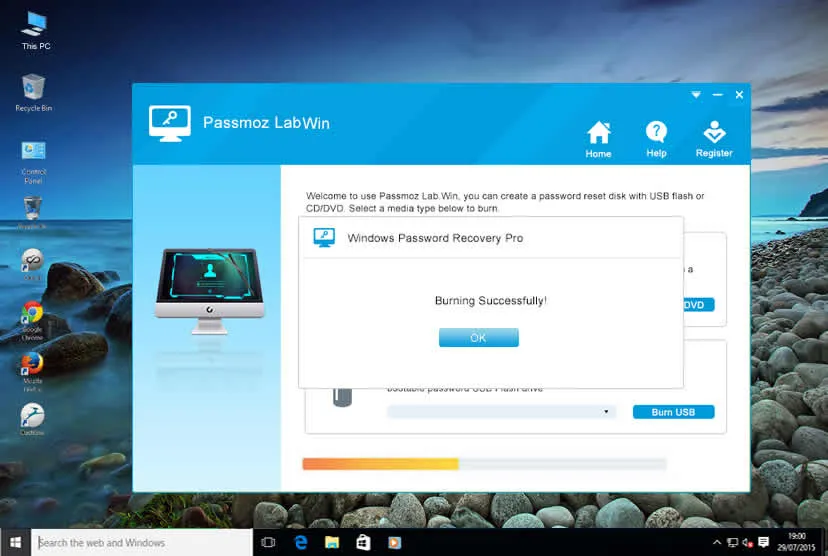 Step 3

Reboot Password-Protected PC or Laptop

Now you have to restart your locked machine with the disk or drive inserted, and then change the boot priority from the boot menu at boot-up. You'll see the special key to be pressed (usually F2 or Esc) to get to that menu. Now resume the boot from the bootable media after changing the boot order to point to your disk or drive.
Step 4

Remove Password from Computer

Once PassMoz LabWin has loaded, you'll see a screen with various options. On this window, choose the appropriate ISO file, which should match the OS version of your locked PC. Then select the user for which the password must be reset. Finally, click on "Reset Password"', wait for the process to complete, and then click on "Reboot". Remove the storage medium and restart the PC without it.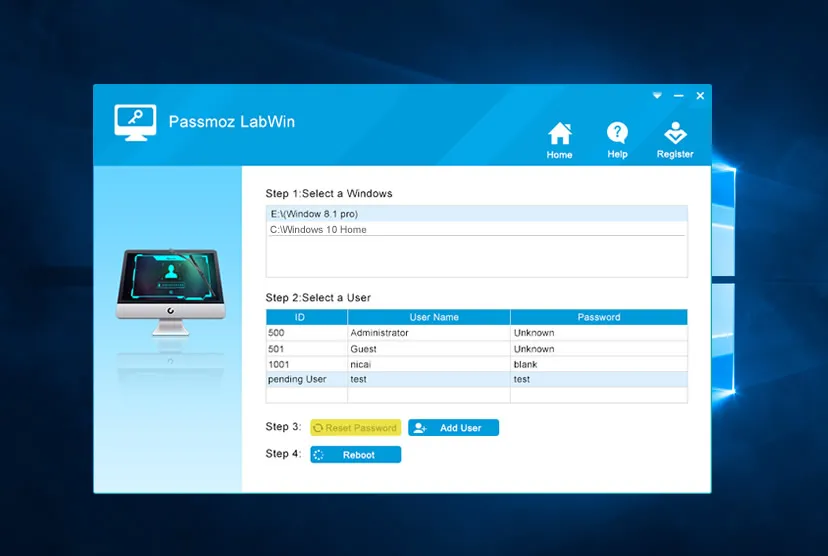 When you reach the login screen, your Windows 10 PC will let you enter with just the user name. The password for that account has been removed completely with PassMoz LabWin. The reason this software is used by so many millions of Windows users is that it quickly resets any type of Windows password: user, admin, guest, Windows Server admin and even Microsoft account. As you can see, the process is very simple even for novice users to execute successfully.
Summary:
Although there are a lot of alternatives to opening your Windows 10 PC without a password, you have to be aware of the hurdles that some of them pose. For example, some of them require additional ISO burning software, which you may not have installed before. Others require a lot of complex command line work that only programmers are comfortable with. Still others are old and outdated, which means they pose a huge security risk for your machine and your personal data.
Whatever method you choose, make sure that it is the latest software and has adequate customer support if something should go wrong. Always download software from authentic sources. And most importantly, make sure that the software won't play around with your data. So many users have lost data simply because they tried using the wrong software that a "friend" recommended.